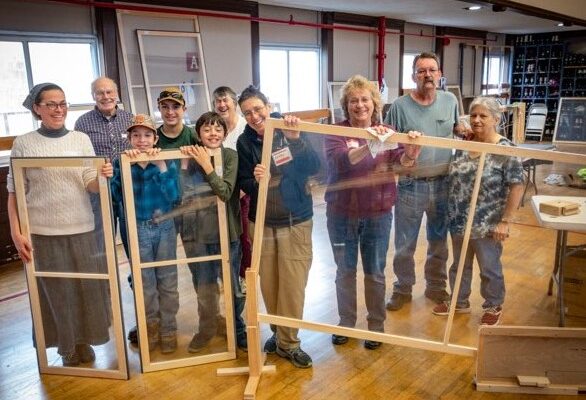 PO-windowdressers-5-22
Contributed photo HELPING NEIGHBORS – Window Dressers volunteers in Dexter during the 2019 (pre-COVID) Community Build event.
Volunteers sought for Dexter Window Dressers build
DEXTER — Fall is here. It is time to weatherize our homes for the Maine winter. Window Dressers is looking for volunteers to help with our annual "community build" to be held at the Dexter Town Hall from Friday, Oct. 21 to Friday, Oct 28.
The Maine Highlands build is like an old-fashioned "barn-raising." The work is easy, all tasks are taught and there's a job for everyone. Especially needed this year are people with some carpentry experience or comfort with wood to assemble pre-cut pine sticks into window frames. These frames begin the process, usually from Saturday to Monday. Jigs, tools, and instructions are provided.
All shifts are from 8:30 a.m. to 12:30 p.m. and 1-5 p.m. with a break for lunch which is provided free to all workers. As soon as frames are made, they are sent to the wrapping tables to get tape and plastic applied. By Saturday afternoon the hall is humming with activity, laughter, and conversation. The bigger the team for the build, the more fun we have!
Window Dressers is a volunteer non-profit organization dedicated to helping people insulate their windows. These inexpensive interior inserts, built to measure for each window, can be used year after year. The inserts improve comfort, save on fuel, help the environment, and are very easy to install and remove.
Window Dressers provides more than half of the inserts for free for low-income customers. All customers help in the production of the inserts either by helping to measure or build the inserts, or by providing food for the build. But we also need additional volunteers from the community to complete our annual construction workshop successfully.
If you or a group that you belong to is interested in helping with our community build, go to https://WindowDressers.org/community-builds-maine/ and select the Maine Highlands 2022 Community Build to sign up for a shift. If you are interested in ordering inserts for next year for your home, church, or business, contact Lesley Fernow at 207-992-6822.