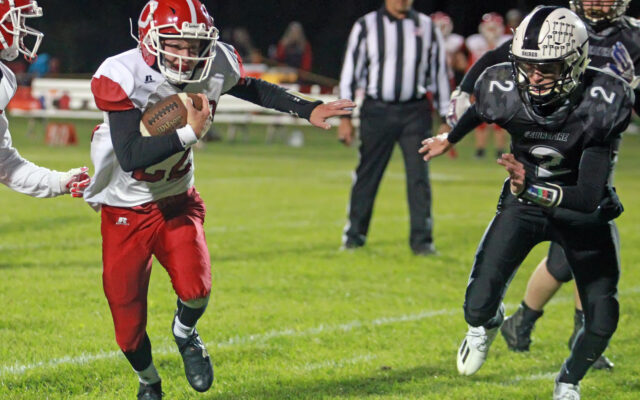 PO-DexterFootball1-091922
Houlton Pioneer Times photo/Joseph Cyr STILL UNDEFEATED — Dexter quarterback Bryce Connor scrambles with the ball as Houlton's Isaiah Ervin gives chase during Friday night's football game in Houlton. Dexter won 58-44 to improve to 3-0.
Second-half rally falls short for Houlton football squad versus Dexter
By Joseph Cyr, Houlton Pioneer Times Staff
HOULTON — A second-half surge was not enough to lift the Houlton football squad to victory Friday evening in the team's homecoming game against Dexter.
The Shires (0-3) fell to visiting Dexter, 58-44, in front of a large group of fans at the Maliseet Sports Complex. Dexter is now 3-0 on the season.
"We have made steady improvement this season and I am happy to see that," Houlton coach Jon Solomon said. "The kids battled tonight and got the lead down to 8 in the fourth quarter. I am proud of their effort and not quitting when we got down three scores in the second and third quarter."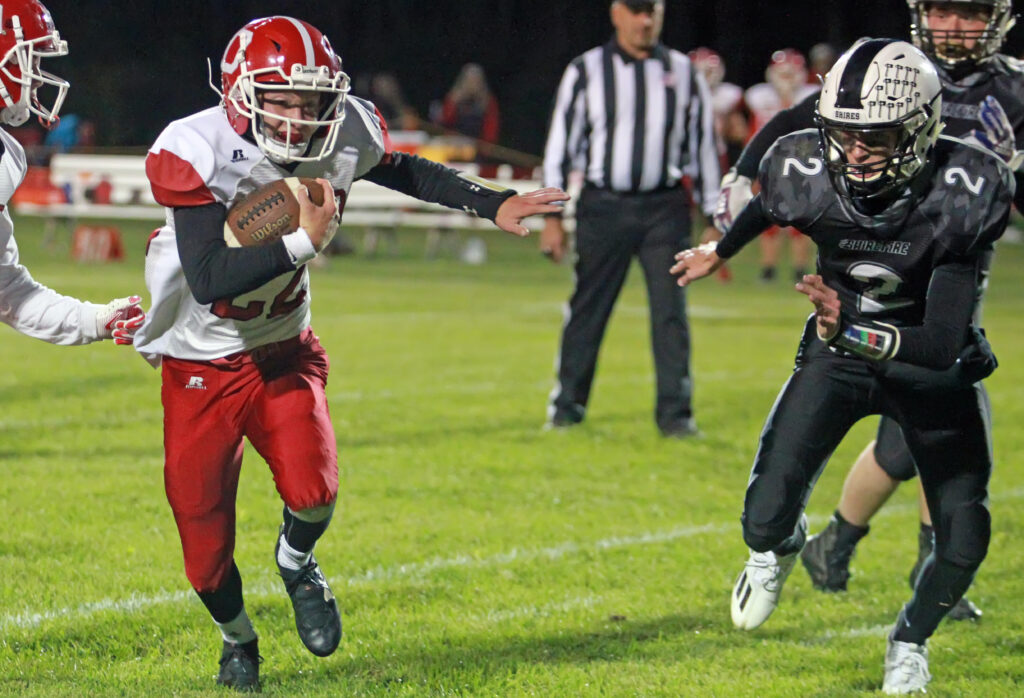 Houlton quarterback Isaiah Ervin completed 6 of 13 passes for 135 yards and two touchdowns, with one interception. Ervin also ran the ball 18 times for 144 yards and four rushing touchdowns, while Kohl Skehan had 19 carries for 102 yards and AJ Lewis added four carries for 19 yards. Bronson Hanning caught four passes for 121 yards and two touchdowns, with Skehan adding two catches for 14 yards.
Dexter quarterback Bryce Connor did the bulk of the damage for the Tigers as he completed 9 of 14 passes for 276 yards and three touchdowns. He also ran the ball 15 times for 227 yards and four rushing touchdowns.
Tiger Gage Beaudry had 13 carries for 36 yards and a rushing touchdown and also hauled in five passes for 103 yards and a touchdown. Kayden Kimball had two catches for 95 yards and a touchdown, while Will Spratt had a 56-yard receiving touchdown in his lone catch on the night.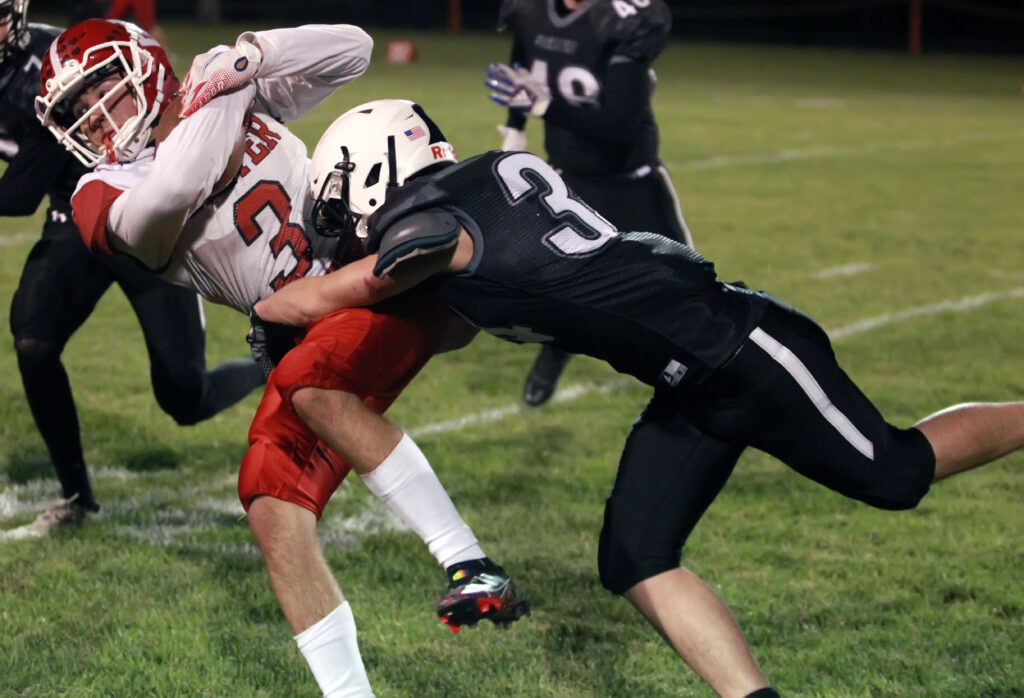 After taking an early 8-0 lead by scoring on their opening possession, the Shires' defense was unable to stop the Tigers as Dexter rattled off 28 unanswered points to seize a commanding 28-8 lead with 1:20 remaining in the first half.
Houlton managed to get back on the scoreboard with a minute left in the half as Ervin connected with Hanning for a 53-yard strike to make it 28-16 in favor of the Tigers. But that momentum was short lived as the Tigers scored with just 19 seconds before the break to push the lead back to 20 points (36-16).
In the second half, Houlton managed to make it a one-score game — 44-36 in favor of Dexter — but that is as close as the team would get.
"We are still learning to get better at paying attention to details," Solomon said. "This is part of the growing pains that a young team has to go through. (Dexter's) Bryce Connor is a handful and showed why he is one of the best players in the LTC this season."