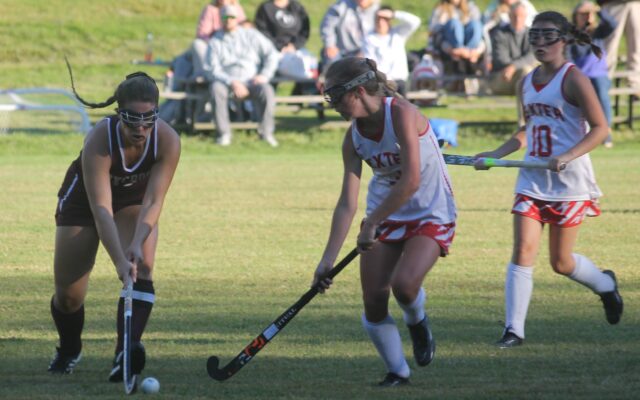 PO-spFHbatchelder-38-22
Observer photo/Stuart Hedstrom STILL UNBEATEN — Foxcroft Academy senior Justice Batchelder looks to send the ball down the field past Dexter sophomore McKenzie Clay with Tiger sophomore Preslee Dow running in on Sept. 16 in Dexter. The Tigers won 2-0, with Clay scoring the second goal, to improve to 5-0.
Dexter shuts out Foxcroft to remain undefeated
DEXTER — With this season's schedule, neighboring Class C North Dexter Regional High School and Foxcroft Academy field hockey teams ended up playing one another twice within the same week with the Dover-Foxcroft contest being held on on Monday, Sept. 12 and the rematch taking place five days later in Dexter on Friday, Sept. 16.
The visiting Tigers defeated the Ponies 3-0 in game No. 1 and then Dexter earned a 2022 sweep with a 2-0 victory on the team's home field Sept. 16 behind a pair of second-half goals. Dexter improved to 5-0 with the team's fourth shutout in as many games, and these marks were upped to 6-0 and six shutouts with a 10-0 victory vs. Mattanawcook Academy of Lincoln on Saturday, Sept. 17.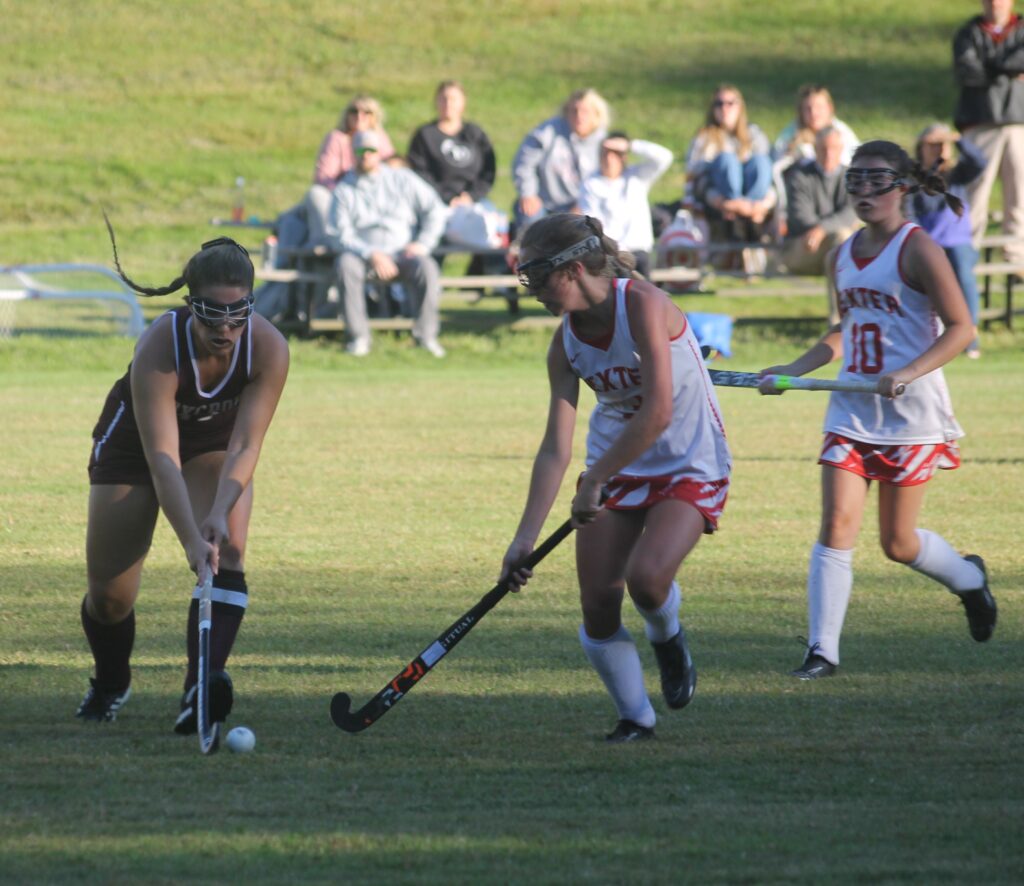 Early in the second half Dexter had the ball near the Foxcroft goal as sophomore Preslee Dow passed to classmate Keira Bennett who was positioned in front. Dow flipped the pass into the goal for what would turn out to be the winning score at the 13:16-mark.
In the game's final minutes the Tigers got an insurance goal with Dow picking up the assist. She passed to sophomore McKenzie Clay, who was able to nudge the ball over the goalline for a 2-0 lead with 4:19 remaining.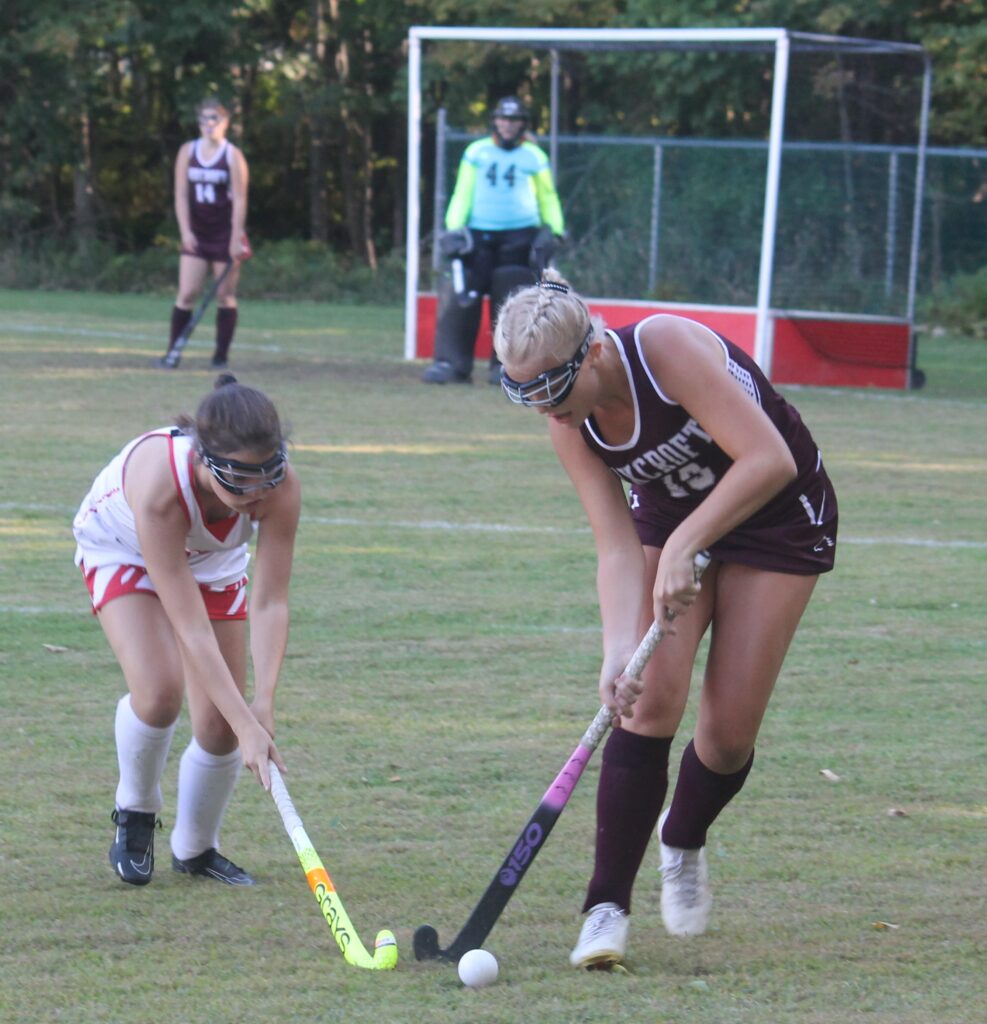 Senior goalkeeper Alexis Whitty stopped all four shots she faced to earn the shutout victory.
At the opposite end of the field, Foxcroft junior Laney McGary made a game-high 11 saves.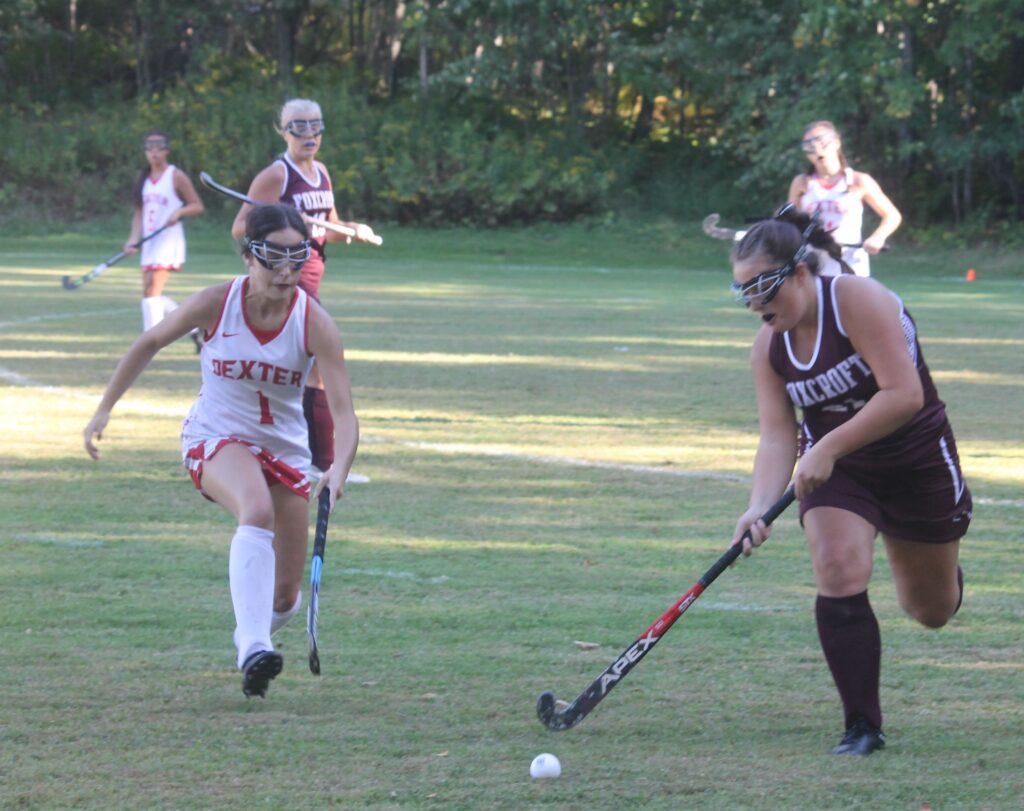 The Ponies fell to 2-5 after the game in Dexter.
FIELD HOCKEY
Dexter 2, Foxcroft 0
Foxcroft 0 0 0 0 — 0
Dexter 0 0 1 1 — 2
Third: D – Bennett (P. Dow)
Fourth: D – Clay (Bennett)
Penalty corners: F — 1, D — 7
Saves: F – L. McGary 11, D – Whitty 4
Records: F 2-5, D 5-0