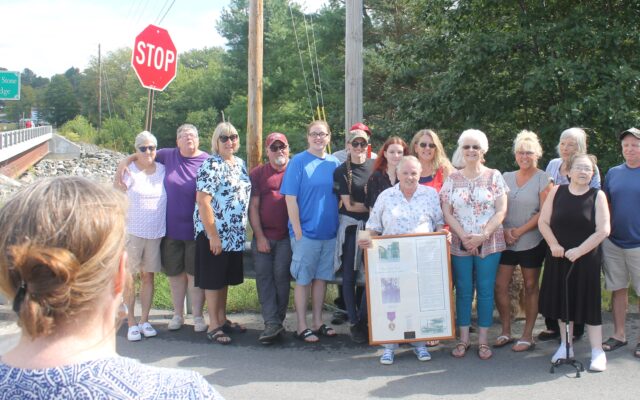 PO-bridgefamily-38-22
Observer photo/Stuart Hedstrom MEMORIAL BRIDGE — Descendents of Edward Fredonia Stone, including his daughter Virginia Weston holding the items under glass, stand by the Brownville Junction bridge now named in Stone's honor on Sept. 13. Dedications were held for three memorial bridges in Brownville and Brownville Junction, including the bridge for Stone who died in the World War II sinking of the troopship SS Leopoldville near the French port of Cherbourg on Christmas Eve, 1944.
Three memorial bridges dedicated in Brownville
BROWNVILLE — The memories of three Brownville residents who died in service of their country during World War II or the Korean War will live on with the naming of a bridge in their honor. An overpass over the Pleasant River in the Brownville Village and two bridges on Route 11 in and heading out of Brownville Junction were formally dedicated during morning ceremonies on Sept. 13.
The Brownville Village bridge has been named in honor of U.S. Army Pvt. Stanley Smith Larson who was killed in action at age 21 on June 14, 1953, while defending Outpost Harry during the Korean War.
Just north of the turn onto Railroad Avenue in Brownville Junction is now the Edward Fredonia Stone Memorial Bridge spanning the Pleasant River. Stone, a U.S. Army Pvt., died in the World War II sinking of the troopship SS Leopoldville near the French port of Cherbourg on Christmas Eve 1944.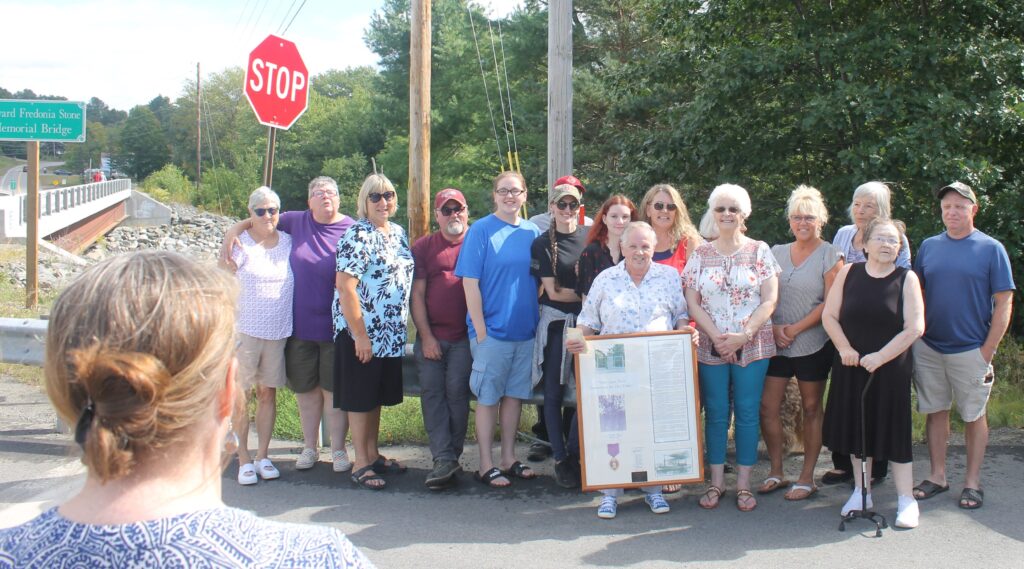 Several miles out of town on the Millinocket Road the overpass commonly known as Walker's Bridge has been named in honor of Elden Howard Cail, a U.S. Marine Pvt. 1st Class who was killed in action on Guam on July 28, 1944 as Allied forces took the island back from the Japanese.
Before the start of the first of three presentations in the village, Brownville Town Manager Felice Lyford thanked everyone for being there. She said some attendees traveled a great distance to honor the men who made the ultimate sacrifice.
"I want to recognize and thank the Brownville-Brownville Junction Historical Society for their initiation and follow through to preserve the memory of some of Brownville's finest veterans," Lyford said. She thanked Sen. Paul Davis, R-Sangerville, and Rep. Richard Evans, MD, D-Dover-Foxcroft, for effort on the legislation to name the bridges "to honor some of our local heroes that served our country."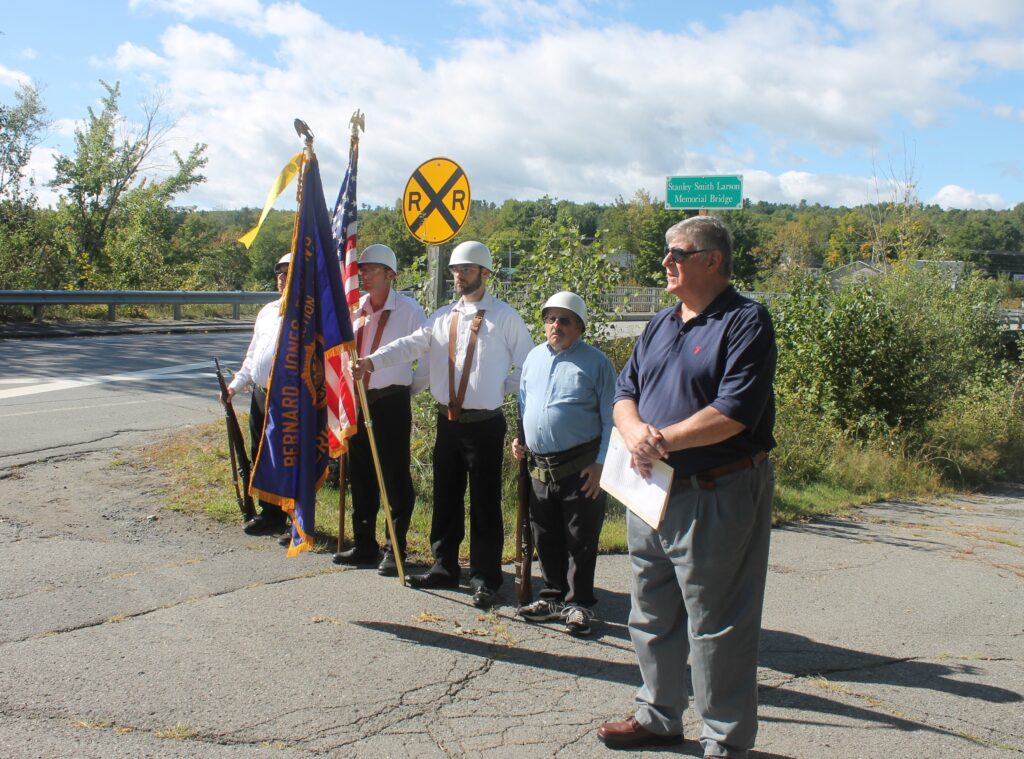 Evans said as a U.S. Air Force veteran himself, he wanted to focus on what Larson represented as an American. "Pvt. Larson took an oath of office to serve and protect the Constitution of the United States of America against all enemies foreign and domestic," Evans said.
"Pvt. Larson acted on that oath with dignity and honor and certainly self sacrifice," Evans said. "Pvt. Larson made the ultimate sacrifice so the rest of us could live freely today. There could be no greater honor for Pvt. Larson knowing that in departing this earth his courage and his commitment to his oath and through his uncompromised love for his country, he demonstrated for generations to come the meaning of moral character and the courage of conviction."
Davis then explained the Legislative Sentiment process and read the document aloud.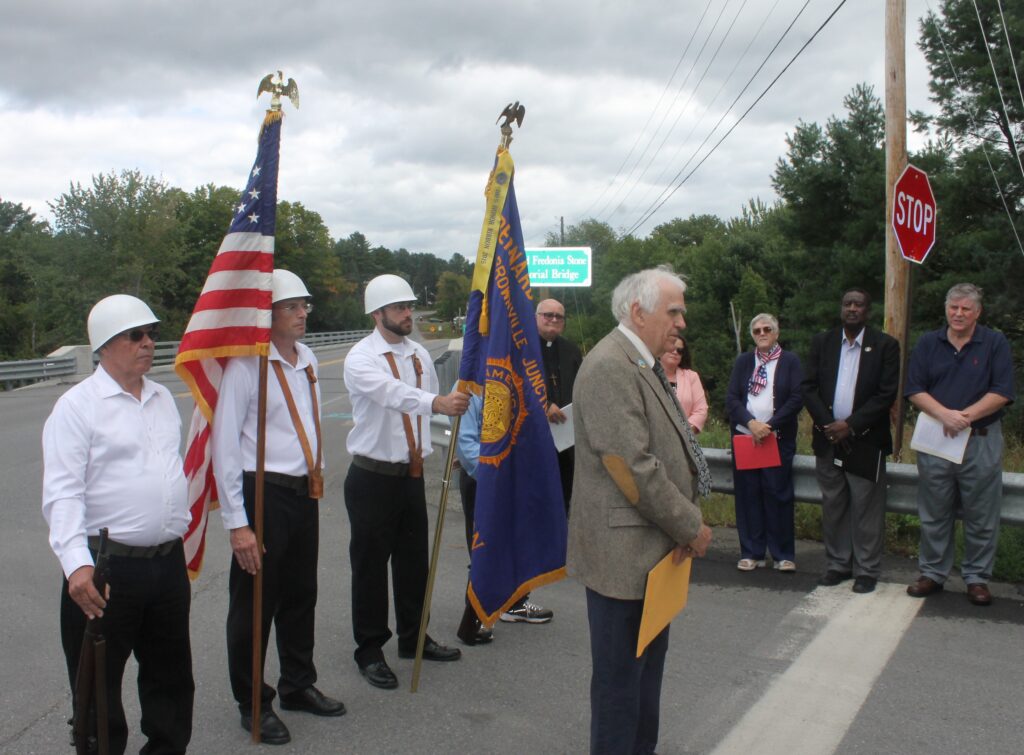 The bridge naming was begun at the request of the Brownville-Brownville Junction Historical Society. Society member and researcher Dan Peters presented the proposal at a select board meeting last October. A request was made by then town manager Kathy White to Davis and he moved the proposal on to the Legislature where the request was approved this spring in Augusta.
"It is very appropriate to honor our local people who are heroic in their deeds and Stanley Smith Larson was indeed one of those," said Peters, a U.S. Army veteran.
He said Larson was born in October 1931 and enlisted in the U.S. Army in 1952. After describing some of the places Larson went across the Pacific, Peters said Larson's regiment was positioned in reserve just south of Outpost Harry to carry out dangerous reconnaissance missions as rumors of peace talks spread.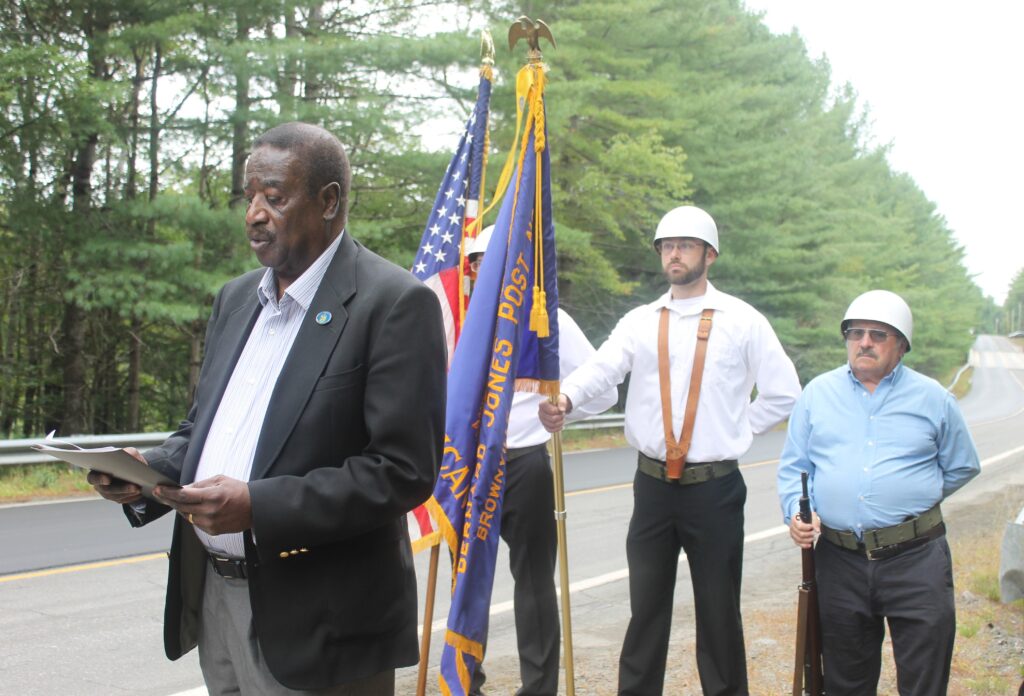 Peters said Outpost Harry was "a rocky outcropping that could barely hold 100 men indefinitely entrenched," but held strategic importance to protect an army flank and the road to Seoul. During the overnight of June 14-15, 1953 enemy forces got into the trenches by Outpost Harry and Peters said by the next morning Larson was missing.
He said Larson was officially reported as missing on June 22, "That's quite a while after the official battle."
Peters said Larson's parents received government confirmation of their son's death on Aug. 12, 1953. Larson was laid to rest in the Brownville Village cemetery.
Evans said Stone was a 22-year-old U.S. Army private "navigating the delicate balance of being in and out of harm's way not because of decisions they made but rather in their service to protect and serve the Constitution of the United States of America. By doing so, their valor and dedication was the springboard for the rest of us to have unfettered paths towards freedom, liberty, and independence."
Davis said the SS Leopoldville remains in several hundred feet of water off the French coast.
Peters said Stone's unit had been assembling in England to reinforce the Army in Europe. Born in 1921, Stone enlisted in 1944 and he left five children behind. The SS Leopoldville was torpedoed by a German submarine on its way to France. Nearly 800 soldiers lost their lives, with almost 500 never recovered from the ship.
Today a portrait of Stone is on the lobby wall of the Brownville Elementary School.
Peters said Cail was born in September 1922 and enlisted in the U.S. Marines in January 1942. "For his bravery and courage under enemy fire, Elden was awarded the Navy Cross — an award second only to the Medal of Honor," Peters said.
Cail is the first Maine resident to receive the Navy Cross, being awarded it posthumously. Peters said Cail daringly risked his own life to hold his gun on the line in the face of mortar and machine gun fire. Cail manned his position through two charges and despite being mortally wounded, remained until he succumbed.
Cail is buried in the Pine Tree Cemetery in Brownville Junction.