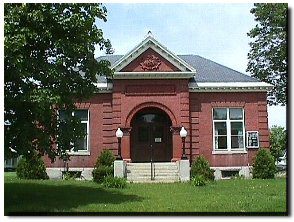 Thompson Free Library
The Thompson Free Library in Dover-Foxcroft
Thompson Free Library helps to bridge digital divide through grant
DOVER-FOXCROFT — The Thompson Free Library is excited to announce that we have received an Emergency Connectivity Fund grant through the Federal Communications Commission. Through this grant, focused on school districts and public libraries, we have purchased five mobile hotspots and five Chromebooks which patrons will be able to borrow for one week at a time. These devices will allow those without reliable internet service at home to access the internet and all of its vital services, increasing their engagement in an increasingly digital world.
The Franklin T10 mobile hotspots purchased by the library will provide mobile internet access over much of our region, often with speeds faster than typical broadband connections. Much like a cellphone, they run on a lithium battery, so they can even be used off grid or on road trips. Connecting to the hotspots is as easy as any other Wi-Fi network and both the network ID and password are attached to the device.
The ECF was created in 2021 in order to address the unequal distribution of digital connectedness in our country, especially when it comes to students and library patrons. In Piscataquis County, many households do not have reliable broadband internet options available. Even more cannot afford the cost associated with traditional internet. Especially since the start of the pandemic, the library has noticed a need in our community for better internet access and has worked to meet it. We have increased our Wifi reliability and reach at the library so that it is available to anyone 24/7, including outside the library. We have also worked to promote programs like the Affordable Connectivity Program and others which reduce the costs of internet access. This ECF grant is the latest, but definitely not the last, step we have taken to promote and bring affordable, reliable internet to our community.
We look forward to utilizing this grant to bring connectivity to our patrons. If you are interested or would like more information, please contact us! Thompson Free Library is open Tuesday and Thursday 9 a.m. to 7 p.m., Wednesday and Friday 9 a.m. to 5 p.m., and Saturday 9 a.m. to 1 p.m.. We can be reached at 207-564-3350 or thompsonfreelibrary@gmail.com. Visit us on Facebook, Instagram, or ask to join our mailing list to stay connected with everything happening at the TFL.