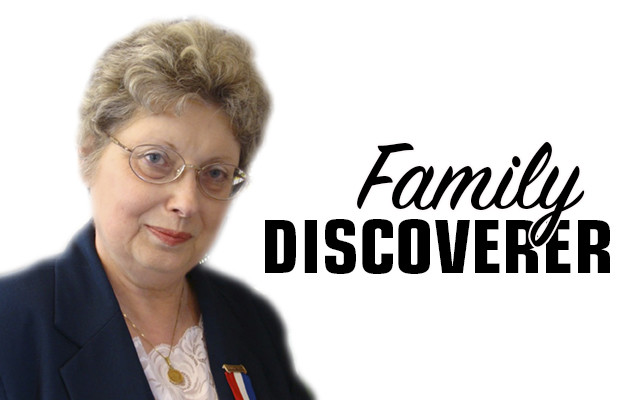 Nancy Battick.jpg
Nancy Battick (of Dover-Foxcroft, president of the Daughters of Union Veterans.) (BDN Photo by Diana Bowley)
Your Welsh ancestors
By Nancy Battick
Do you have Welsh ancestry? Many who do haven't tried to do much research in Welsh records.
The Welsh are a proud people, descendants of Celts. My own Welsh heritage stems from the Merrick/Meyrick line from the Isle of Anglesey, now Anglesey County. For about 20 years it was part of Gwynedd County, but after 1996 was reestablished as an independent county.
Anglesey is at the tip of Wales' northwest corner in the Irish Sea. It was conquered by the Romans, invaded by the Vikings, and finally by the English. As with all of Wales, it came under the control of the English crown. Native Welsh princes were subdued and the heir to the English throne became the Prince of Wales.
Researching your Welsh ancestors can be challenging. It will help if you know where in Wales your ancestors originated, though people did move around, complicating tracing them. The county lines changed over time, as with Anglesey above, so you will need to do a little pre-research to find out if you need to search in more than one county. Also, the names can be repetitious. Wales has thousands of Jenkins, Evans, and Joneses, just to mention three popular surnames. And if you're on the search for medieval ancestors, the language can also be a barrier.
So where do you start? I recommend you go to FamilySearch.org, a free site. If you don't have an account, sign up for one at no cost. Go to Search and scroll all the way to the bottom to their Wiki feature and look for Wales. There you can get the basic information on researching in this corner of the British Isles, including maps showing the counties and how the lines changed over time. You will also find advice on the various records and what is online.
But first, read about the history, naming patterns, culture, etc. It's always best to be grounded in the basics before you plunge in and start researching.
FamilySearch also offers free tutorials in researching, and I recommend you explore them all carefully. When Wales was conquered by England, English law and religion prevailed as well as English recordkeeping. Wikipedia can offer information on counties as well. Also, look for guides to Welsh history such as Welsh Family History by John and Sheila Rowlands for detailed information. Most counties now have historical or family societies that can be a help to the researcher as well.
"Longer than a Welshman's pedigree" is an old saying reflecting the fact that at one time the Welsh could recite their ancestral lines as much as seven or more generations. This was passed orally to their children and down the line of descendants. I suspect there are families where this is still the case, and these oral histories and poems can give clues as well. Some now have been recorded.
When researching your Welsh ancestors, I wish you "Pob lwc," which means good luck or so I'm told.  And, no I can't pronounce it.  
Nancy Battick is a Dover-Foxcroft native who has researched genealogy for over 30 years. She is past president of the Maine Genealogical Society, author of several genealogical articles and co-transcribed the Vital Records of Dover-Foxcroft. Nancy holds an MA in History from UMaine and lives in Dover-Foxcroft with her husband, Jack, another avid genealogist. You can contact Nancy at nbattick@roadrunner.com.