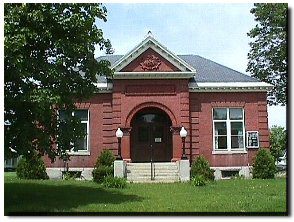 Thompson Free Library
The Thompson Free Library in Dover-Foxcroft
'Buried in books' sale at Thompson Free Library
DOVER-FOXCROFT – The "buried in books" ten cent book sale at the Thompson Free Library, 186 East Main Street, will be Thursday, Sept 22 from 12-6 p.m.; Friday, Sept. 23 from 9 a.m. to 5 p.m.; and Saturday, Sept. 24 from 9 a.m. to 12:30 p.m. Included in the sale are weeded and donated paperbacks and hardcovers, fiction and nonfiction, children's books, audio books, DVDs, and jigsaw puzzles.
The library accepts only small amounts of clean and dry books to add to the sale. No old encyclopedias, no old textbooks, no multiple copy classroom sets. No multiple boxes cleaned out of a garage or camp. If they are too grungy for you to sit and read, they are too grungy for a library book sale!
Proceeds from this sale are for children's programming. For more information, see https://www.thompson.lib.me.us/ or call 207-564-3350.