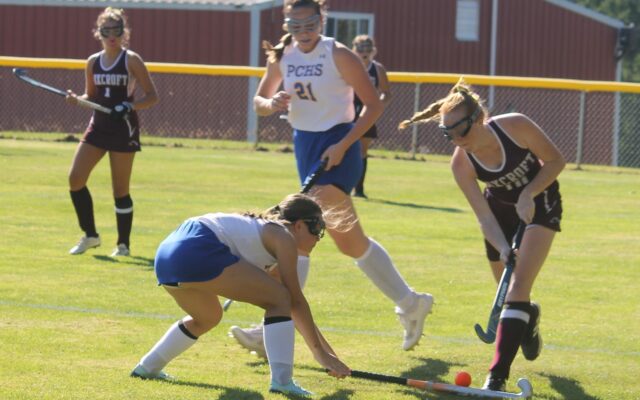 PO-spFHmartin-36-22
Observer photo/Stuart Hedstrom THREE-GOAL DAY – Foxcroft Academy senior Lauren Martin looks to get around PCHS freshman Sadie-Mae Kelley during a Sept. 2 game in Guilford, with Pirate freshman Ava Goulette and Pony senior Annie Raynes looking on. Martin scored all three goals in a 3-0 Foxcroft victory.
Foxcroft shuts out PCHS for first victory of the season
Martin records a hat trick
GUILFORD – With Foxcroft Academy getting off to a bit of a slow start during a Sept. 2 game at neighboring Piscataquis Community High School, Pony head coach Davan Walker called a timeout with 2:21 to go in the opening quarter (new this season are 15-minute quarters instead of 30-minute halves). The chance to speak with the team worked as Foxcroft would find the goal in each of the ensuing three quarters and had a shutout effort at the other end of the field to pick up the team's first win of the season 3-0.
Foxcroft senior Lauren Martin – who scored all three goals at PCHS and had her team's goal in a 3-1 defeat at Maine Central Institute of Pittsfield two days prior to account for all four Pony goals in two games – said the break in the action was needed. She said Walker said to "play to our pace, keep up our strong stickwork and keep up the pace of the game high. We're a pretty fast team so when we start to slow down like that we try to pick it back up, play our game, and keep the game moving."
With 7:24 to play in the first half Martin recorded what would turn out to be the game-winner. On an assist by senior Justice Batchelder, Martin's shot went inside the left post of the Pirate goal.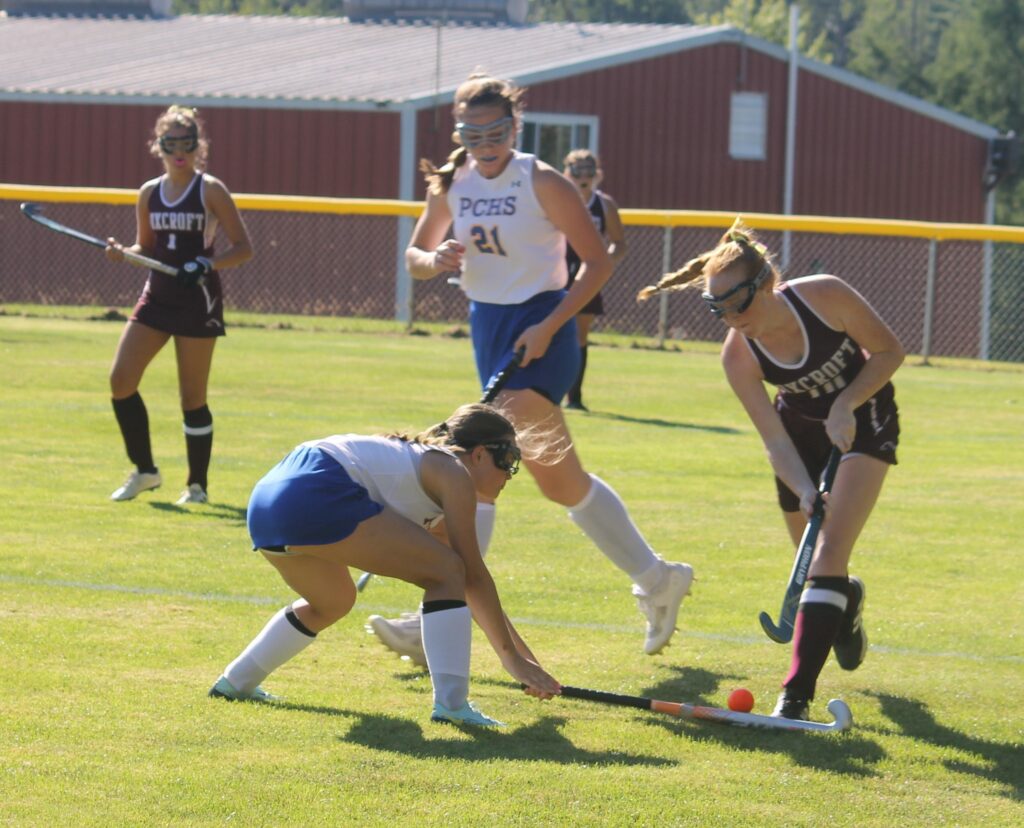 "They just needed to play their game," Walker said about calling the timeout. "They were a little slow, just a little not quite put together. We just needed to kind of regroup and stay focused and play our game."
Shortly after a third quarter penalty corner – Foxcroft had an 8-6 corner advantage over PCHS – Martin scored her team's second goal with junior Hilary Howard picking up the assist.
A short time after a penalty corner in the fourth, Howard again passed to Martin whose shot found its mark for the third and final goal of the day at the 8:18-mark.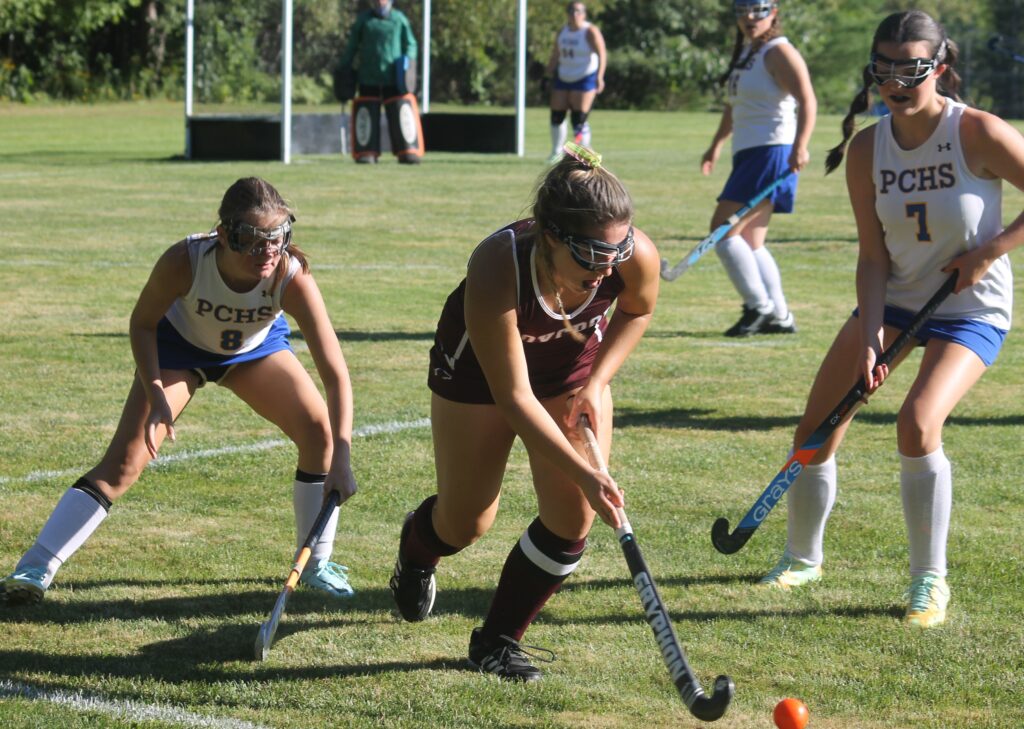 "We communicated, we kind of changed the way we played our positioning and I think they adjusted to that," Walker said. "They are just a good group and keep each other going on the field and I think we need to work on putting the ball in the goal all the time."
Junior Laney McGary stopped all three shots she faced to earn the shutout. Sophomore Gabriella Koscielny finished with a game-high four saves for PCHS.
"It's definitely an amazing feeling now that we have a win under our belt and we are just going to continue to go out from here," Martin said, with the Ponies having the highest of aspirations a season after reaching the Class C North championship (falling 2-0 to MCI).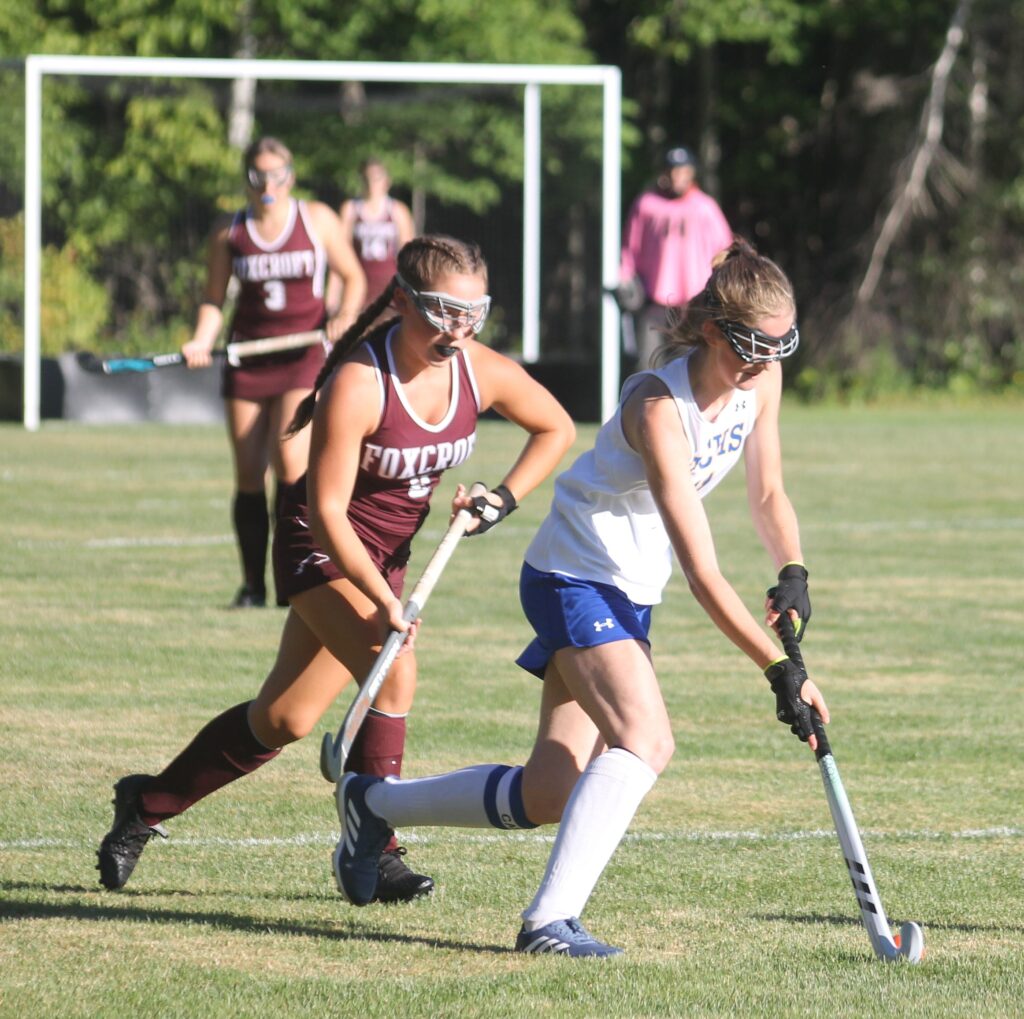 "We have the mentality, we have the strength, we have the endurance, and we have the positivity to make it to states this year so that's really our goal," she said. "To go as far as we can while staying positive and playing our game."
The victory in Guilford was the first for Walker, a 2000 Foxcroft graduate who succeeded Stephanie Smith and Gene Philpot as only the third head coach in more than four and half decades. Walker said the fact had not yet sunk in, "I played on this field, I played Guilford many times on this field and it feels really surreal to be here coaching."
The two teams are scheduled to play again at 3 p.m. on Saturday, Oct. 8 in Dover-Foxcroft.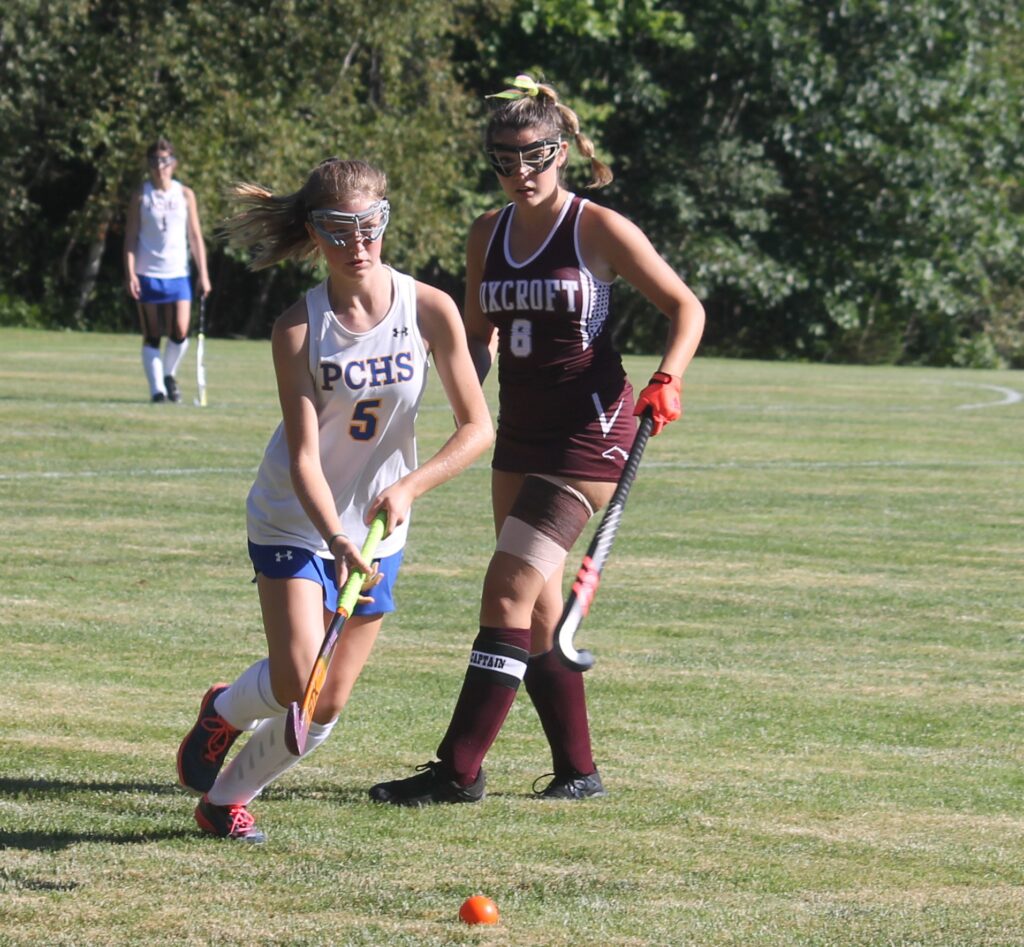 FIELD HOCKEY
Foxcroft 3,
PCHS 0
F 0 1 1 1 | 3
P 0 0 0 0 | 0
Second: F — Martin
(Batchelder)
Third: F – Martin (Howard)
Fourth: F – Martin (Howard)
Penalty corners: F — 8,
P — 6
Saves: F – L. McGary 3,
P – Koscielny 4
Records: F – 1-1,
P – 0-1