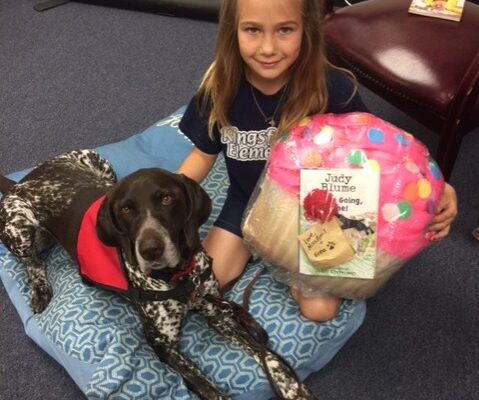 PO-readingdog2-29-18
File photo courtesy of April Taylor LOTS OF DOG EARED PAGES -- After visiting children at the PRYMCA in Dover-Foxcroft over the summer, Erma the reading therapy dog and her handler April Taylor have worked to install a new library at the PRYMCA.
New library installed at Piscataquis Regional YMCA
DOVER-FOXCROFT – Many children do not have access to books in their homes or they cannot get to the library because their parents work. The Piscataquis Regional YMCA hosts a great summer program where the children enjoy sports, games, arts and crafts, and swimming.
This summer Erma, the reading therapy dog, visited the kids weekly and they heard several stories, participated in a summer reading program and got to interact with Erma. "We have been members of the Y for many years and this year we wanted to visit and see if we could get the kids more interested in reading, " said April Taylor, Erma's handler.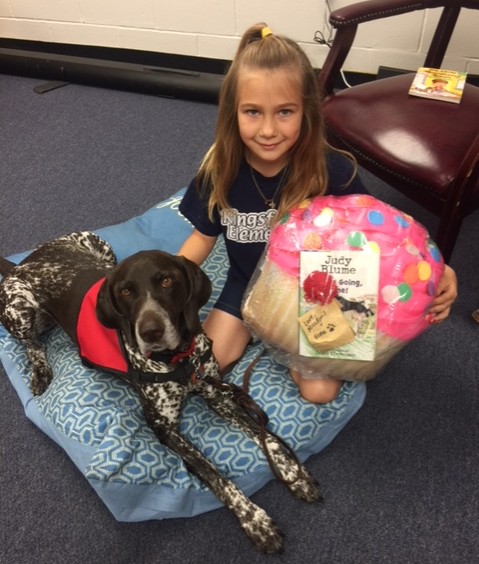 Through the Reading with Erma 501(c)3 charity, they were able to do even more. There is now a dedicated space with comfortable seating, a rug, and sound minimizing dividers. We have purchased and donated over 300 books to get them started. The area is brightly decorated and the hope is that children can find a book and relax and enjoy a story.
According to the Department of Education's 2022 assessments: "…the declines shows that students in 2022 are performing at a similar level to two decades ago." "They also represent … one of the largest ever declines in reading since the long term trend assessment was first given in the 1970s."
So getting books into the hands of children is a high priority. There are many homes where there isn't any reading material available nor are the parents modeling reading behavior. We can't expect our children to enjoy reading and excel at it only during the school year. This library will be available to children enrolled in the Y's after school program.
"Having April and Erma visit our classroom is something our kids look forward to every week," said Karen King, child care administrative lead. "Making literacy support available and structured in a fun, non-judgemental environment is a true benefit to our programming and community. At the Y, we're about youth development, social responsibility, and healthy living. Having April and Erma as part of our Y Family helps us achieve our mission."
We will officially open the library at 3 p.m. on Tuesday, Sept. 6.