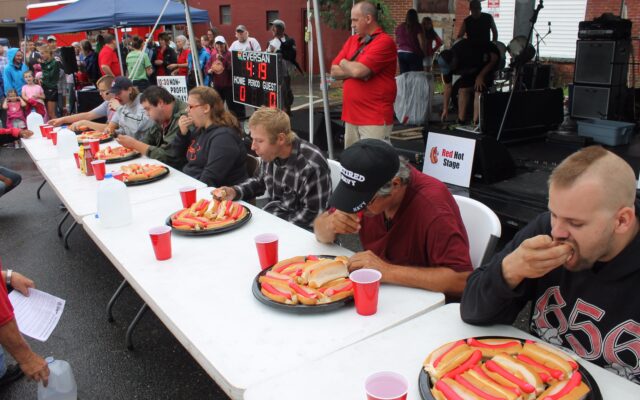 PO-hotdogcontest-33-16
Observer file photo/Stuart Hedstrom STUFFING YOURSELF IS ENCOURAGED -- Entrants tried to scarf down as many hot dogs as possible during an eating contest in 2016 as part of the inaugural Maine Red Hot Festival in Dexter. Competitors had five minutes to eat as many hot dogs with buns, and optional condiments, as a crowd gathered around a table in the municipal parking lot. The 2022 festival will be on Saturday, Aug. 13 and the event is sponsored by the Dexter Revitalization Committee and Maine Highlands Federal Credit with many other businesses and organizations also involved. This year's contest starts at noon, with entrants picked via lottery.
Maine Red Hot Dog Festival returns to Dexter on Saturday
DEXTER — The Maine Red Hot Festival will be back in downtown Dexter on Saturday, Aug. 13 as the annual event will feature activities with free admission from 10 a.m. to 7 p.m. — rain or shine.
The festival serves as a fundraiser for the Dexter Revitalization Committee, which sponsors the day along with the Maine Highlands Federal Credit Union and a number of other corporate partners, and it is designed to attract a large number of people to the town where they will see all that Dexter has to offer and to simply have fun.
Millside Fitness sponsors a 5K Bun Run at 7:30 a.m. The race will start next to Bangor Savings Bank on Main Street and go around town and end back on Main Street Registration can be done at https://runsignup.com/Race/ME/Dexter/BunRun5k.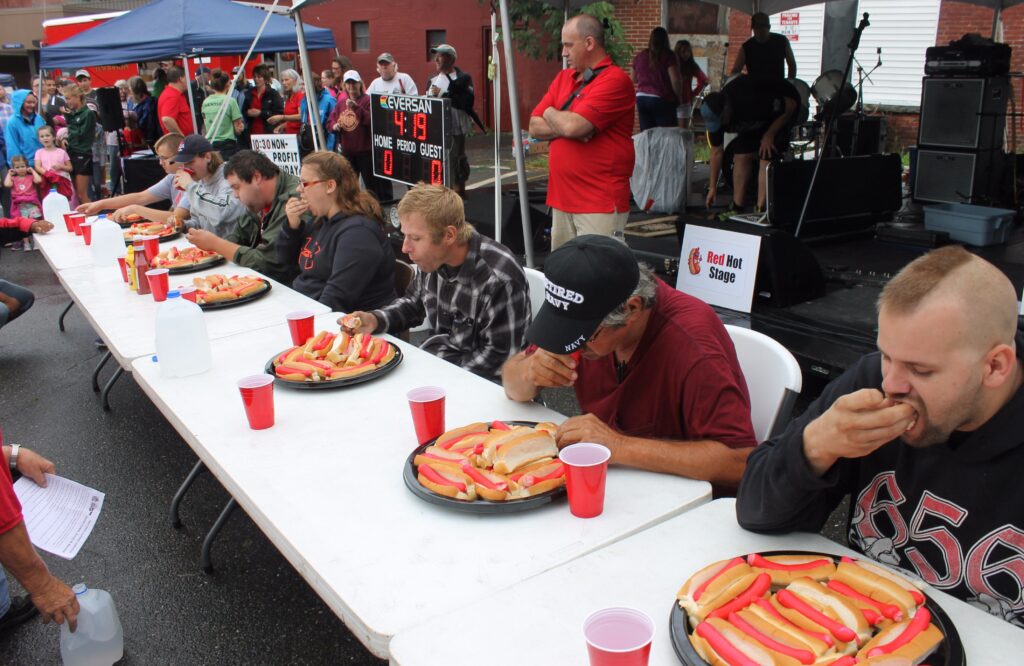 Main Street opens at 10 a.m. with food, crafts and other vendors, as well as children's games and music live on stage throughout the day.
Also opening to the public at 10 a.m. will be the Red Hot Dog District. Looking for the stars of the show? This is the place for you. Get your W.A. Bean hot dogs with just mustard or load it with the works. Chips, soda and water will also be available.
The hot dog eating contest starts at noon with the contestants announced in advance. The competition is open to 10 entrants — ages 16 and up — drawn by lottery from those who have registered at the information booth by 11:45 a.m.
The contest objective is to eat 10 hot dogs and buns, with water as the only beverage, within five minutes — condiments will be provided if desired. The winner will be determined by the first contestant to finish all 10 of their hot dogs with buns or whoever eats the most in five minutes.
Following the hot dog competition children ages 5-16 — in three different divisions — can put their eating skills to the test in the cupcake eating contest at 12:30 p.m. The contest is open to the first 10 contestants who register in each age group, and the top three in ages 5-8, 9-12 and 13-16 to finish their pies without using their hands will win prizes.
At 3 p.m. the duck race begins, get your tickets early by the fire department's lunch wagon. The ducks go into the water behind Dexter Ace Hardware.
Please go to www.redhotdog.org or https://www.facebook.com/maineredhotdogfestival/ for more information on the 2022 Maine Red Hot Dog Festival.