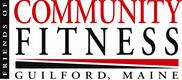 1c1bb78d33f27c6ece2d96ceff9b2239
Friends of Community Fitness in Guilford
Friends of Community Fitness to unveil outdoor pickleball court
GUILFORD – On Thursday, Aug. 18 the Piscataquis Chamber of Commerce will hold a ribbon-cutting ceremony to celebrate the new pickleball court at Friends of Community Fitness. Comfit is excited to offer the new outdoor court, located behind the facility at 31 High Street, to its members and day-pass holders.
Pickleball is the fastest growing sport in America, attracting players of all ages; it is a cross between several paddle ball sports, but has a unique scoring system all of its own. ComFit has had an indoor court for several years, but this new court will give players another option with more space.
Because Guilford is centralized to several vacation areas in Maine including Moosehead Lake, Piper Pond, Schoodic Lake, Sebec Lake and Lake Wassookeag; ComFit's vision for the project was to build the best court in the region, attracting players from those areas and surrounding towns.
"Anytime a local company or organization invests in itself for the good of its local community, it's a win for all of us – and in turn, we need to support organizations like these," said Piscataquis Chamber of Commerce Executive Director Denise Buzzelli.
The design of the new court took into consideration some common outdoor pickleball challenges. The area was designed to standard specifications while limiting excess space so players won't find themselves "chasing the ball." Three sides of the court are enclosed with wood stockade to help block the wind, and the fourth, a chain-link fence for spectators to watch the action. Two sides include access gates for players to retrieve balls that escape the court.
A ComFit member donated a maple bench for players to take breaks. Mulch was spread around the perimeter of the court to ensure long-term groundwork stability and prevent balls from rolling under the fence. The court surface has been painted to reduce heat on sunny days, also making the surface non-slip.
"This court is a dream come true for local players. We couldn't have done it without the donations and support of our members and players," said Britney Gallagher, Comfit executive director.
ComFit has purchased a new Lobster Pickleball machine that can be rented for $10/hour. The machine has several modes for players to practice including oscillating, speed, frequency and even an adjustable spin option. The Lobster machine, paddles ,and balls can be used indoors or outdoors and are available when the office is open.
The court is open from sunrise to sunset for members and day-pass holders. There is a lockbox on the fence for those that need to pay the $5 day-pass fee when the office is closed. The court is to be used for pickleball only, no skateboards or other sports equipment allowed.
The event on Aug. 18 will begin at 5:30 p.m., and will include grilled hotdogs and refreshments, and the Chamber ribbon cutting at 6 p.m. The new pickleball court will be open for free matches after the ribbon cutting, paddles and balls included.
For more information contact Friends of Community Fitness at 207-876-4813 or comfitme2003@gmail.com or visit the website www.comfitme.com.