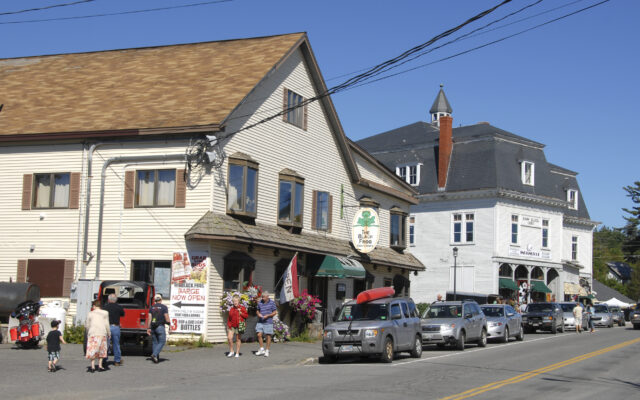 Pritham Avenue tourists
Bangor Daily News file photo
Solutions sought for downtown Greenville parking issues
GREENVILLE — With many visitors coming to Greenville to enjoy the sites downtown as well as Moosehead Lake and other nearby natural attractions, parking spaces have become harder and harder to find for tourists and locals alike.
There are no easy remedies to the lack of parking, but town officials hope to work with business owners, the Maine Department of Transportation, and others to find short- and long-term solutions.
During a selectboard meeting on Aug. 3, Chairperson Geno Murray said it has been a challenge balancing the growth of the community with parking availability and town officials have heard a number of comments related to the issue.
Town Manager Mike Roy said there is a small municipal lot next to the fire station, across from the town office, and vehicles can also be parked on the school grounds up Pritham Avenue during July and August and other times when school is not in session. "It's a challenge for us, we know that," he said.
He also mentioned a lot next to the Greenville Union Church at the corner of Lily Bay Road and Pritham Avenue is owned by the town and can be used by the public.
"There's only so much space in Greenville," Selectperson Newton Pierce said.
Roy said he has met with the MDOT, and the state agency may be able to come in and do a feasibility study. He said another possibility could be a shuttle service between downtown and other locations.
Destination Moosehead Lake Executive Director Allison Arbo said tourist numbers have increased, mentioning the organization visitor's center has seen more than 200 people stopping by daily.
She said communities such as Bar Harbor utilize shuttle services and for Greenville "it would be a great out of the box idea." Arbo said the transportation could also be in operation in the winter – weather permitting – especially with the Big Moose Mountain ski resort in operation.
Crazy Moose Fabrics owner Marilyn Goodwin said if she looks down Pritham Avenue from her front door at noon she sees all the parking spaces occupied. "The closest they can even get to my business is the tennis courts," Goodwin said, about the only vacancies being several hundred yards up the street.
"I'm frustrated, our older clientele can't get there if they want to continue their craft," Goodwin said, mentioning she has heard some patrons say they have driven by four or five times and still cannot find a parking space close by.
Goodwin says she carpools to free up a spot by Crazy Moose Fabrics, but she has still seen people parking on the sidewalk and blocking the exit by creating their own spots in the nearby municipal lot.
Roy said one solution to the parking crunch may be, using Google Maps, to look at spaces and real estate in the downtown area that may be underutilized. "It's private property but there may be the possibility in the future for the purchase of parcels," he said, about the potential for a 10-15 year plan to expand parking options.
"It's great to see our businesses busy and it's wonderful, but we knew we would get a lot of pressure and it came quicker than anyone thought," Murray said about revitalization efforts in the region.
"I think it's pretty clear that we need to commandeer a next step planning piece," Murray said, saying the parking issue will not be solved this summer or next.
"I think as a group we need to engage the DOT and look at other traffic-type engineering opportunities," he said. The chairperson said business owners should also be involved in the problem solving, and a motion to involve these stakeholders with the town on parking discussions was passed.
In other business, the selectboard will review four received requests for qualifications for airport engineering and planning services consultants with a related agenda item planned for the next meeting on Wednesday, Aug. 17. If need be interviews could be conducted to aid in the selection process.
Two of the firms are from Maine and the other two are from New Hampshire and Vermont respectively. Town officials are looking to have a contract signed by the end of the month.
The selectboard is looking to hold a special town meeting on Wednesday, Sept. 7, prior to its regular meeting concerning the sale of a police department ATV.
A meeting is needed because the 2010 model is worth more than $5,000, and the sale of town property over this amount must be done after receiving approval via a vote of residents.