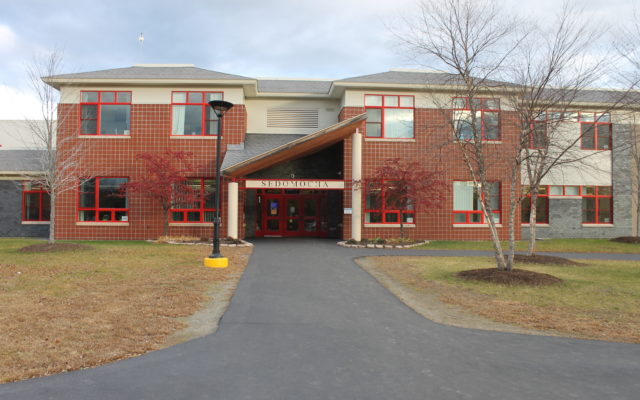 IMG_4585
The SeDoMoCha School in Dover-Foxcroft
SeDoMoCha students keep busy over the summer
DOVER-FOXCROFT — Approximately 100 SeDoMoCha School students have been attending portions of a six-week STEAM camp/summer school where they have been taking part in academic programs and exploring some outside interests.
SeDoMoCha School PreK-8 Math Coach Brittany Munson, who runs the summer program based on science, technology, engineering, arts and mathematics, said four of the six weeks are for academic tutoring.
"Parents get to choose what weeks they wanted their students to attend," Munson said, about the camp that is free for any pupil to attend thanks to a state grant. "On average I would say we have about 75 students each day."
Nine teachers, six for elementary and three for middle school provide instruction. A "foster grammy" has also come in and helped out.
"Students have lessons in reading, writing, and math and also some type of STEAM component each day," she said. Munson mentioned treehouses, clay creations and salt art as examples.
The other two weeks are exploratory, offered so that students can join into an activity they may be able to do outside of school, Munson said. During the academic year, the school offers an exploratory program in which pupils can try out different activities.
In the month and a half some students took part in a horse care exploratory. They traveled across town to Infinity Farm to learn how to take care of the animals and they had the opportunity to ride.
"We had some creative strategy writing games," Munson said, as well as offering sewing and crochet and various outdoor games. "Next week we have our last week of exploratories."
STEAM camp/summer school began on June 27 and runs through Friday, Aug. 4. The students had two weeks of academics, took a break and had a week of exploratory. On July 18, they did another two weeks of academics and starting Aug. 1, will be a week of exploratory, Munson said.
During the morning of Thursday, July 28, parents were invited to see what their students have been doing at a Family Day.
"We invited families in because this was the last week of that academic piece before exploratories," Munson said. Students and their guests enjoyed lunch and then participated in a family craft
Munson said free flowing stations were set up on the elementary side of the building for Legos, Play-Doh, a Makerspace (a collaborative work space for making, learning, exploring and sharing with tools), marbles and family/friendship bracelets.
"On the middle school side, they did loom bracelets as well where families could participate with their children," Munson said. "We also had in the library some of the works set up so families could see what some of the students had done. They had writers' notebooks for middle school and then the elementary had works displayed on the walls that families could look at and take home with them."
Munson said funding for the summer program comes from a multi-year 21st Century Community Learning Centers grant awarded to RSU 68 and this has allowed for additional weeks to be offered.
"Typically we have just done the four weeks of academic lessons but this year, because we got that grant, we were able to expand that and include two weeks of exploratories," she said.
Per the Maine Department of Education, the state's 21st Century Community Learning Centers program provides funding for school and community partnerships to establish or expand community learning center programs.
These programs provide students in high-need, economically disadvantaged communities with academic tutoring and enrichment opportunities designed to complement their school-day academic program. In addition, these programs can provide a broad array of additional support services related to overall student health and well-being.
Programs provide high quality support services to students during non-school hours. As such, these programs also support working parents and families by providing safe, supportive learning environments for students at times when school is not in session.