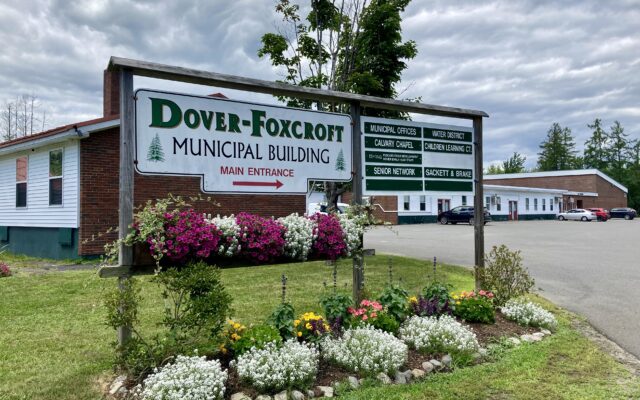 Dover-Foxcroft-town-office
Observer photo/Valerie Royzman The Dover-Foxcroft Municipal Building,
Dover-Foxcroft Select Board accepts nearly $55,900 in property bids
DOVER-FOXCROFT — The town of Dover-Foxcroft will collect nearly $55,900 after the select board approved bids on tax-acquired properties at a meeting Monday.
The Dover-Foxcroft Select Board approved property bids for five locations. That includes $30,100 for 510 Milo Road, $11,000 for 31 Herring St., $3,000 for land on Merrills Mills Road, $8,251 for land on Oliver Hill Road and $3,500 for land on Doore Road.
Those who submitted the winning bids listed various reasons, such as wanting to build a residential property, renovating to create a retirement home and maintaining an area that abuts existing property.
"We reviewed these carefully, and we had some really appropriate bids," Vice Chairperson Cindy Freeman Cyr said. "In some cases, more than we would have expected. We were pleased with that."
The board accepted the highest bids for each property with the exception of 510 Milo Road. Members went with the second highest bid for the property because Mark and Lori Rosebush, the bidders, own property that abuts the location, and their son and his family live across the street from the Milo Road structure.
The board also authorized town officials to take corrective action and recoup costs from the property owner of 284 East Main St. The property is abandoned and has pest control issues, Town Manager Jack Clukey said.
Last month, the board approved an abandoned property decision and order, giving the owner 30 days to fix the issues after neighbors had complained about a potential rat infestation. The owner did not communicate with Code Enforcement Officer Brian Gaudet, Clukey said.
The town manager offered an update on the Maine Highlands Broadband Coalition, a group that began meeting in early May to discuss how towns could collaborate to pursue cost-effective broadband. The coalition has grown to 11 towns, Clukey said.
A celebration to honor the 100-year anniversary of Dover and Foxcroft coming together as one town is scheduled for Saturday, Aug. 6. There will be a parade, beach party, fireworks and more, with a schedule of events available on the Piscataquis Chamber of Commerce website.
Those interested in participating in the parade should arrive at the Piscataquis Valley Fairgrounds by 9:15 a.m., Clukey said. The town is still seeking from three to five parade judges.