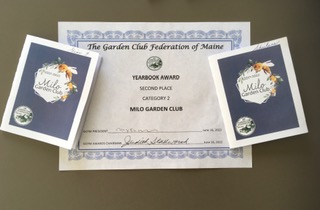 image0 (3)
Photo courtesy of Milo Garden Club
Milo Garden Club yearbook recognized
MILO – In June The Garden Club Federation of Maine recognized Milo Garden Club with a second-place award for their yearbook design. "This is a happy honor!," said club members.
The program committee agreed and explained that many hours go into planning programs, choosing committees. and gathering information about upcoming meetings, conferences, and conventions throughout the state and beyond. "We also include photographs of community plantings as well as those from our members' gardens," committee members said.
Members of the program committee are Gini Foss, chairperson, Joanne DeWitt, Allison McCullough, Myrna Ricker, Ethelyn Treworgy, Barbara Reed, and Victoria Eastman. Friend of Milo Garden Club and former member, Cheryl Zeh, designs the book from her home in California .
For more information about the Milo Garden Club, please call Victoria Eastman at 207-943-2400.