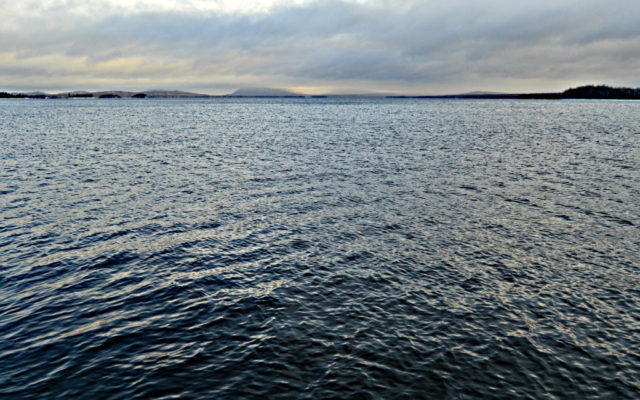 Moosehead Lake
Moosehead Lake
Moosehead Lake Region fishing report
By Tim Obrey, Moosehead Lake Region regional fisheries supervisor
Invasives. There is no greater threat to our native and wild coldwater fisheries than invasive fish. The impacts are occurring now (and have been for some time in many places) and the effects are forever. The ME IF&W has been relentless in its efforts to educate the public about the dangers of spreading invasive fish. We've put up signs at access sites, saturated our website and lawbook with information, and our field staff talk to anglers about this subject all the time. It's an uphill and never-ending battle for sure.
In most cases of an illegal introduction, the impacts are not immediate. In fact, we usually do not detect the new species for years after the act has been committed. That hinders any criminal investigation as the statute of limitations has likely expired, unlike a personal property damage crime where the clock doesn't start ticking until the crime has been discovered.
Not all introductions of invasives are illegal. In the early 1970s, Canadian biologists stocked muskellunge in Lac Frontier, just across the U.S./Canada border. This water drained directly into the shared St. John River. Upon hearing of this stocking, the regional staff went to work quickly to protect the waters in the Moosehead Lake Region. It was impossible to stop muskies from spreading in the St. John itself because there were no natural or man-made barriers.
The biggest and most immediate danger was actually to the West Branch of the Penobscot River. A canal had been constructed from Fifth St. John Pond to Big Bog in 1939 to move logs from the St. John drainage into the Penobscot. It was no longer in use so the fisheries staff secured the permits necessary and grabbed a construction crew and bulldozed that canal shut!
We documented the first muskellunge in Baker Lake in 1986. Since then, muskies have spread downstream all the way to the Atlantic Ocean in New Brunswick. They have spread upstream through most of the St. John Ponds. They are on the doorstep of the Allagash, Aroostook, and Fish Rivers …think about that. Fish have fins and they know how to use them.
As one pike expert told me while discussing pike movement in areas that had fish passage on the Penobscot River, "Eventually, they will get everywhere." If that canal had not been bulldozed, muskies would have spread downstream into the West Branch into some very good trout and salmon waters including Chesuncook Lake and the famed West Branch of the Penobscot below Ripogenus Dam.
Apex predators such as muskellunge and pike can eliminate sensitive species like our native and wild coldwater fish. They also impact stocked coldwater fisheries. Look no further than the Belgrade Lakes in central Maine. Long Pond once provided a high-quality brook trout and salmon fishery. Some of Maine's finest salmon came from this water in the 1980s and 1990s. Now, we don't even manage that water for salmon since northern pike have become established. Pike continue to get established in waters in central and southern Maine. Sometimes they are able to swim to waters on their own and sometimes are helped by people. Every time a new population is established, it creates a new source for people to move them and they hopscotch across the landscape. That is why it's imperative to isolate and restrict invasives at every chance.
The illegally introduced smallmouth bass population in Moosehead Lake continues to expand to this day. Initially smallmouths were thermally isolated in Moosehead Lake. They became established in a few warmer shallow coves and bays. Smallmouth bass must reach a certain length as fry, or they will succumb to starvation over their first winter at large.
Moosehead is a very cold lake, and the growing season is very short for tiny bass fry that typically hatch in late June or early July. Therefore, most of the bass fry perish in their first year. This resulted in isolated pockets of bass that grew very large individuals. The recent illegal introduction of smallmouth bass into Jackman area waters is a severe blow to Moosehead Lake. Bass are now very abundant in waters upstream in the Moose River drainage like Brassua Lake, Long Pond, Big Wood Pond, and Attean Lake. These lakes are shallow and much warmer. Bass survival is much higher. Smallmouths are rapidly expanding in these waters and dropping downstream into Moosehead Lake. Anglers are now reporting them throughout the Rockwood area.
The once famous spring trout fishery in Spencer Bay has all but disappeared. This was a mecca for salmon and trout anglers during May and early June. Our creel surveys now indicate that the catch of bass far exceeds our prized coldwater game fish in this 5,000-acre bay.