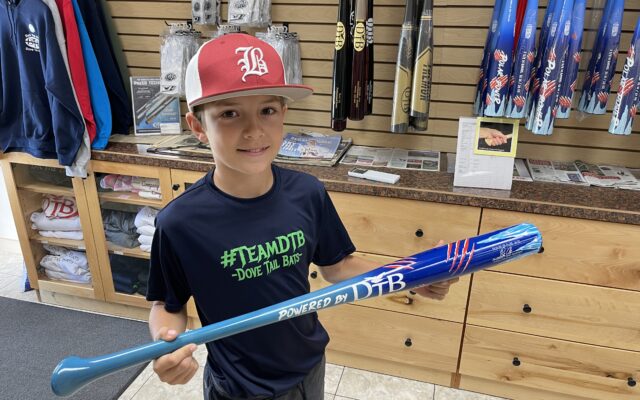 PO-sphomerunderby-29-22
Photo courtesy of Dove Tail Bat Company ALONSO MODEL – 11-year-old slugger Spencer Weston holding the custom-designed wooden bat Pete Alonso swung in Los Angeles on Monday for the 2022 Home Run Derby.
Alonso and his Shirley-made bat enter Home Run Derby
SHIRLEY – Dove Tail Bat Company, a Maine-based manufacturer of baseball bats, was once again the bat of choice for reigning Home Run Derby champion Pete Alonso as he took part in the 2022 event on Monday evening at Dodger Stadium in Los Angeles. Alonso, who plays for the New York Mets, won the 2021 Derby in Denver and the 2019 edition in Cleveland. A COVID-shortened season in 2020 canceled that year's Home Run Derby.
This season Alonso reached the second round, falling 31-23 to Seattle Mariners' rookie sensation Julio Rodriguez. Rodriguez was edged 19-18 by Juan Soto of the Washington Nationals in the derby finale.
"We have had a lot of faith in our bats for a long time," said Paul Lancisi, CEO of Dove Tail Bat Company last week. "As much as we have believed in our product, nothing compares to seeing Pete Alonso chasing history using a Maine-made bat. His natural talent speaks for itself, but we would like to add that Maine wood, Maine design, and Maine's Yankee Ingenuity and hard work have played a small part in his success. We are incredibly proud of him and everything he has already accomplished, and we will be watching with interest as he defends his Home Run Derby crown in Los Angeles Monday night."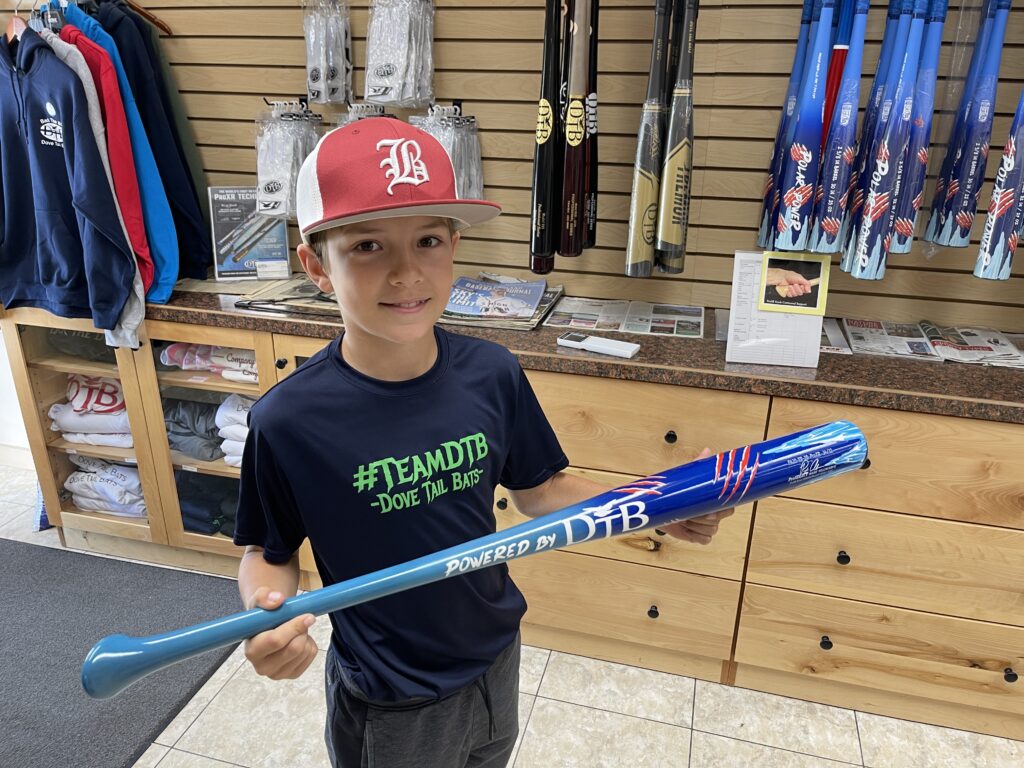 Alonso worked with Dove Tail Bat on a custom-designed wooden bat to use in the 2022 Home Run Derby. The bat was hand-painted to match the USSSA-certified Polar Power metal bat, which was designed by Pete himself. The bat includes the ProXR ergonomic knob, which increases the batters leverage and control through proper biomechanics and improved grip engagement. Last year, Dove Tail Bat announced an exclusive agreement with ProXR to produce the world's first metal bat using ProXR's ergonomic design.
ProXR LLC is a privately held, St. Louis-based company, founded in 2014. ProXR develops and markets performance grip technology for baseball and other sports including pickleball, hockey (TORCH™ hockey knob), golf, field hockey, and lacrosse.
Dove Tail Bat Company was born out of Dovetail Cabinetry and Designed Living. The owner's youngest son was playing baseball in high school and college, and would complain about the quality of the bats. Using Maine wood and Maine know-how, Dove Tail Bat Company came into existence as a result.
After making bats for their son and his teammates in high school and college, Dove Tail Bat Company started selling bats to men's leagues around the country and eventually to professional baseball players. In 2021, Dove Tail Bat produced about 30,000 bats, and saw three bats entered into the Baseball Hall of Fame.
More information about the company can be found at dovetailbat.com.