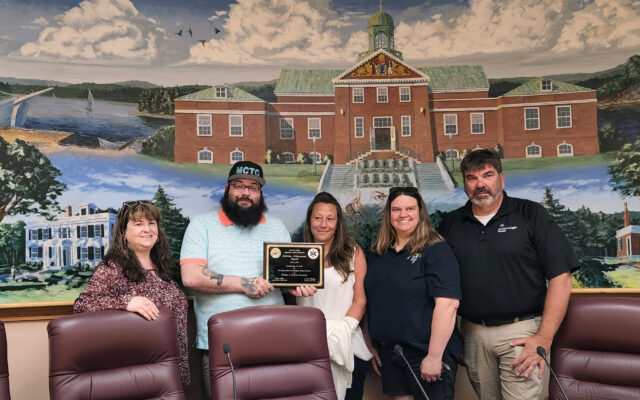 PO-hesketh-29-22
Photo courtesy of Northern Light Health POSTHUMOUS HONOR – From left, Nikki Chadwick, RN, MSN, CPHQ, vice president of quality and education, Mayo Hospital; Will Hesketh, Jr.; Amy Appaneal, unit coordinator, Emergency Department, Mayo Hospital; Niki Fortier, AEMT, EMS supervisor, Mayo Hospital; and Chuck McMahan, manager, EMS operations, Mayo Hospital, at a Maine EMS Lifetime Achievement Award presentation for the late Will Hesketh, Sr.
Hesketh, Sr. recognized posthumously with lifetime EMS award
DOVER-FOXCROFT – Will Hesketh, Sr., a highly respected Northern Light Mayo Hospital paramedic who passed away in November 2021 after battling cancer, was recently recognized with a Lifetime Achievement Award by Maine EMS, a bureau of the Maine Department of Safety. Hesketh's family and Mayo Hospital colleagues recently accepted the award posthumously at the EMS Region 4 regional awards ceremony in Ellsworth.
Hesketh was known for his deep commitment to his co-workers, patients, and community during his 21-year career at Mayo Hospital. His dedication to healthcare training and education benefited his Mayo Hospital co-workers and colleagues from partner agencies who frequently turned to him for guidance and support.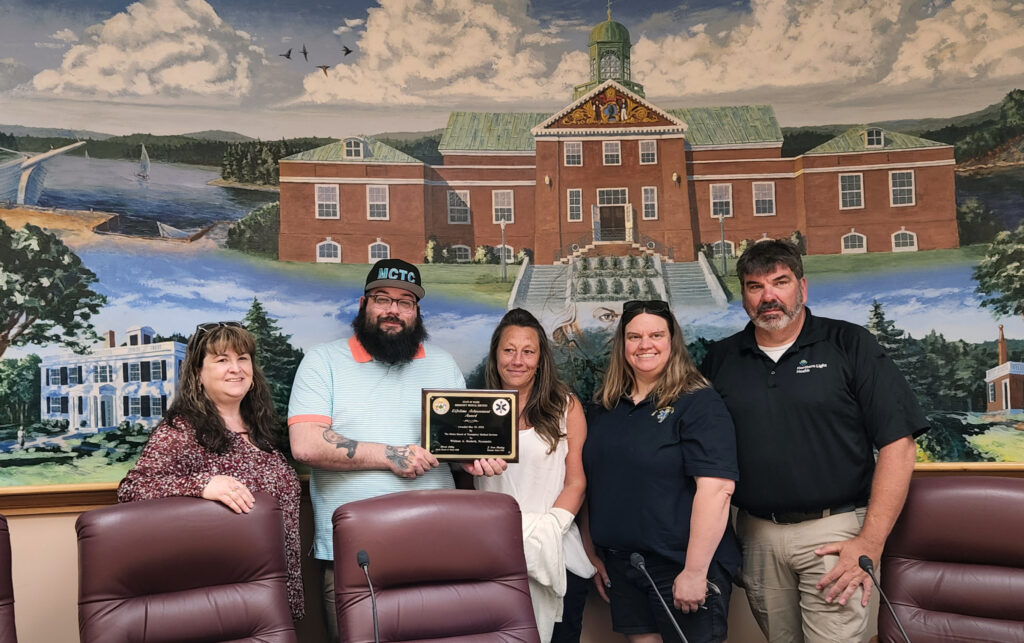 "Will is someone to aspire to as an educator, caregiver, and friend. He cared deeply about those around him and took extra time to help them succeed. Will would give up an entire weekend to train with the crew. As a caregiver, he was incredibly compassionate and saved countless lives. He knew exactly what to do to keep his patients calm and relaxed while providing lifesaving care," says Chuck McMahan, manager of EMS operations, Mayo Hospital.
Lifetime Achievement Awards are conferred by Maine EMS to emergency medical services providers with 10 or more years of service and who have consistently performed above and beyond expectations in system development, patient care, service involvement, and/or community involvement.
"This well-deserved recognition is a chance to once again celebrate Will's impact on emergency medical services in Piscataquis County while remembering his legacy as a caregiver. We were fortunate to have Will as part of our team for more than two decades. He is greatly missed," says Nikki Chadwick, RN, MSN, CPHQ, vice president of quality and education, Mayo Hospital.
A scholarship fund in Hesketh's name has been established at Mayo Hospital to support young people who are pursuing career opportunities in EMS. Contributions to the scholarship fund can be made online at northernlight.org/GiveMayo or by mail to The Will Hesketh Scholarship Fund, c/o Northern Light Mayo Hospital, PO Box 131, Dover-Foxcroft, ME 04426.