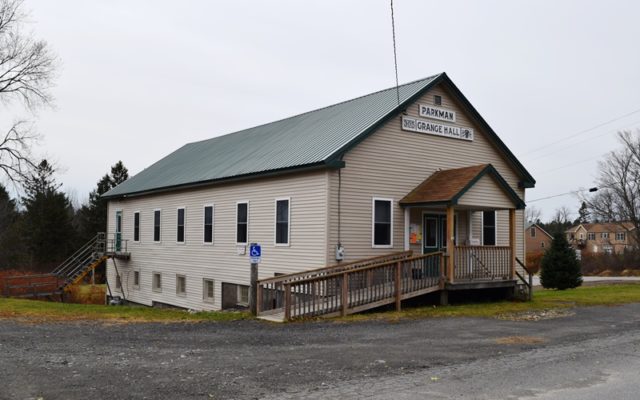 Parkman 305 Grange Hall
Parkman 305 Grange Hall
2022 Parkman Grange Scholarship awardees announced
PARKMAN – The Parkman Grange is pleased to announce its 2022 Minnie Welts Bridge Scholarship winners. They are Mercy Harper, Sangerville, a criminal justice major at Husson University, and Eben Cooley, Parkman, a marine engineering technology major at Maine Maritime Academy. Both will receive awards of $500.
Although the Grange normally announces and awards winners at the annual scholarship supper, this year the awards will be presented at the Parkman Grange bean supper on Saturday, July 23, in conjunction with the Parkman Bicentennial Celebration. The supper runs from 4-5:30 p.m. or when the food runs out. Meal is by donation. Please come and enjoy the good food and good fun.
Minnie Bridge (1909-2011) was a lifelong resident of Parkman, a retired schoolteacher, and a life member of the Parkman Grange. In her memory, the Grange established the Minnie Welts Bridge Memorial Scholarship Fund to benefit deserving Parkman students continuing their education beyond high school. The Grange annually awards one or more scholarships funded through donations and the proceeds from an annual supper in Minnie's name. Last year, at the height of the pandemic, there were no applicants and no awards made. This year applications were opened to all residents of SAD 4. With these new awards, the Grange has awarded $13,000 since 2012.
Note that the next big Parkman Grange event will be the annual Daddy-Daughter Dance at the Grange Hall on Friday, Aug. 12 from 6-8 p.m. All Daddies, with their young ladies, age 13 and under, are invited. DJ Steve Boddy will be spinning the tunes. There will be dance contests, door prizes, light refreshments, and a keepsake photo. Young ladies whose dads are unable to come are encouraged to come with an important adult in their life. The cost is $5 per person, at the door. Plans are being discussed for a mother son and/or family dance in the future.
Both the supper and the dance are at the Grange Hall located at the corner of State Highway 150 and the North Dexter Road. For more information about these or any other Parkman Grange events, please contact Sue Manchester at 207-277-3942.