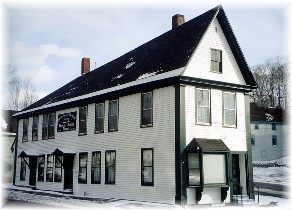 observerbuildingmuseum
Photo courtesy of Dover-Foxcroft Historical Society
Dover-Foxcroft Historical Society summer events
DOVER-FOXCROFT – The Dover-Foxcroft Historical Society plans a busy summer. This is a special year for the town as we celebrate the union of Dover and Foxcroft 100 years ago.
The Blacksmith Shop Museum is planning demonstrations at the Dunham Forge (located next to the museum on Dawes Road) most Saturdays from 10 a.m. to 2 p.m. Fred Maddocks will be there on Saturdays with Jason Schriver appearing on July 9, Dustin Freathy-Poiss on July 23 and Dwight King, whose specialty is knives, on Aug. 13.
The Observer Building will be open on Thursdays from 10 a.m. to 3 p.m. There is a new display this year dedicated to the Congregational Church. The church will be celebrating its bicentennial this year.
We plan to be open on Saturday, Aug. 6, the day of the big celebration. We will have a float in the parade and re-enact the marriage that took place 100 years ago. Also planned is a tour of downtown with the emphasis being on 1922. Contact Chris Maas at chrism2666@gmail.com to get on our list. Space is limited.