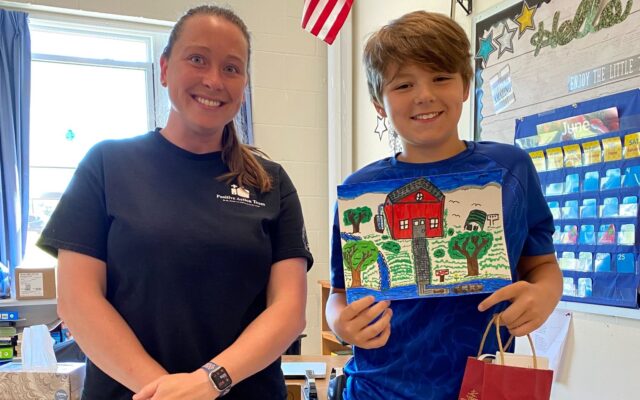 IMG_3533 – Copy
Photo courtesy of PCSWCD LAKESMART POSTER – Jacoby Landry, student at Penquis Valley Middle School, is the winner of the PCSWCD 2022 LakeSmart poster contest. He is pictured with grade 5-6 teacher Miranda McMahon.
Penquis Valley Middle School student wins LakeSmart Poster Contest
Piscataquis County Soil and Water Conservation District serves as a resource hub for Maine Lake's LakeSmart — a free program offered state-wide, which helps waterfront property owners protect the beloved lakes and ponds they live on. Summer kicks off "LakeSmart season" and outreach for the program starts to increase. This year, PCSWCD Educational Coordinator Kacey Weber, made LakeSmart outreach a little more fun with a LakeSmart poster contest.
Weber was invited to work with Miranda McMahon's grade 5-6 students at Penquis Valley Middle School in Milo by Appalachian Mountain Club Educator Steph Perkins. AMC and PCSWCD have a strong partnership and work collaboratively to bring conservation education into area classrooms. Weber explored watersheds with students — what they are, the negative impacts on watersheds, and how we can help protect them.
From that lesson, students were asked to design their own version of a protected watershed and submit it to be considered for the LakeSmart poster contest. There were 49 posters submitted and PCSWCD wants to thank all the artists who participated in this contest! The winning selection will be featured on all 2022 LakeSmart outreach materials, helping to promote this beneficial program in an eye-catching and fun way.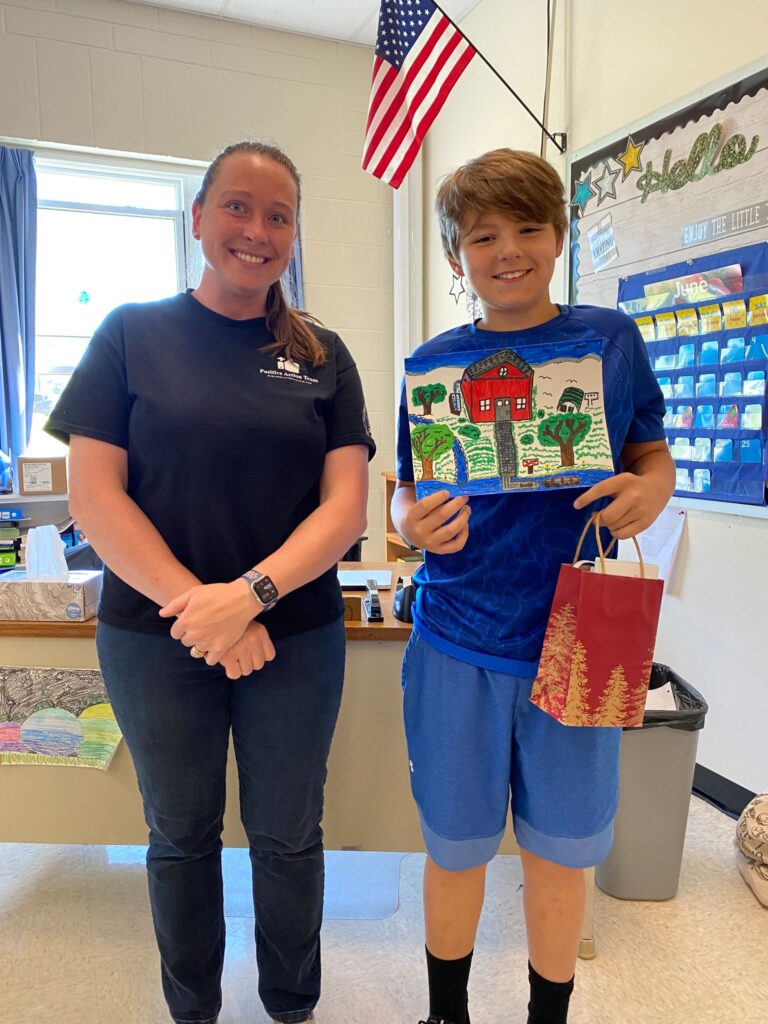 After reviewing all the impressive art submissions, Jacoby Landry's design was selected! Congratulations to Jacoby for winning the LakeSmart poster contest!
The LakeSmart program offers education, easy, low-cost solutions to addressing soil erosion and so much more to waterfront property owners. Do you have trouble with a driveway washing out? Are you worried about losing shoreline? Do you want to do your part to help protect water quality? Anyone who lives near our precious water resources in Piscataquis County (Sebec Lake, Moosehead Lake, Whetstone Pond, Schoodic Lake to name a few) should strongly consider reaching out for an evaluation. It's a simple way to accomplish big, positive changes in the health of water resources. Reducing soil erosion helps fish species thrive, decreases the likelihood of algae blooms and improves water clarity and quality.
LakeSmart evaluations are free and suggestions made in reports are 100 percent voluntary and confidential – the overall goal is about education and simple ways to solve problems!
For more information on the LakeSmart program offered in Piscataquis County, please reach out to Weber at 207-564-2321 ext. 3 or katherine.weber@piscataquisswcd.org. LakeSmart is a great tool to help you help the lake For more on the LakeSmart program in Maine visit https://www.lakes.me/lakesmart.