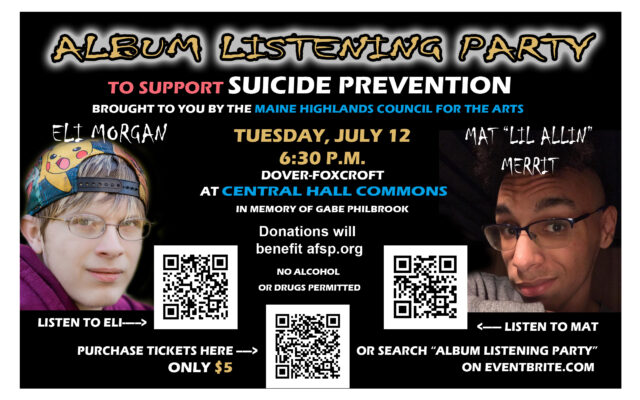 AlbumListeningParty_EventbriteFlyer2
Local rap album release party to promote suicide prevention
DOVER-FOXCROFT — We are excited to announce a rap album listening party at Central Hall Commons in to promote Suicide Prevention at 6:30 p.m. on Tuesday, July 12. Eli Morgan and Mat "Lil Allin" Merrit will be sharing their new music albums entitled "The Vault" and "Care Package."
This event is brought to you by the Maine Highlands Council for the Arts. Donations will benefit asfp.org and The JD Foundation. The event is in memory of Gabe Philbrook. Tickets are only $5 and are available at eventbrite.com (just search "album release party"). No alcohol or drugs are allowed. There will be guest rappers.
Everyone is invited. Your life has value!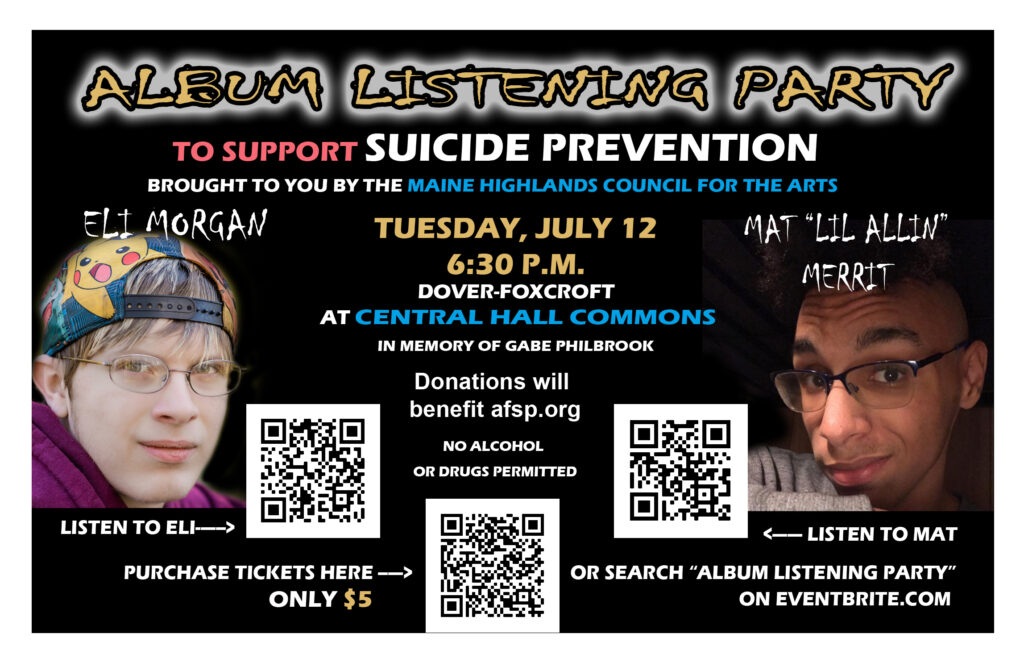 "We first started this album around two years ago during my sophomore year of high school, but it ended up getting lost in the chaos of COVID and school," said "Lil Allin" Merrit. "Now that school is out we have had plenty of time to really focus on it. This album is executive produced by my close collaborator Eli Morgan and has themes of mental health, addiction, loneliness, and loss with some sick raps in between.
"This album is partially in memory of Gabriel Philbrook. Gabe was a good friend of mine and Eli's who lost his life to suicide in the summer of 2021 and to have an album and event dedicated to him means a lot.
"We hope you will enjoy what me, Eli, and a host of other collaborators have put together on this project."
"Over my senior year at high school I ended up making a lot of tracks that I really liked but had no place to put them," Morgan said. "This album is my attempt to put them somewhere. It's eight songs, all produced by me, with a variety of guest features. The album has themes of nighttime, nostalgia, and pushing through obstacles, while also having some more fun, rap-oriented tracks.
"While I produced Mat's album, he also had a hand in tracks on mine. He co-wrote a few songs with me while we were making his project and features on one of the songs as well. These were definitely fun, and challenging albums to make."
If you have any questions, feel free to contact elisaunders42@gmail.com or arts@centralhallcommons.org.