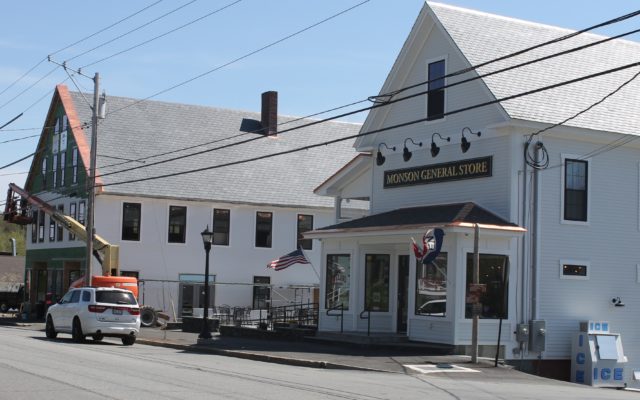 PO-monsonmainstreet-24-18
Observer photo/Stuart Hedstrom MONSON ARTS -- For the last year Monson has been undergoing many changes through the Portland-based Libra Foundation. The organization has purchased more than 20 properties along Main Street and across town, including the former community center, and many of the buildings have been torn down or are in the renovation process for the purpose of transforming the community into the Monson Arts artists' colony as part of the foundation's mission of making contributions to worthy causes across Maine to spur economic and creative growth.
KeyBank awards $5,000 for Monson Arts scholarships
MONSON – Monson Arts has been awarded a $5,000 grant from KeyBank to support scholarships for 16 students from University of Maine colleges and the Maine College of Art and Design to attend workshops at Monson Arts this summer.
"Part of our mission is to be a vibrant resource for art and creativity," says Chantal Harris, Monson Arts director. "These intensive workshops will provide time for students to investigate ideas and materials and develop ideas for their own work. Thanks to the support of KeyBank, we're able to provide these opportunities for Maine students."
This summer's workshops include: June 26 to July 2 Quilting – With Susie Bradt; June 26 to July 2 Joomchi Papermaking – With Jiyoung Chung; July 10-16 Wood/Sculpture – With Jamie Johnson; July 10-16 Book Arts and Writing – With Rebecca Goodale and Judson Merrill; July 24-30 Poetry – With Betsy Sholl; and July 24-30 Drawing/Painting – With Tessa Greene O'Brien & Alan Prazniak.
Monson Arts was founded in 2018. Their mission is to provide time and space for creative work through residencies, workshops, and educational partnerships. Visit monsonarts.org to learn more about all of their programs.