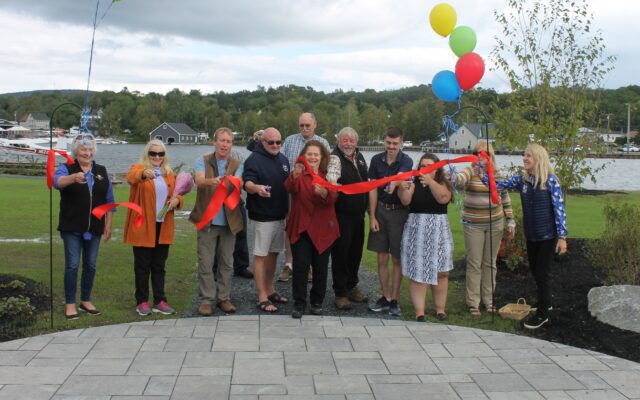 PO-parkribbon-37-21
Observer photo/Stuart Hedstrom CRAFTS LANDING AND PARK -- Members of the park committee cut the ceremonial ribbon for Crafts Landing and Park at the East Cove of Moosehead Lake in downtown Greenville on Sept. 10. The green space is now preserved for the public and provides access to Maine's largest lake throughout the year.
Investments help Moosehead businesses expand and diversify to support region's tourism economy
GREENVILLE – With the help of the Northern Forest Center's Tourism Investment Program, Greenville will see new boat slips for residents and visitors, expanded lodging, expanded public amenities at the lakefront, and a new disc golf course.
"These four projects are answering real needs that the Moosehead region grapples with in trying to provide high-quality visitor experiences while also serving residents and creating good jobs," said Mike Wilson, senior program director for the Northern Forest Center.
"We're excited by the mix of projects in this round of funding," said Wilson. "By the end of the year, people should really see significant improvements at the waterfront, with more space for boats and a new boardwalk to connect downtown with the new Crafts Landing Park. Rockwood will gain a new guest rental cottage, and the new disc golf course will give residents and visitors access to an increasingly popular sport."
Since it began in 2016, the Center's Tourism Innovation Program has helped 22 businesses improve their offerings with $220,000 of business grant funding which has been matched with roughly $350,000 on investment by the business owners themselves. The projects implemented have benefited more than 75 jobs in the area.
Funding for the Tourism Innovation Program was made possible by a federal New Markets Tax Credit financing, facilitated by the Center, of the Appalachian Mountain Club's Maine Woods Initiative. The Massachusetts Housing Investment Corporation and JP Morgan Chase provided capital and tax credit authority for the NMTC financing.
The Northern Forest Center will provide Bartley's Event Center, a family-owned business located on a large waterfront lot on Moosehead Lake, with up to $25,000 support to redevelop the marina that used to operate from its Pritham Avenue property. The installation of new dock floats and ramps will create slips to serve 30 boats, helping to meet demand from year-round and summer residents, as well as visitors.
"We've seen increasing inquiries from local residents and seasonal visitors for dock space, and we have been reluctant to offer any because we have not yet finished rebuilding the deteriorated cribwork on our family's property behind the Event Center," said Woodrouffe (Woodie) Bartley, vice president of the company. "The matching grant from the Northern Forest Center so we can build floating docks gives us the opportunity to rent floating dock space sooner, and the revenue from the dock slips will help fund reconstruction of the old cribwork."
In addition to diversifying income streams for Bartley's Event Center, the new marina development will make the Moosehead area more appealing as a destination by making it easier for boaters to secure safe and easily accessible dock space and access to the area's most important amenity – the lake. The project supports long-term destination impact management and local quality of life by reserving a number of the new boat slips for local residents.
Kineo View Motor Lodge, a 20-room hotel on the outskirts of Greenville with views of Moosehead Lake, Mt. Kineo, and the surrounding mountains, is developing King Pine Disc Golf to capitalize on the rapidly growing sport, diversify its business income streams, and create a new amenity to attract visitors to the Moosehead Lake region. The new disc golf course will be prominently located along the main access road to Greenville.
"This grant from the Northern Forest Center is helping us generate new business and job opportunities, and also helping us create a new, high-quality attraction that will bring new visitors and visitor-spending to the Moosehead Lake region," said co-owner Ryan Edmondson. The Center will contribute up to $14,000 toward the course design, installation, and related enhancements.
The new 18-hole course will come online after two years of steep growth in the sport. The Professional Disc Golf Association reported an 85 percent growth in membership in 2020 and another 55 percent growth in 2021, while the number of new courses has grown only 25 percent since 2019.
Rockwood's Misty Morning Cottages – a 50-year-old four-season cottage rental business located on the shore of Moosehead Lake directly overlooking Mt. Kineo – will renovate The Maine House previously occupied by the owners into a new guest cabin to expand cabin occupancy, generate additional business revenue, and meet the growing demand for lakeside guest cottages.
"This grant is helping Misty Morning Cottages respond to the growing visitor demand for lakeside lodging in the Moosehead Region," said Misty Leask, who owns Misty Morning Cottage with her husband Joe. "It's good for our business and it will help us bring new visitors and visitor spending to Rockwood and the surrounding area."
Renovation of The Maine House will include new electrical and plumbing systems, improving energy efficiency, and installing new flooring, as well as moving laundry operations for the guest cottages into a separate building. The Center will support the project with up to $11,000.
Earlier this year, the Center committed to supporting improvements in public amenities surrounding the newly developed Lakeside property in downtown Greenville. The enhancements will include public seating, a lakeside boardwalk that will better connect downtown Greenville to the new Crafts Landing Park, new boat slips, landscaping, and pathways through the property. These improvements will support business tenants on the property through improved visibility and visual appeal and will support other businesses by improving downtown appeal and walkability.
Together, these improvements will directly support dozens of jobs in Greenville and a family business in Rockwood. Some of the business owners indicated that they hope their expanded businesses will create a ripple effect in the Moosehead economy, bringing new business to other establishments. Some owners said they hope to be able to hire additional staff based on expanded operations.
"These investments dovetail well with previous business projects we've supported," said the Northern Forest Center's Wilson, "as well as our support for projects that benefit the whole community, including a new lakeside boardwalk and the new Crafts Landing Park."
In previous years, the Center's Tourism Innovation Program supported business improvements at the Blair Hill Inn, Northeast Whitewater, Moosehead Marine Museum, Northwoods Gourmet Girl, Turning Page Farm, and the Lakeshore House in Monson, as well as a Façade Improvement Program that awarded small grants to help improve signage and curb-appeal of a dozen businesses in Greenville.
The Northern Forest Center is a regional innovation and investment partner creating rural vibrancy by connecting people, economy, and the forested landscape. Explore our work across northern Maine, New Hampshire, Vermont, and New York at https://northernforest.org.