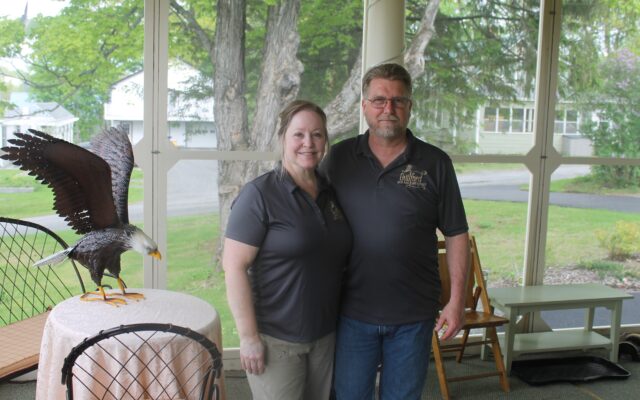 Guilford Bed and Breakfast provides Victorian elegance
GUILFORD — Wendy and Michael Denney have provided Victorian elegance for the discerning traveler at the Guilford Bed and Breakfast on Elm Street for three years. They love meeting new people and offer their guests the opportunity to relax, recharge, and repeat.
"I always wanted a Victorian mansion. When we moved out to Salem, Oregon, I was pretty much consigned to 'I'm never ever going to own a Victorian mansion,'" Wendy said during a recent afternoon. She said a dozen years ago she and her husband escaped the heat and humidity of Florida where they had met by moving to the Pacific Northwest.
In Oregon they operated their own Airbnb for several years, which they loved as they developed a taste for hosting travelers, but they only had one room to rent. The Denneys needed a larger place to operate a proper bed and breakfast, and with property prices in the western part of the country being too high, they searched elsewhere.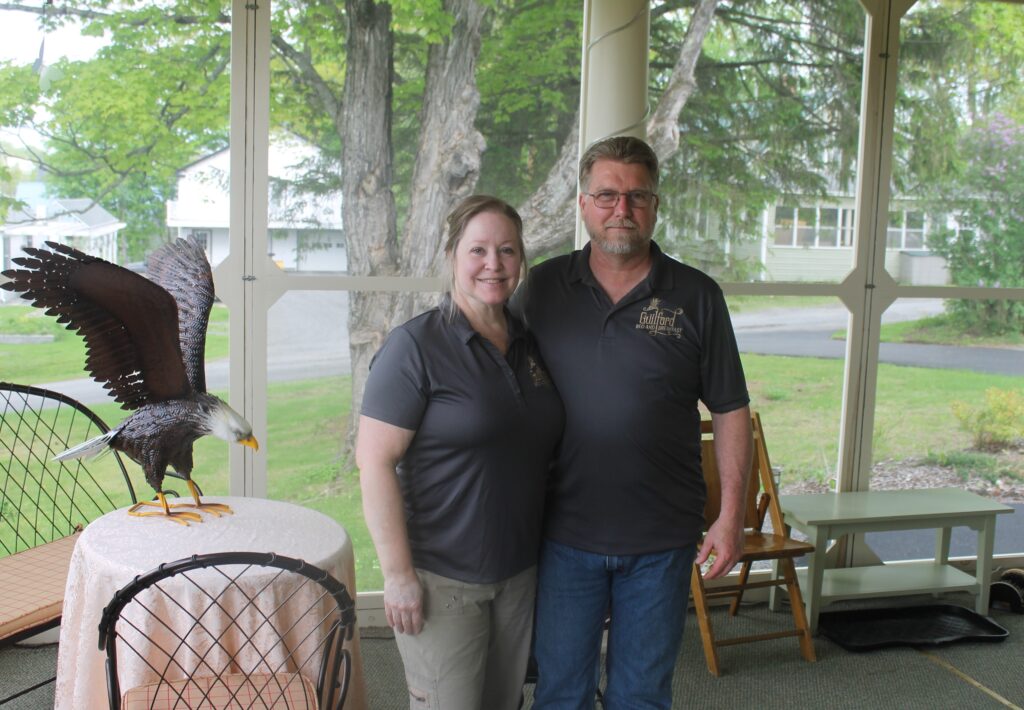 After looking at more than a dozen potential homes across the northeast, they found the Guilford Bed and Breakfast, which turned out to be the ideal home for their vision. The Denneys — the family includes Snickers their Entlebucher rescue dog who greets arriving visitors —. opened their doors on May 15, 2019.
"Our target market is older people like us and they tend to be well educated, professional. We get fantastic conversations with them," Wendy said.
"It's not just people who are looking for a place to crash on the bed," Michael added.
She said it is fine if some guests are gone for nearly all their waking hours, "but it's fun to get to connect with people. You're not just a number and a name like you get in some big hotels."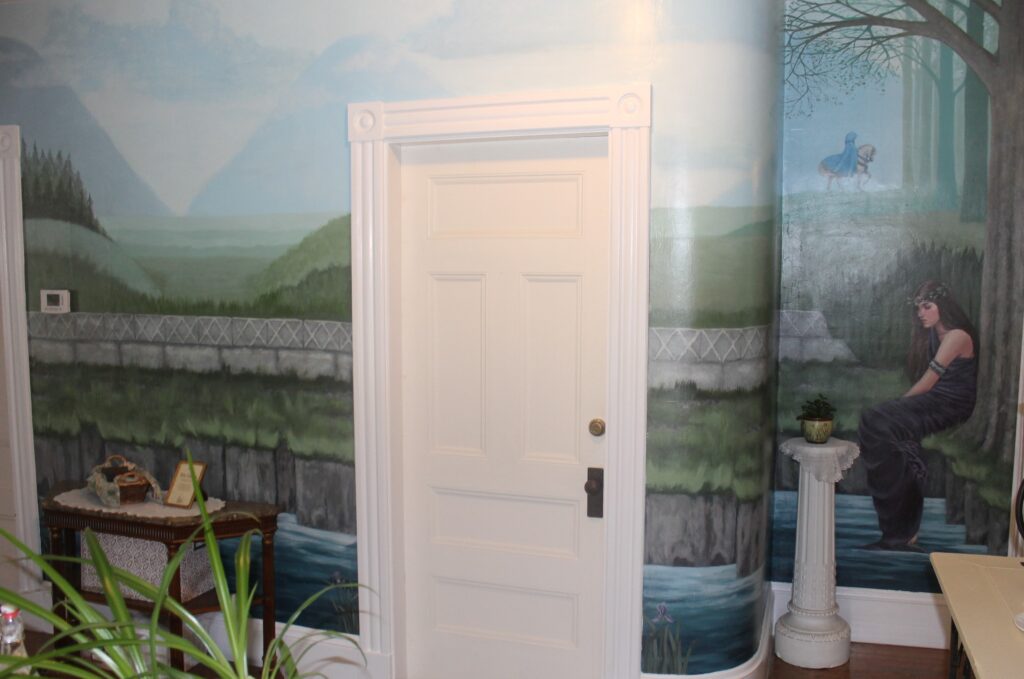 "I like to treat them special on their getaways because this might be the only time that they're here," Wendy said.
She also likes to learn new things from her guests, and mentioned having conversions about healthy cooking oils with a nutritionist who once stayed with them.
Wendy said she and Michael grew up in Pennsylvania so they enjoy finding connections with guests' ties to this part of the country, as well as Florida and Oregon. "Mike being in the military, he gets to connect with people," she said about this shared background (the Guilford Bed and Breakfast offers a military discount).
Michael served from 1987 to 1999, which included two stints in the U.S. Army with time in the National Guard in between. "My first duty post was in Germany, I loved it — the Nuremberg area. Then I came back to the states for a couple years, like Wendy said then I got out and did National Guard in Florida. Went back in and did a tour in Korea and then got out from there. And a couple posts in the U.S., Colorado Texas."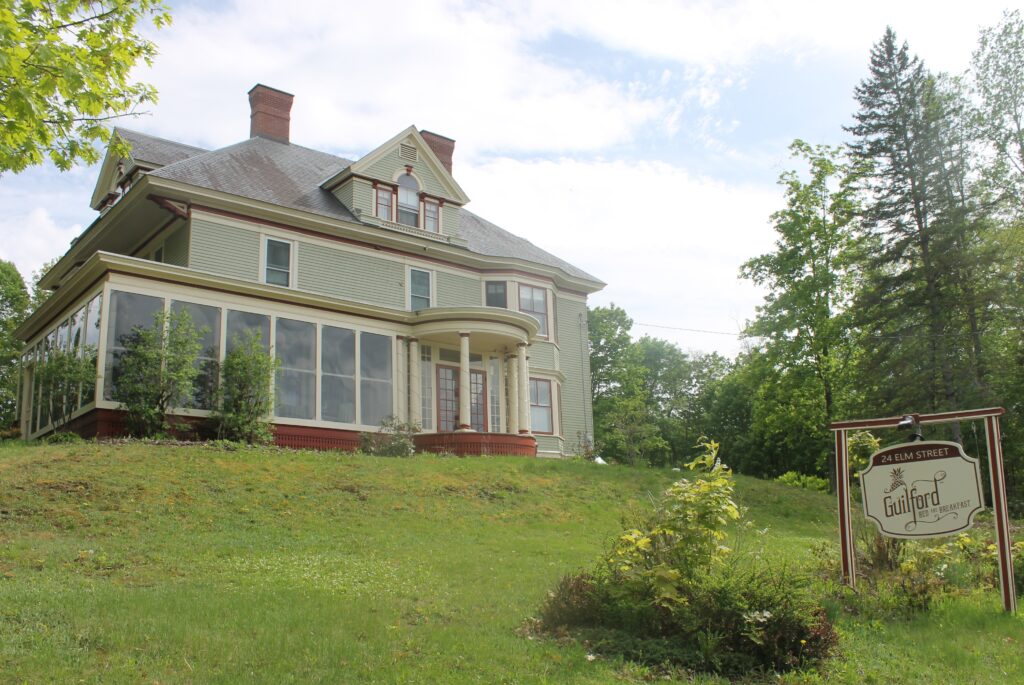 Perched on a hilltop, the Guilford Bed and Breakfast is a Victorian mansion built at the turn of the 20th century. Five guest rooms can sleep 12 people. Wendy said she is working on getting the residence on the National Register of Historic Places.
The Denneys are putting together a historical document showing all the owners, starting in 1866 when Henry Hudson Sr. owned the property overlooking the Piscataquis River.
Four guest rooms are on the second floor, each with its own bathroom and distinct features including names such as Cummings and Isobel for historic and more recent owners, respectively. A fifth guest room is located on the third floor.
"I would rather keep it as historic (as possible) and people like that," Wendy said. She said there are no TVs in the guest rooms, but there is one downstairs along with a projector screen for movies.
The first floor includes a formal dining room, sitting room and library for guests.
"This is one of my favorite places, especially in the winter," Wendy said about the library. "If it's the weekend and Mike's not working (at DuvalTex) we have our coffee and just come down here and chill out. I have always wanted a library, and not a lot of houses have a library."
She said the library fireplace "is probably the most unique feature in the house." The interior features an image of Odin, the Norse God of War, and two panels of hieroglyphics.
"We don't know what those hieroglyphics mean and if there's a story to it but that's the picture that's back there," she said.
"We had some water damage a couple of months ago and we couldn't replace the wallpaper, so I had to come up with another plan," Wendy said. "I decided to get a local artist to paint a mural that would be in line with the image that's in the fireplace, which was original to the house."
She said she met artist Lydia Spencer through Monson Arts. In about two weeks, Spencer painted a 15-foot-long mural on the second floor, which includes Odin's wife Frigg and the Norse god on horseback as part of the mural.
Per Wendy's blog on the Guilford Bed and Breakfast website, Frigg is a goddess associated with fertility, marriage and the household, love and sexuality, wisdom, prophecy, forethought and divination. In modern terms, Frigg was an intelligent, competent, multitasking woman, deeply attuned to her intuitive nature. Balancing all her roles could not have been easy, but she managed with a little help from her friends.
Wendy said there is a realistic sense of balance about Spencer. "She's not only an artist but also a businesswoman and highly professional on all counts," Wendy wrote. "How lucky I am to have found a modern-day Frigg to hire for this project."
Grant funds helped the Denneys update the private kitchen area downstairs, including new cabinets, a pantry, a new stove and double ovens.
She likes to offer a different breakfast each morning in the dining room. "Generally every other morning I do a sweet breakfast and then the next day will be more of a savory so no guest will ever have the same breakfast two days in a row," she said."Stuff that's healthy for you they may have not had before."
The Guilford Bed and Breakfast does not have a set menu, but guests identify food sensitivities and food aversions on their registration form and this information is used to develop breakfast plans.
The previous owners had planned to run the establishment for 10 years and they ended up staying for 12. "I think our goal is probably 10 years as well," Wendy said.
She said there she would like to host more activities, such as monthly "Evening with an Artist."
"We're always on the hunt for what else can we do to make a better living at this," Wendy said.
The Guilford Bed and Breakfast is located at 24 Elm Street. For information, call 207-876-3477 or go to https://www.guilfordbnb.com or https://www.facebook.com/Guilfordbnb.