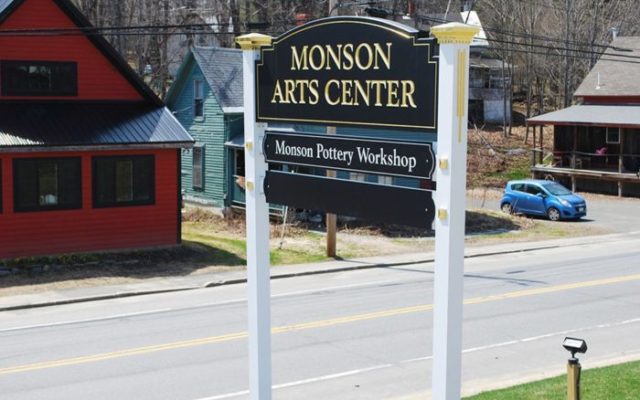 footer-slide-monson-arts-center-700×470
The art of Monson: A Bicentennial Celebration
MONSON – Monson Arts – an art center and artist residency program located in Monson — hosts the Monson Historical Society's exhibition in continuation of bicentennial celebrations of Monson. Carl Little, curator, writer and art critic, was hired to work with the creative community, carefully selecting works that represent a wide array of creative residents and visitors of Monson.
The work on display ranges from paintings by Alan Bray, John Bozin and Sarah Faragher; photographs from Todd Watts, Bernice Abbott and Frank Sherburne; sculptural objects by Jemma Gascoine and Ed Hoovler; and slate artifacts from the early 20th century. Each artist lives in or is deeply connected to Monson.
Glenn Poole, the president of the historical society and Monson native says, "We are so proud to present this exhibition and catalogue showcasing so many gifted artists." Monson has always been a home for artists of the North Woods, and that will be commemorated with a catalog of the exhibition available at the Historical Society and Gallery.
The Art of Monson: A Bicentennial Celebration is on view from May 25 through Oct. 31. An opening will take place May 27 from 4:30–6:30 p.m. On July 16 Little will give a talk about the exhibition at 2 p.m. during Summerfest celebrations. The Monson Arts Gallery is located at 8 Greenville Road and is open Wednesday through Sunday 10 a.m. to 5 p.m.
Monson Arts was founded in 2018. Their mission is to provide time and space for creative work through residencies, workshops, and educational partnerships. Visit monsonarts.org to learn more about all of their programs.