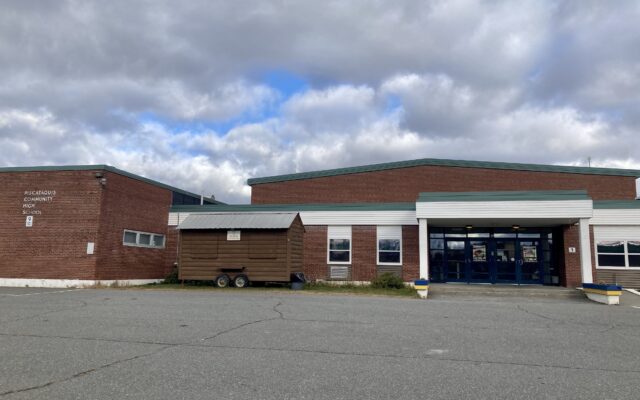 Piscataquis-Community-High-School-111621
Observer photo/Valerie Royzman Piscataquis Community Secondary School in Guilford.
$7.77M SAD 4 budget moved to June 14 referendum
GUILFORD — A proposed 2022-23 SAD 4 budget totaling $7,772,120 was approved May 25 during the annual district budget meeting held in the Piscataquis Community Elementary School cafeteria.
The approximate $7.77 million figure will go to a referendum vote on Tuesday, June 14, at the respective polling places in the district communities of Abbot, Cambridge, Guilford, Parkman, Sangerville and Wellington.
"Our budget is actually very similar to what it was last year," Superintendent Kelly MacFadyen said during the information session before the meeting.
The $7.77 million gross budget represents an increase of approximately $323,800 from the current academic year, a rise of 4.3 percent. The amount being asked of the six SAD 4 communities totals $3,743,764, composed of $2,888,043 in local required monies, $807,747 in local additional monies and the district's near $48,000 proportional share of the approximate $411,000 Piscataquis Valley Adult Education Cooperative.
"The state is finally funding at 55 percent, so that helps," she said about the $3,063,828 in state allocation. This figure is up from $2.85 million-plus in 2021-22, a near $208,000 or 7.3 percent increase.
In June 2021, SAD 4 residents approved a budget with a combined assessment of $3,903,968, or $160,200 more than what is proposed for 2022-23.
MacFadyen said that additional funds received were used to lower the community's tax commitment, rather than put in surplus. The revised local assessment ended up being $3,657,702, which is $86,062 less than what is proposed for 2022-23.
MacFadyen said individual town assessments range from a 3.25 percent increase for Guilford to a 1.25 percent reduction for Wellington.
Each community has a proportional local required figure, additional local amount and costs for SAD 4's near $48,000 share of the PVAEC budget.
Guilford would see a $33,808 (3.25 percent) increase to $1,073,635; Sangerville's $765,714 share is up by $22,562 (3.04 percent); Cambridge's share is $244,061, up by $7,030 (2.97 percent); Parkman would have a $18,615 (2.62 percent) increase to $728,488; and Abbot would see a $6,655 (0.93 percent) increase to a total of $725,437. Wellington's assessment of $206,426 is down by $2,610 (1.25 percent).
"Every three years when we go out to vote, we have to decide 'are we going to still have the two-vote process?'," MacFadyen said.
Residents will be asked on this year's ballot if they would like to continue with the district budget meeting/referendum process or instead have just the district meeting to finalize the school budget. This question comes up every three years.
The superintendent said a yes vote is for the district budget meeting and referendum and a no vote favors eliminating the referendum in favor of holding just the meeting.
In 2019, SAD 4 residents voted to continue with a referendum to validate the school budget for an additional three years via a 162-83 vote. Guilford was the only town with a majority of no votes (31-27).
The 22 articles making up the $7,772,120 2022-23 budget were approved as written by the 15 voters in attendance in 20 minutes with minimal discussion.