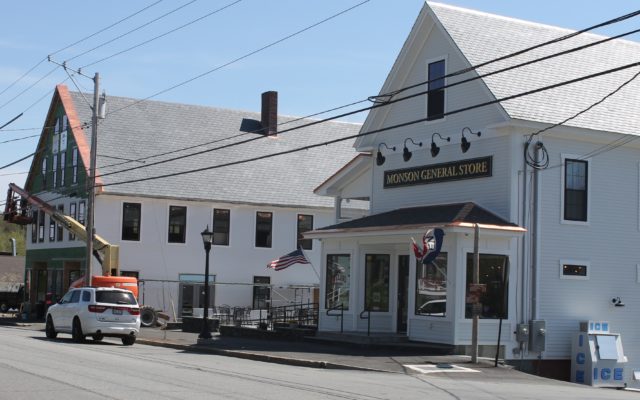 PO-monsonmainstreet-24-18
Observer photo/Stuart Hedstrom MONSON ARTS -- For the last year Monson has been undergoing many changes through the Portland-based Libra Foundation. The organization has purchased more than 20 properties along Main Street and across town, including the former community center, and many of the buildings have been torn down or are in the renovation process for the purpose of transforming the community into the Monson Arts artists' colony as part of the foundation's mission of making contributions to worthy causes across Maine to spur economic and creative growth.
Maine College of Art & Design announces Monson Arts residency recipients
Maine College of Art & Design announced the lists of 2022 Residency and Grant recipients for MECA&D artists and designers. These unique opportunities are made available through Artists at Work to support selected projects from alumni, faculty, and staff at the College.
Between Jan. 3 and Feb. 28 artists and designers from the College were invited to apply for one or more of the available awards, including Monson Arts Residency and Workshops, a partnership with Monson Arts designed to help spur economic development in Piscataquis County.
Monson Arts is a residency and workshop program in Monson. An initiative of Maine's Libra Foundation, Monson Arts began programming in 2018. It was started as a way to spur economic development in Piscataquis County. Monson Arts provides time and space for creative work through a combination of residencies, workshops, community/school programs and initiatives, and exhibitions.
Through Maine College of Art & Design partnership with Monson Arts, one alumni applicant from MECA&D is selected to attend the Monson Arts Residency each year and is awarded a $1,000 stipend. Six students and alumni are also selected each year to attend workshops at Monson Arts free of charge.
The 2022 MECA&D resident is Brian Smith MFA '20, adjunct instructor in foundation.
The artists selected to attend workshops are:
The jury was comprised of Jenny McGee Dougherty '05, associate director of artists at Work & Alumni Relations, Isabelle Maschal O'Donnell '17, Alumni Relations & Events coordinator, and Jessica Tomlinson, director of Artists at Work.
"The excitement and talent of the winning artists this year is inspiring," said Dr. Laura Freid, president of Maine College of Art & Design. "We are grateful for all the benefactors and donors who make it possible for our College to provide unique opportunities and physical spaces to support the work coming out of our community."
The college's Artists at Work team enlisted the help of 15 artists, designers, and administrators to help jury 103 submissions received and select this year's winners.
"These unique opportunities, available only to our alumni, provide a critical launching point for graduates to build their creative careers," said Tomlinson. "We are grateful to those supporters who make this professional development possible."
To learn more about the grants and residencies available to the MECA&D community, visit meca.edu/residencies.