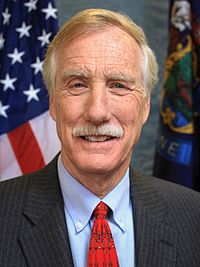 Sen. King mug
U.S. Sen Angus King, I-Maine
Let's expand Maine broadband and make it affordable
By U.S. Sen Angus King, I-Maine
Early in the 20th century, America's cities were booming. The era of electrification brought new jobs and opportunities to hubs like New York, Chicago, and Boston. Unfortunately, America's rural areas didn't see the benefits of these modern technological advancements; in fact, only 10 percent of rural households had access to electricity by 1930. It took decades – and significant government effort – to help rural communities catch up.
A century later, a new technological shift is creating similar challenges for Maine's rural communities. As the internet creates immense new economic, educational, and social opportunities for those with access to a high-speed connection, rural areas continue to be at risk of being left behind.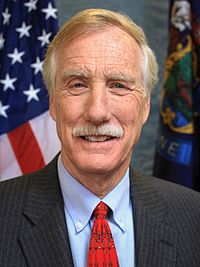 We learned during the pandemic how important internet connectivity can be – and how lacking it can compromise our daily lives. Kids doing their homework, seniors accessing healthcare, and many being able to work from home – these essential activities all depend on a reliable connection. That is why we need to ensure every Maine town – even in our most remote areas – has high-speed, affordable internet.
There are two significant challenges our state must overcome to accomplish that goal. Fortunately, over the past year, Congress and President Joe Biden have taken significant steps to address both.
First is the actual building of internet infrastructure, which must run not only through communities from Allagash to Arundel, but also directly to every house in the state. The biggest barrier here is simply investment; it costs significant money to build out broadband, especially in rural communities like Maine's where houses are spread out and where our rocky coast and tree-covered terrain creates challenges.
That's why last year, we included the largest, most comprehensive investments in broadband infrastructure in both the American Rescue Plan and Bipartisan Infrastructure Law. Between these two historic pieces of legislation, Maine is expected to receive over $400 million in federal support for broadband expansion – close to the estimated costs to connect the entire state.
This money is a game-changer, but full connectivity won't happen overnight. Building this infrastructure will take time and hard work from organizations like the Maine Connectivity Authority and ConnectME, who are leading efforts to deploy high-speed broadband. Thanks to these federal investments and Maine's additional state funding led by Gov. Janet Mills, I'm optimistic that we will see every Maine community connected to the internet's possibilities in the near future.
The second issue – and perhaps the bigger issue in years to come – is cost, because broadband access isn't much good unless you can afford it. For many rural Maine households, some who may already be struggling to put food on the table, the current cost of internet is simply too high.
This affordability concern was front of mind when we were writing the Bipartisan Infrastructure Law, which is why we required any recipient of funding from the bill to offer a low-cost broadband option. In the bipartisan legislation, we also included $14.2 billion for the new Affordable Connectivity Program. This program modernizes and extends the emergency COVID-19 broadband provisions that were included in the 2020 bipartisan spending bill and is a massive step towards ensuring affordable internet access for all. Specifically, the ACP provides eligible low-income households with a $30 per month credit for their internet costs and support for connected devices. These credits are being accepted by nearly every national internet provider and by dozens of local Maine broadband companies.
Earlier this month, President Biden took an important step to realize the promise of the ACP by securing commitments from many of the nation's largest internet providers that they would provide a $30 a month high-speed internet option. This means that the program's credit wouldn't just reduce your internet bill – it would entirely cover it, eliminating the barrier for many to access the internet.
Almost 400,000 Maine people – roughly a third of our state – qualify for the ACP, but only one out of every 10 eligible Mainers is enrolled. This program can make a huge difference for folks struggling to pay the bills. If you think you may be eligible for ACP cost-savings, you can simply go to GetInternet.gov or call 877-384-2575 to check your eligibility. It's quick, easy, and could save you $30 dollars a month or help you gain access to an internet-connected device.
Together, the history-making internet investments coming to our state coupled with these vital new affordability programs will go a long way to ensure that all Maine communities have the chance to thrive in the 21st century. There's more work to do – there always is – but we're headed on the right path. Just as electrification did in the 20th century, these broadband investments will soon help connect every American to the infrastructure that powers modern life, and help ensure that people across Maine are able to fully engage in the economy of the future.