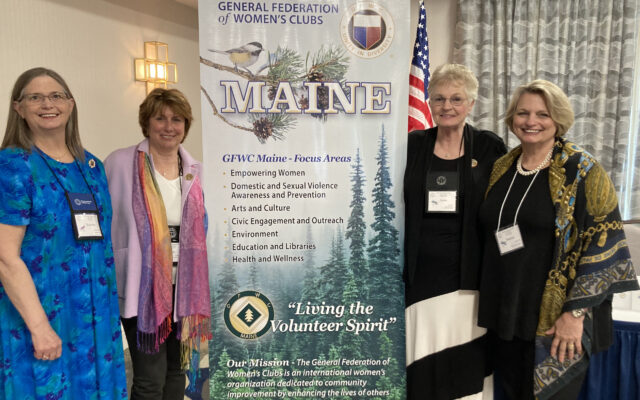 PO-clubwomen-20-22
Photo courtesy of GFWC Miosac Club STATE CONVENTION – Among those attending the recent General Federation of Women's Clubs Spring Convention in Freeport were, from left, Suzanne Raymond, GFWC Maine Parliamentary advisor; JoAnn Calnen GFWC New England Region president; Anne Cress GFWC Maine corresponding secretary; and Marian St. Clair GFWC International president.
Local club women attend GFWC Maine Spring Convention
FREEPORT – Two women from the GFWC Miosac Club in Dover-Foxcroft attended the General Federation of Women's Clubs Spring Convention at the Hilton Garden Inn in Freeport May 4-6. Attending were Suzanne Raymond, who is GFWC Miosac Club president, GFWC Croly Laureate, GFWC New England Region Jennie Award chairman and Croly Laureate, and GFWC Maine Parliamentary advisor. Anne Cress is GFWC Miosac Club treasurer and serves on the GFWC Maine Internal Audit Committee. Both women are past state presidents. Sixty-one clubwomen and 10 guests attended this convention.
The 2020-2022 GFWC Maine Administration has endured many challenges, as we have adapted to the constant COVID-19 changes. This administration's theme has been, "Building a brighter tomorrow … Supporting children today." Clubs were encouraged to put their efforts into improving the lives of children in their own communities. Carol Jarvais, a member of the GFWC Semper Fidelis Club in Skowhegan, has served GFWC Maine as president for the past two years.
Marian St. Clair, GFWC International president from Greenville, South Carolina was our special guest, as was GFWC New England Region President JoAnn Calnen from Enfield, Connecticut. These two clubwomen have each served over 30 years in numerous positions in their communities, counties, states, regions, and internationally.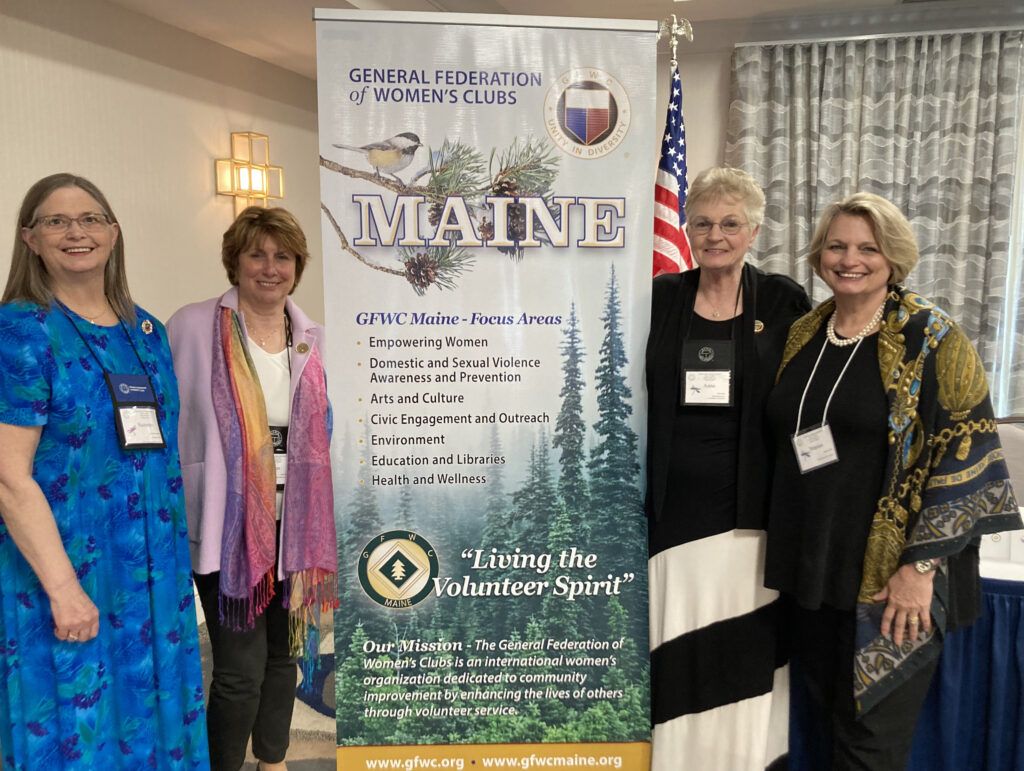 Members were pleased to have Adria King, alumni relations manager from Pine Tree Society, and Dawn Willard Robinson, Pine Tree Camp director, come and speak to the convention as attendees heard about all the activities and future plans for Pine Tree Camp and Pine Tree Society. The GFWC Maine President's Special Project during this term has been to raise funds for Pine Tree Camp. These funds will help provide scholarships to assist children and their families with the cost of attending this wonderful camp. King and Robinson were presented with a check for more than $5,300 with more expected to come in for this project in the next few days.
Members enjoyed the "Aloha Banquet," with members dressed in Hawaiian garb. We were entertained by Evelyn LaCroix, a 14-year old from Skowhegan, who is in the ninth grade and homeschooled. She is extremely accomplished in piano, violin, the ukulele, and dance. Her voice is that of an angel! Such a delightful young lady.
Members were selected to play in a "Survivor Competition" – Who will Outwit, Outplay and Outlast? Our own Raymond was the winner!
A memorial service entitled, "A Time of Remembrance" was led by Gerry Richardson, necrologist, from the GFWC Newport Woman's Club. This service was held to celebrate those clubwomen in Maine who have passed away during the past two years.
Reports were read and enjoyed from chairs of the Community Service programs as well as Standing and Special Committees Chairs such as Arts and Culture, Environment, Education and Libraries, Health and Wellness, Civic Engagement and Outreach, the GFWC Signature Program which includes domestic and sexual violence awareness and prevention. Many other reports from numerous categories were heard. The clubwomen of GFWC Maine are busy!
The members of GFWC Maine were thrilled to have our new GFWC Maine State Banner on display. This banner was designed by Nancy Ames, GFWC Maine Past President 2018-2020, and Maureen Provencal, newly installed GFWC Maine President. This came as a result of a monetary gift from Maxine Russakoff from the GFWC Skowhegan Woman's Club who now resides in Florida. Maxine is deeply admired, missed and loved by all GFWC Maine clubwomen.
New GFWC Maine officers were installed to serve on the 2022-2024 GFWC Maine Executive Committee. Installing officers were GFWC International President Marian St. Clair
and Davida Barter, past GFWC Maine president 1994-96 from the GFWC Semper Fidelis Club in Skowhegan. The following members were installed: Maureen Provencal, as GFWC Maine president from the GFWC Semper Fidelis Club in Skowhegan, GFWC Maine President-elect Beth Turner and GFWC Maine Vice President Norma Manning, both from the GFWC Westbrook Woman's Club, GFWC Maine Recording Secretary Gloria Aurelio from the Winterport Woman's Club GFWC, GFWC Maine Treasurer Jane Briggs from the GFWC Newport Woman's Club, Cress GFWC Maine corresponding secretary and Raymond GFWC Maine parliamentary advisor – both from the GFWC Miosac Club of Dover-Foxcroft.
Additional information about GFWC may be obtained by going to gfwc.org or gfwcmaine.org. If interested in joining the GFWC Miosac Club, please call Cress at 207-717-7576.