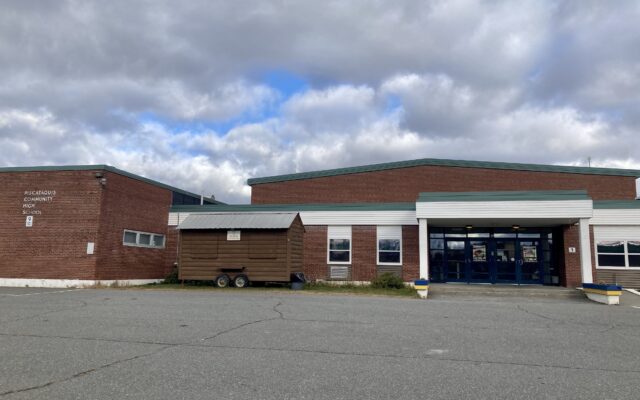 Piscataquis-Community-High-School-111621
Observer photo/Valerie Royzman Piscataquis Community Secondary School in Guilford.
Piscataquis Community Secondary School third quarter honor roll
Grade 12, highest honors: Anthony Germano, Ruth Griffith, Hailee Hartford, Elizabeth Kendall, Christina Maguire, and Benjamin Martin; high honors: Kaitlyn Cupero, Hannah Dow, Kayden Gilbert, Trevor Hathorn, Sydney Hutchins, Alexandria Maguire, Jessie Mayberry, and Aliyah Ouellette, and Eden Samuel; honors: Daniel Adams, Grace Buehne, Matthew Chadbourne, Ariana Fanjoy, Rylee Fillmore, Brandon Fleming, MacKenzie Kain, Gianna Kopf, Aiden Miller, and Alexander Shedd.
Grade 11, highest honors: Emma Calnan and Kendall Kimball; high honors: Samantha Goodwin, Fabienne Nowak, Joshua Oldham, and Jewyll True; honors: Chad Bush, Dakota Currier, Melissa Demmer, Connor Gebo, Jarrin Grant, Norah MacMahon, Abbey Ricker, Hunter Ronco, Gracie Talbot, Katelynn White, Meriel Willey, and Anna Zimmerman.
Grade 10, highest honors: Scott Chadbourne; high honors: Emma Brasier, Lily Carr, Zachariah Demmer, and Kaileigh Jo Elderkin; honors: Emily Easler and Izabella Monroe.
Grade nine, highest honors:Timothy MacNeil; high honors: Khloe Kimball, Gabriella Koscielny, Sevren Lenihan, Logan Masse, Branden Northup, Ashur Rowell, and David Tuttle; honors: Jordan Brown, Abigail Burgess, Daniel Hurd, and Jonathan MacNeil.
Grade eight, highest honors: Ava Goulette; high honors: Bella Buehne, Arianna Crosby, Noah Kain, and Jaiyde True; honors: Audrey Chadbourne, Brady Gaw, Molly Goodwin, Brookelynn Hunt, Hope Hunt, Billie Lynn Kunkel, Landon McKenney, James Moors, and Oscar Walsh.
Grade seven, highest honors: Conrad Rollins; high honors: Chase Lander; honors: Hunter Fleming, Emma Folsom, Olivia Goodwin, Jacob Knowles, Sagen Long, Desirae Maloon, and Karlie Walter.