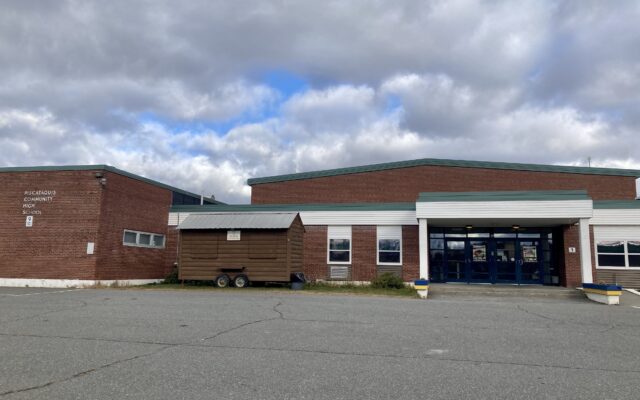 Piscataquis-Community-High-School-111621
Observer photo/Valerie Royzman Piscataquis Community Secondary School in Guilford.
SAD 4 selects group to represent proposed regional high school
GUILFORD, Maine — School Administrative District 4 has selected four school board members to serve as its representatives on a new board for a proposed regional facility that consolidates at least three area high schools.
SAD 4's school board voted to approve Chairperson Niki Fortier and members Thelma Regan, Arthur Jette and Thomas Cyr as its representatives for the regional high school.
The modern regional high school involves SAD 4, SAD 41 in Milo and SAD 46 in Dexter. Regional School Unit 64 in Corinth has also been involved in meetings and discussions.
Representatives from the school districts have been meeting monthly to establish their plans for the regional facility, such as the community school district governance structure. The group of districts applied for the project in 2017 and was moved up on the priority list after the state scrapped similar projects in St. John Valley and Houlton in Aroostook County. Districts in Guilford, Dexter and Milo will have equal representation on the new board, which would include four members from its school board.
"It's not going to be weighted based on the size of the district," Superintendent Kelly MacFadyen said. "Right now Central [High School] and Dexter are similar in size, and Milo and Guilford are similar in size. We all want equal say in what happens."
There was some discussion about who the four representatives should be and whether school administrators should be included, she said. Secondary Principal John Keane had previously said he didn't see himself serving on the board, but rather as an active member who offers information, she said.
"He could be the professional to give us guidance when we come to those points of particulars about how a high school needs certain things," Regan said.
Keane assumed that the four representatives would likely become promoters when it comes time to present ideas to the municipalities, though there's more discussion to be had, he said.
In the coming months, representatives will discuss a location and site development with an engineer, Superintendent Kelly MacFadyen said.
The school districts will have their next meeting June 13 in Dexter, with time and exact location to be determined.
Sixth-graders are raising money in different ways for Sunflower of Peace, a nonprofit that ships first-aid backpacks, medicine and medical instruments to help Ukrainians who are victims of Russia's invasion, according to its website. They plan to sell bracelets and also will operate a lemonade stand at the baseball game Friday, said Anita Wright, principal at Piscataquis Community Elementary School.
They're also collecting money for a Ukrainian family that they have adopted, she said.
A 5K Color Run is set for 10 a.m. Saturday, June 11, at the Guilford Fire Department, according to the newsletter. Then a car wash and bake sale will happen at 11:30 a.m.
The elementary school recently acquired virtual reality headsets that a group of second-graders has already tested in the classroom while learning about the ocean, Wright said. Students will use the headsets for interactive lessons that engage their brains, she said.
"We made a playlist on our headsets, so they were able to swim with the sharks and see when that shark spun around," she said. "Of course, we want learning to be fun, but we really want it to enhance memory and application."
The board accepted several resignations, along with the superintendent's nominations for new staff members for the 2022-23 school year.
Karin Trubic is leaving her position at an elementary school in Maryland to teach sixth grade at Piscataquis Community Elementary School. Marissa Murray, who works as a teacher in Skowhegan, will teach fifth grade.
Cole DuMonthier, who works as a technology integration specialist at SeDoMoCha Middle School in Dover-Foxcroft, will serve as the life science teacher at Piscataquis Community Secondary School.
The school board also welcomed a new member, Alexandra Barden, who represents Guilford. Shining Ohlson resigned, leaving a seat open.