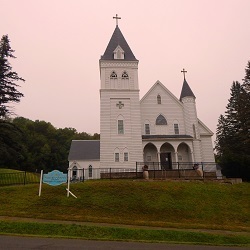 St Anne front 2018 summer-color enhanced-250x250px
Contributed photo
Our Lady's Kitchen reopens May 15
DEXTER — Our Lady's Kitchen will reopen on Sunday, May 15, for its free Sunday "dinner" that is served Sundays at noon in the parish hall of St. Anne Church on 64 Free Street. All are welcome at the meals with donations gratefully accepted for supplies and other expenses.
For now, there will be a free dinner offered on the first and third Sunday of the month. If you are able to donate desserts or otherwise volunteer to help, please contact Curt and Kathie Lombard at 207-924-2120.
Our Lady's Kitchen is an all-volunteer effort which began in May of 2008 to offer free meals to anyone who stops by, regardless of age, race, gender, or faith. Much of the food is donated by parish and community members, including food grown in their very own gardens.
With no paid staff, Our Lady's Kitchen operates through the support of volunteers, ages 12 to 85, who donate more than 3,800 hours a year toward feeding the hungry.