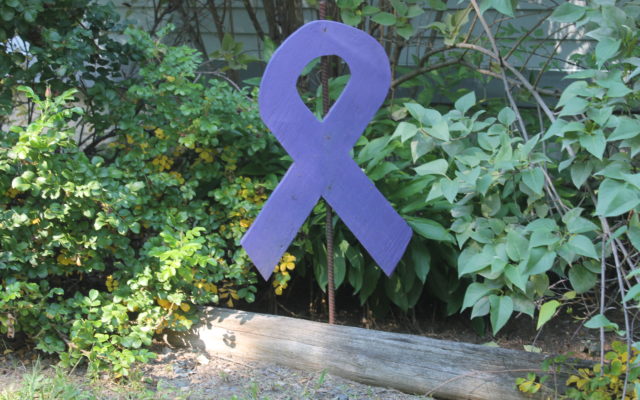 IMG_4016
A domestic violence awareness ribbon.
Partners for Peace navigates peaks and valleys in work to end domestic violence
DOVER-FOXCROFT — Like many other organizations across the state and beyond, those involved with Partners for Peace — the domestic violence resource center for Piscataquis and Penobscot counties — did their best to navigate the pandemic.
The highlights of the 2020-21 fiscal year were celebrated and challenges acknowledged during the annual meeting on April 28.
Partners for Peace Executive Director Amanda Cost began the late afternoon session on Zoom and Facebook Live by saying she is proud of all the organization accomplished in the face of adversity and uncertainty. She thanked staff, volunteers and the nine-member governing board.
Governing Board Chairperson Joe Locke said the session allowed for those in Piscataquis and Penobscot counties who want to end domestic violence "to come together and celebrate our shared accomplishments of fiscal year 2021 and to renew our commitment to fiscal year 2022 and beyond."
Governing Board Vice Chair Denise Scuderi echoed Cost's thanks for staff and volunteers being there every day. "This past year was challenging as Amanda said but also an exciting one," Scuderi said.
Partners for Peace staff and volunteer advocates helped 1,461 people affected by domestic violence in fiscal year 2021. They answered 6,036 helpline and crisis calls, responded to 2,611 electronic contacts and had 2,969 face to face interactions with survivors of domestic violence, she said.
She said 61 survivors received confidential shelter services, including 25 children. A total of 467 survivors received help with court advocacy, and 81 survivors of abuse took part in online support and education groups, including parenting sessions. Scuderi also said 1,064 people called Partners' 24-hour confidential helpline.
Cost said organizational restructuring provided a more solid framework for expansion and innovation to establish clear leadership during a time of global uncertainty.
The restructuring established a human resources department with a full-time director and an employee assistance program.
"We believe that by investing in our staff, we are in turn investing in survivors," Cost said. "When our staff feel valued, the survivors that we serve feel valued as well."
She said Maine is in a housing crisis in which Partners for Peace sees a responsibility to find ways to help address it.
"We have done our best in our response and know we have a lot more work to do but with our creative problem solving we were able to expand our housing navigation services by training more staff to provide this service in our community," she said.
Director of Development & Engagement Casey Faulkingham gave an overview of the organization's peaks and valleys for fiscal year 2021.
One valley was overcoming a lack of legal representation for survivors, "particularly when they needed representation when it comes to protection orders." She said Partners for Peace is very thankful for its partners at Penquis Law and Pine Tree Legal Assistance and court advocates.
She said another issue that remains a valley is the challenging economic and political climate.
U.S. Congress reenacted the Violence Against Women Act in March and Faulkingham said this legislation funds the Office on Violence Against Women.
"Last year we were proudly awarded more than $1 million in grants from the Office on Violence Against Women that will continue to fund a really important rural advocacy program and our transition housing programs," she said. "We also received new funding to establish new and better civil/legal programming which includes legal representation, a staff attorney position at Pine Tree Legal Assistance as a subcontract for survivors of domestic violence for protection orders. So even though we were in that valley, we see another peak on the horizon."
Partners for Peace has received funding for a justice advocacy program to assist survivors of sex trafficking and attempted strangulation.
The governing board, staff and volunteers devised and agreed to live by an inclusivity pledge last year, Faulkingham said.
"In the past year we have been transformed and we continue to transform as a movement to be more inclusive, to be acknowledging harm that has been done in our community against marginalized people, and we are committed to corrective action," she said. "It's not just a pledge to us — this is something that guides our everyday work."
Other peaks for Partners for Peace are the launch of an accessibility toolbar on the website, completing kitchen renovations at the shelter kitchen, switching to a new helpline answering service and safely kenneling several pets for free through the RedRover program.
Earlier in the pandemic Partners for Peace served as a COVID-19 testing site for staff and survivors, and continued its support and education groups online.
Annual meeting attendees heard a pre-recorded conversation with "Monica" (whose name was changed for privacy) about her experiences after reaching out despite her initial hesitancy and working with her advocate Jenna Legere
Monica said she found love, support, and understanding and someone who would listen to help
her become more confident, financially secure, and believe in and love herself again.
"You don't have to reach a breaking point to reach out. You don't have to be afraid that you're going to be judged because of something that you were put through," she said. Monica added that victims should not be blamed and that's a big thing that needs to be changed.
When asked to describe the organization Monica said, "This shining beacon of hope that is Partners for Peace, it would be amazing, beautiful, supportive, understanding and loving, driven and life changing but that doesn't even begin to scratch the surface of what Partners for Peace means to me."
Faulkingham said they are always grateful for those who share stories as it helps others know they are not alone, "and hopefully encourage other people to reach and get the support that they may be needing."
She said nearly 50 years ago, the organization began as a group of volunteers. "Last year we had 49 volunteers give 3,456 hours of their time to Partners for Peace," Faulkingham said. "They answered helpline calls, they facilitated support groups, they participated in committees, they organized donations, and they showed up in any way that they could for survivors in their community."
Praise was given to the interns, who come from the University of Maine social work program, Husson University's criminal justice program and elsewhere.
"We are just so grateful to the people in our community for coming together and being really creative to make sure the survivors that we serve in Penobscot and Piscataquis counties are well taken care of," Faulkingham said.
Director of Advocacy and Outreach Services Angie Alfonso then thanked all of Partners for Peace's organizations and business supporters.
Faulkingham said a Survivor Story Project will be launched and presented at a 50th anniversary event in spring 2023. Stories can be submitted via the website.
"We are looking forward to hearing your stories, collecting them, honoring them, and all the ways that we know and especially we are so excited to present that at our 50th anniversary," Faulkingham said.