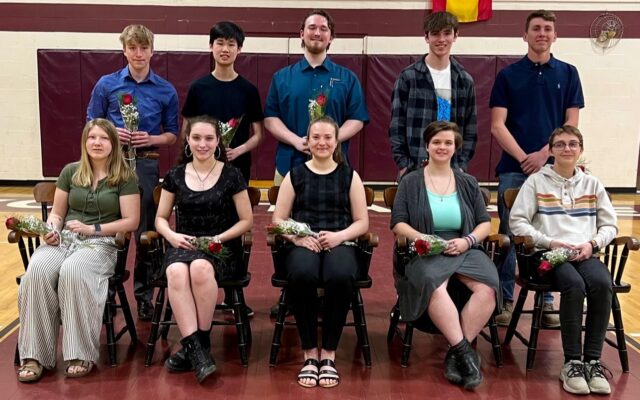 PO-roseawards-18-22
Photo courtesy of Foxcroft Academy ROSE AWARD HONOREES – The Class of 2022 Rose Award recipients were announced during a Tuesday assembly at Foxcroft Academy. The recognized seniors were front, from left, Rudy Rideout, Grace Carlson, Rebekah Demers, Aine Casey, and Anastasia Peirce. Back, Jasper Makowski, Nguyen Nhat "Leo" Nguyen, Connor Plante, James Jankunas, and Jacob Reed.
Foxcroft Academy announces Rose Award recipients, honor parts
DOVER-FOXCROFT – On Tuesday Foxcroft Academy held a special ceremony to announce the Class of 2022 outstanding scholars at its annual Rose Award ceremony. This year, the recipients were Grace Carlson, Aine Casey, Rebekah Demers, James Jankunas, Jasper Makowski, Nguyen Nhat "Leo" Nguyen, Anastasia Peirce, Connor Plante, Jacob Reed, and Ruby Rideout.
The Rose Awards were established in 1931 when Frank G. Stone was head of Foxcroft Academy. Rose Award recipients have accumulated a grade point average that places them in the top 15 percent of their class's permanent students. For the 37th consecutive year, a medallion with the Foxcroft Academy seal was presented to the recipients in addition to the traditional rose. Priscilla White, former English teacher and librarian who retired after 36 years of service, and Robert Beek, who taught mathematics at FA for 33 years, conceived the idea for this permanent award and contributed funds to have the die-cast for the medallion, which has now become a permanent part of the annual ceremony.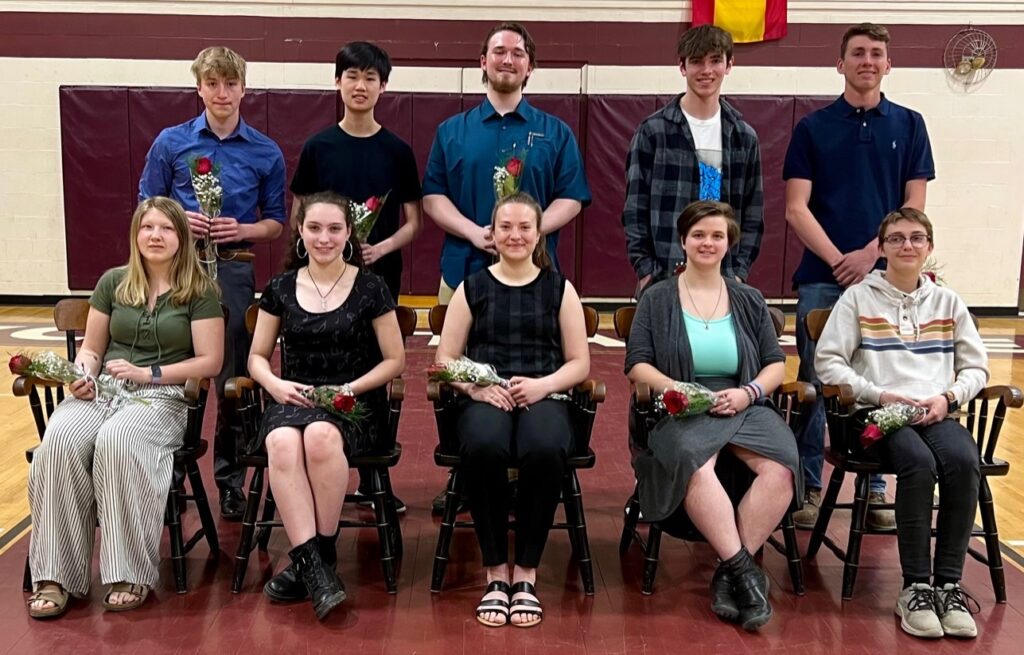 In addition Foxcroft Academy Head of School Arnold Shorey is pleased to announce the honor parts for the Class of 2022, the 199th class in school history.
The valedictorian for the Class of 2022 is Jasper Makowski. He is the son of Joel and Theresa Makowski of Dover-Foxcroft. Makowski has been active in the Foxcroft Academy community as a member of the boys soccer, cross country, and track teams, vice president of the Key Club, a member of the National Honor Society, senior class president, and is a Rose Award recipient. This fall Makowski will be attending the University of Maine, majoring in microbiology.
The salutatorian for the Class of 2022 is Aine Casey. She is the daughter of Kevin and Becky Casey of Dover-Foxcroft. Casey has been involved at Foxcroft Academy as an active member of school theater productions, Civil Rights Team, Art Club, and Latin Club. She is also heavily involved in Center Theatre productions and is a Rose Award recipient. In the fall Casey will attend Bard College in upstate New York, majoring in art.
Graduation exercises are scheduled for Sunday, June 12 at 1 p.m. on the east lawn. Faculty speaker will be Luis Ayala and the guest speaker will be Michael Dugay, Class of 1965. More details on our commencement ceremonies will be coming soon.