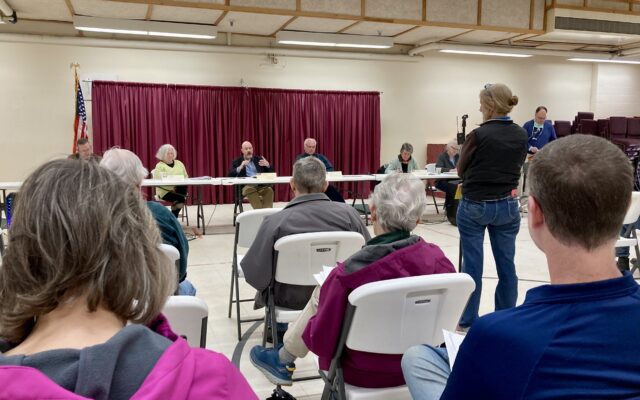 Dover-Foxcroft-annual-town-meeting-042322
Observer photo/Valerie Royzman ANNUAL MEETING -- Dover-Foxcroft Town Manager Jack Clukey, center, speaks into a microphone during the annual town meeting on Saturday.
Dover-Foxcroft residents OK rule that would require marijuana caregivers to have local permit
DOVER-FOXCROFT — Residents of Dover-Foxcroft approved an ordinance that requires medical marijuana caregivers in town to have a permit and meet standards for location, odor management and other factors during their annual town meeting.
The ordinance defines a medical marijuana caregiver as a person or an assistant of that person who provides care for a qualifying patient in accordance with Maine's Medical Use of Marijuana Act.
More than 50 residents gathered at the Dover-Foxcroft Municipal Building gymnasium to participate in the meeting Saturday.
Maine requires medical marijana caregivers to be licensed through the state and follow specific regulations. Now Dover-Foxcroft, whose residents voted down ballot questions related to marijuana businesses in town last year, could require caregivers to possess a local permit. The problem with the new ordinance is enforcement. Although the change allows the town to have rules that do not conflict with the state's requirements, caregivers are on the honor system to come forward and obtain the permit. A draft of the town ordinance provides definitions for terms such as "adult-use marijuana" and "medical marijuana caregiver," taken from the state's guidelines. The purpose of the town standards is "to protect the public's health, safety, and welfare by regulating medical marijuana and adult-use marijuana development and activities involving cultivation, extraction, processing, manufacturing, testing, or sale," according to the draft. The town's ordinance allows Dover-Foxcroft to have local rules that do not conflict with the state's requirement for medical marijuana caregivers to be registered.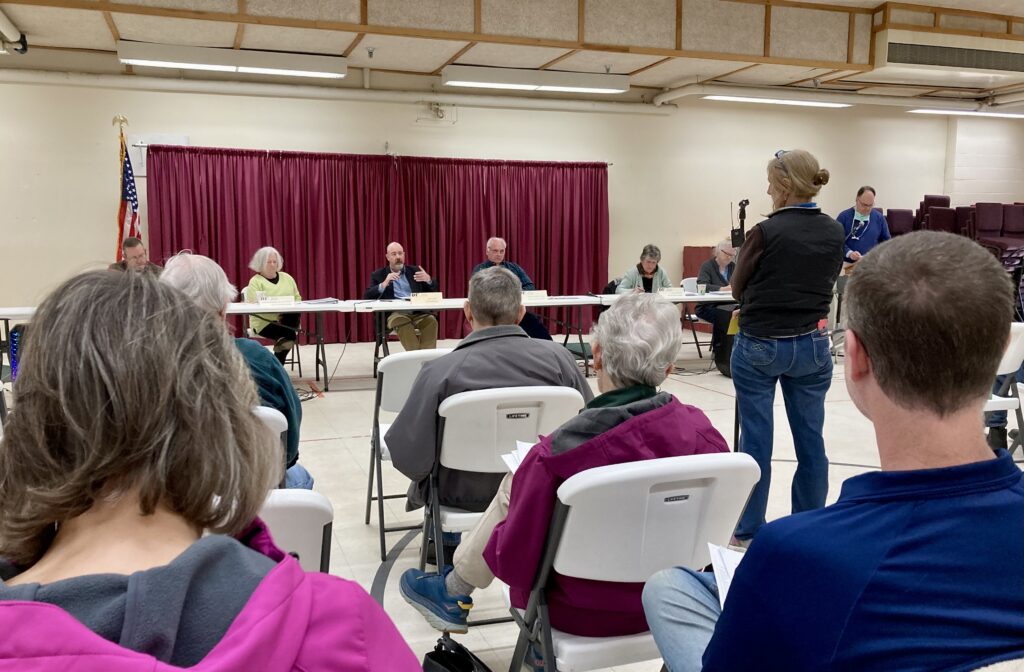 Registered caregivers will have to obtain a permit, according to the change. Existing registered medical marijuana caregivers — or those who legally exist as of June 14, 2022, the date the amendment is finalized — may continue to operate without a permit as long as they remain registered.
A public hearing for the ordinance was held about a month ago, said Brian Gaudet, the town's code enforcement officer. Residents did not attend the hearing, so the planning board moved ahead with it, he said.
The ordinance has nothing to do with marijuana questions on the November 2021 ballot that were voted down, said Chris Maas, who serves on the town's planning board. The questions asked voters whether adult-use marijuana manufacturing facilities and adult-use marijuana testing facilities would be permitted.
Marijuana businesses will still not be allowed, Maas said. Instead, "the big thing from my perspective is these are sensible things to do in a community," he said.
For example, personal marijuana use comes down to the town having the ability to regulate where people are growing, making sure they aren't making a nuisance in the neighborhood and keeping marijuana away from children and schools, he said.
When it comes to medical marijuana caregivers, the town knows there are seven such people in Dover-Foxcroft, but it doesn't know who they are, Maas said.
"The difference is that as a town, we don't have to wait for the state to come around and enforce these things," he said. "If somebody has a complaint, the town can finally do something about it."
At a Select Board meeting April 11, a resident questioned the need for the ordinance after Gwen Hilton, the town's land use planning consultant, explained that medical marijuana caregivers would have to come forward and request a permit. Otherwise, they would be in violation of the ordinance, she said.
The resident asked how the town would enforce such a policy. The ordinance can only be enforced if the town is aware of the medical marijuana caregiver, Hilton said.
Also at Saturday's meeting, residents approved a proposed $5,447,525 town operations budget for the 2022-23 fiscal year.
They approved a separate article that would allow the town to appropriate $2,954,020 in anticipated revenues and $669,000 surplus funds, which would be used to reduce amounts to be raised from the property tax commitment.
Residents accepted another amendment to the land use planning ordinance that clarified that accessory structures or uses less than 1,000 square feet, such as garages, sheds and parking lots, can be approved by the town's code enforcement officer.
Large telecommunications towers may be permitted if they are incorporated into another structure, according to the amended ordinance.
"Within the Village District, a large ground-mounted solar energy system shall not be located on a parcel of land, including combined adjacent parcels of land under the same ownership, of less than 30 acres in size," the amended ordinance said, adding that a permit under Maine Uniform Building and Energy Code may be required for solar energy systems.
A separate amendment was to allow flexibility for nonconforming businesses so that they can expand if they wish, as long as the process does not adversely impact neighborhoods.
An article that proposed the town would appropriate funds received from the state — $90,000 is anticipated — for local road improvements and bridge improvements passed. Expenditures total $600,000 ($400,000 for roads and $200,000 for bridges), the same as the previous year.
Proposed expenditures totaling $773,580 for sewer department operations, debt service and capital equipment were approved.
Also approved was $392,500 for a reserve account for capital equipment. Amounts remained the same as last year for most line items, though solid waste and recycling would get a proposed $25,000, a $5,000 increase. Cemetery and maintenance would get $17,500, which is up by $2,500 compared to the previous year.
Approved separately was $100,000 to fund capital improvements in town buildings and facilities. The police station would get a proposed $10,000, a $4,300 increase from last year.
Those in attendance approved all 10 articles on the town meeting warrant.