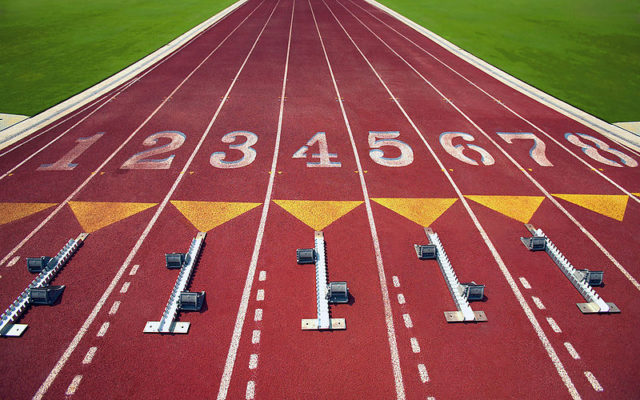 Area track teams start the season
Four of the area's high school outdoor track and field teams began the 2022 season this past week.
On April 20 both Piscataquis Community High School and Dexter Regional High School traveled to the Brewer Community School for a Penobscot Valley Conference meet. The Pirate girls scored 49 points to place fourth among a field of six teams, while Dexter came in fifth with 21 points.
PCHS junior Samantha Goodwin earned top honors in the 400 with a time of 1 minute, 14.67 seconds. She also came in third in the javelin with a throw measuring 73 feet, 8 inches.
Pirate junior Molly Sipple came in first in the 300 hurdles at 56.97 seconds. Sipple also placed third in the discus at 77-01 and was sixth in the shot put with a throw of 23-10.50.
Senior Ariana Fanjoy, freshman Sarah Silva, Goodwin, and Sipple combined for a time of 59.64 seconds in the 4×100 relay to finish second.
Junior Kendall Kimball added a second-place throw for PCHS in the javelin, with her top throw measuring exactly 74 feet.
For Dexter, juniors Christian Warner and Lauryn Brunner were second and third in the high jump with respective heights of 4-02 and 4-00. Warner also came in sixth in the triple jump at 27-09.75.
Tiger junior Elyssa Jerome placed third in the 100 hurdles with a time of 19.95 seconds.
The Dexter boys finished the day with 18 points to place fifth among five point-scoring schools.
Senior Gage Sinclair came in second in the javelin with his top throw measuring 105-11. He also was fifth in the discus at 102-00.
Senior Cameron Allen placed fifth in the triple jump and sixth in the long jump at respective distances of 35-04 and 16-05.
Senior Miles Gadwah finished fifth in the 110 hurdles at 20.54 seconds and sixth in the 300 hurdles at 53.63 seconds. Senior Elijah Warner was fifth in the 300 hurdles with his time of 53.63 seconds.
Foxcroft Academy opened 2022 with a meet at Mount Desert Island High School on April 22.
The Pony girls picked up six points to place ninth among nine schools. Pony junior Nora Koskela-Koivisto placed third in the 400 with her time of 1:09.39.
The boys from Foxcroft Academy finished with 64 points to come in sixth among a field of 10 teams.
Pony senior Jacob Reed won the long jump with a jump of 18-10.50. He also came in third in the triple jump at a distance of 36-11 and was third in the high jump at 5-06.
Senior Jesse Drury had three second-place finishes. He ran the 100 in 11.68 seconds and cleared 9-06 in the pole vault. Drury anchored the second-place 4×100 relay, joining sophomore Jackson Smith, senior Bodie Clarke, and junior Kyle Jankunas for a time of 47.36 seconds.
Smith finished second in the high jump, clearing the bar at 5-08.
Senior Aidan Currie came in fourth in the 800 with a time of 2:32.15. Senior Austin Seavey had a fourth-place throw in the javelin, at 109-08.
Clarke added a sixth-place finish in the 200 at 24.89 seconds, as did freshman Runner Jarrett in the 1,600 with a time of 5:23.47.
Greenville High School began its season at Old Town High School on April 23. The Laker girls were ninth among nine schools with one point and the boys were ninth of nine with a score of three points.
Greenville sophomore Lily Kreider came in sixth in the 110 hurdles at a time of 23.77 seconds.
In the boys' meet, Laker senior Lukaus Miller was fifth in the 200 at exactly 26 seconds and he came in sixth in the 100 with a time of 12.69 seconds.