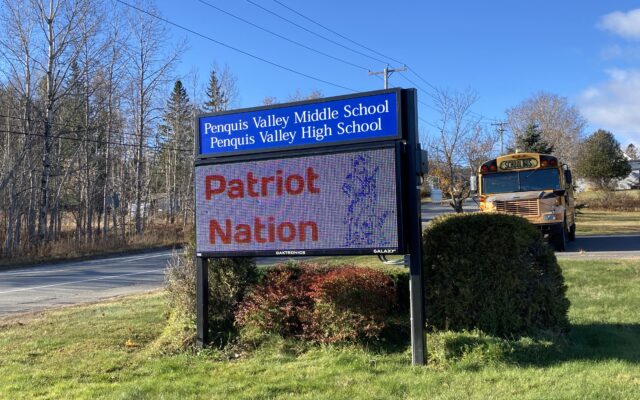 Penquis-Valley-High-and-Middle-School-Milo-111721
Observer photo/Valerie Royzman
Penquis track opens 2022 at Bucksport
BUCKSPORT – The Penquis Valley High School outdoor track and field team began the 2022 season with a Penobscot Valley Conference meet at Bucksport High School on April 15. The Patriot girls scored four points to place fifth among a field of six teams.
Junior Jahlysa Cruz tied with George Stevens Academy of Blue Hill junior Nara Spratt for fourth in the triple jump as the two each jumped a distance of 25 feet, 3.5 inches.
Cruz came in sixth in the long jump at a distance of 11 feet, 10.75 inches. She also was seventh in the 100-meter prelims with a time of 15.54 seconds.
The host Golden Bucks girls came in first with 212 points, followed by 145 for Houlton High School, 92 for George Stevens, and 67 for Washington Academy of East Machias. Searsport District High School finished sixth with one point.
The Penquis boys had no score in Bucksport.
Freshman Lucas Chai had the team's top performance as he finished seventh in the triple jump with a leap measuring exactly 27 feet. Chai also came in 11th in the long jump at 12-10 and he was 18th in the 100-meter prelims in a time of 14.62 seconds.
Junior Adam Lewis had an 11th place throw in the shot put at 28-07. His throw measuring 52-06 in the discus placed him 18th.
Bucksport finished first in the boys' standings with 225 points, followed by 115 for George Stevens, 105 for Washington Academy, 34 for Houlton, and 13 for Searsport.