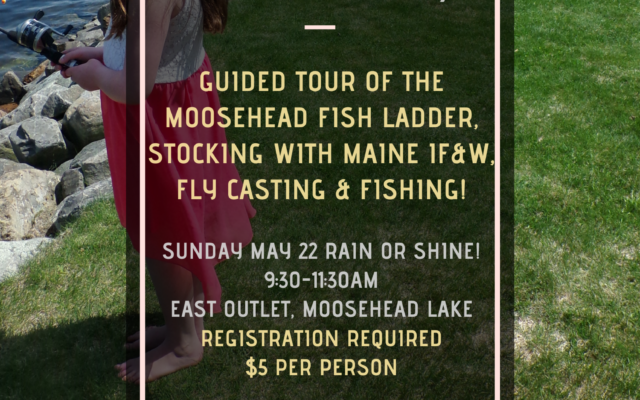 PCSWCD & Maine IF&W to host Families in the Outdoors for Fisheries Day
The Piscataquis County Soil and Water Conservation District and the Maine Inland Fisheries and Wildlife are teaming up for PCSWCD's spring installment of our Families in the Outdoors program, Fisheries Day. This event will be held from 9:30-11:30 a.m. on Sunday, May 22 at the East Outlet on Moosehead Lake.
Presenters for Fisheries Day will be Tim Obrey, Maine IF&W regional fisheries biologist, and Gene Arsenault, fish culture supervisor at the Embden Fish Rearing Station. Obrey and Arensault will share information about the fish species that live in Moosehead Lake, how these fisheries are maintained, the management practices that are in place to protect the fishery, and much more. Everyone will get an up-close-and-personal look at the salmon that are stocked in Moosehead Lake, as you will be helping to stock the salmon! We will also enjoy a guided tour of the fish ladder at the dam — pretty cool. After these dynamic presentations, participants are welcome to drop a line and fish. The PCSWCD will have a handful of fly rods available for folks to try out — casting lessons included!
Registration is required for this event and can be found at www.piscataquisswcd.org. This event will be held rain or shine. For more information about Families in the Outdoors: Fisheries Day or any other Piscataquis County Soil and Water Conservation District event, check out our website at www.piscataquisswcd.org, find us on Facebook at www.facebook.com/www.piscataquisswcd.org, or give us a call at 207-564-2321 ext. 3. We look forward to spending some time with you on Moosehead Lake.