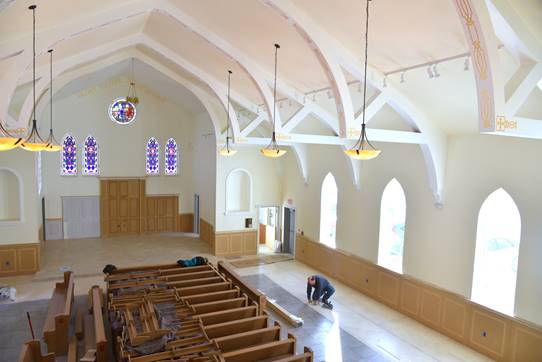 Listings for all Easter Triduum Masses and services
Maine parishes will host Masses and services to celebrate the Easter Triduum, the culmination of Holy Week, on April 14-17. The Triduum, the summit of the liturgical year, is from the evening of Holy Thursday to the evening of Easter Sunday as it unfolds the unity of Christ's paschal mystery. The liturgical services that take place during the Triduum are Holy Thursday (Mass of the Lord's Supper), Good Friday (Celebration of the Lord's Passion), Easter Vigil Mass, and Easter Sunday (Mass of the Resurrection of the Lord).
The links to Mass and service times at all Maine parishes are listed below with the corresponding day. Many of the celebrations will be livestreamed, but all encourage in person attendance.
A special Holy Week section is available on the Diocese of Portland website that includes Mass times and locations at all Maine parishes, listings of parish events, daily prayers and reflections, and many other resources. In addition, stories from many Masses and services, messages, and other resources throughout Holy Week will be posted on the diocesan website, the diocesan Facebook page, the diocesan Twitter page, the diocesan Instagram page, myParish App, and on Bishop Deeley's personal social media pages on Twitter and Instagram.