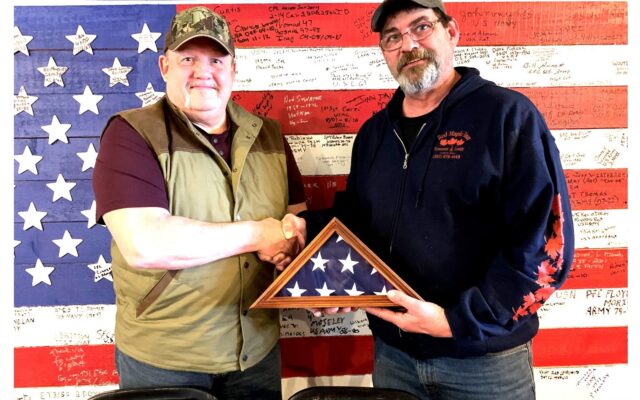 PO-redmaple-14-22
Contributed photo RED MAPLE HONOR – Red Maple Inn co-owner Paul Zimmerman, right, accepts a flag flown over the U.S. Navy Memorial in Washington, D.C. from U.S. Navy Master Chief Petty Officer (Ret.) Brian Pampuro. The establishment in Guilford was honored for its "boundless and heartfelt support of veterans."
Red Maple Inn honored for its support of veterans
GUILFORD – The Red Maple Inn in Guilford was recently honored for its "boundless and heartfelt support of veterans." The award was presented to co-owner Paul Zimmerman by U.S. Navy Master Chief Petty Officer (Ret.) Brian Pampuro, formerly of Annapolis, Maryland and now of Abbot. Pampuro spent 30 years serving his country.
In making the presentation Pampuro said, "I am so proud to be able to present you with this commemorative flag to acknowledge and honor you and Martha (Ward) for your outstanding commitment to and support of our veterans." The flag was flown over the U.S. Navy Memorial in Washington, D.C. The accompanying certificate was signed by Frank Thorp, rear admiral USN (Ret.) and president and CEO of the United States Navy Memorial Foundation.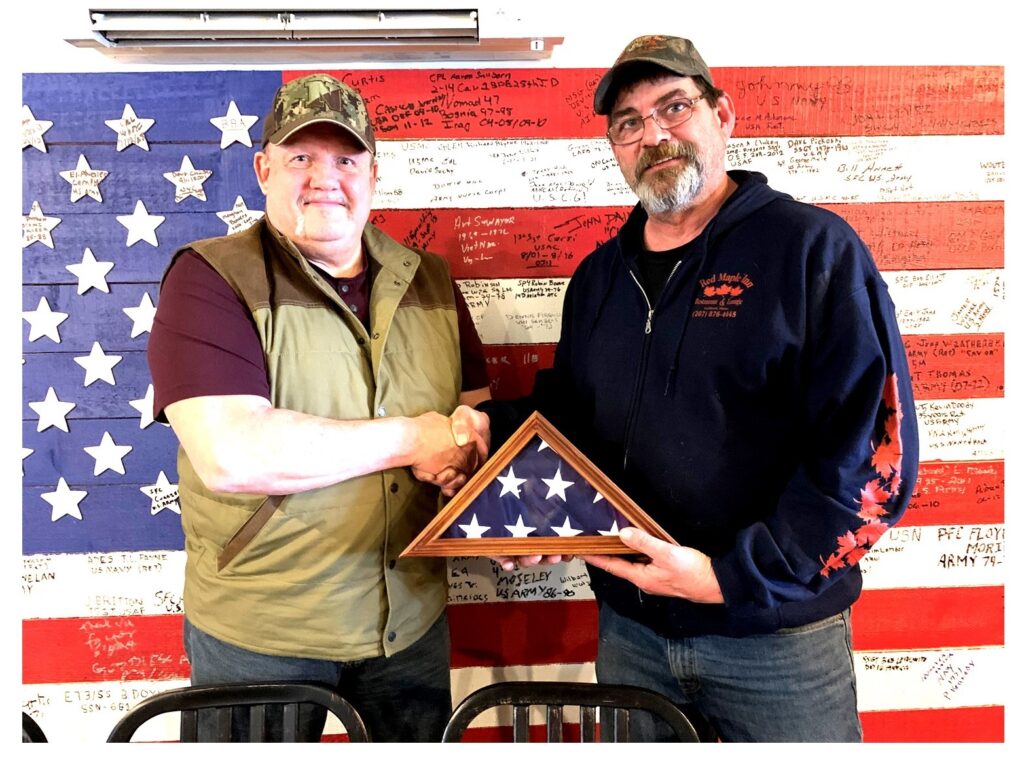 The Red Maple Inn is unique in that the main dining room has a 6- by 10-foot American flag painted along one wall. The flag has been signed by hundreds of veterans from all branches of service from around Maine and the nation. As each veteran signs his name, rank, branch of service and dates of service, the National Anthem is played and all patrons stand to honor the flag and the signing veteran.
According to Pampuro, "In all my years I've never witnessed anything like it in our country or anywhere else for that matter."
That same dining room now has the entire ceiling covered by a billowing American flag. This recent addition was painted by Lacey Crime of Lacey Crime Art in Plymouth, a very talented young woman whose husband is currently serving in the military.
The Red Maple Inn is owned and operated by Zimmerman and Ward. In accepting the award Zimmerman said, "This is an unexpected honor. I'm overwhelmed and don't know what to say. Martha and I thank you and will display the flag and certificate proudly."