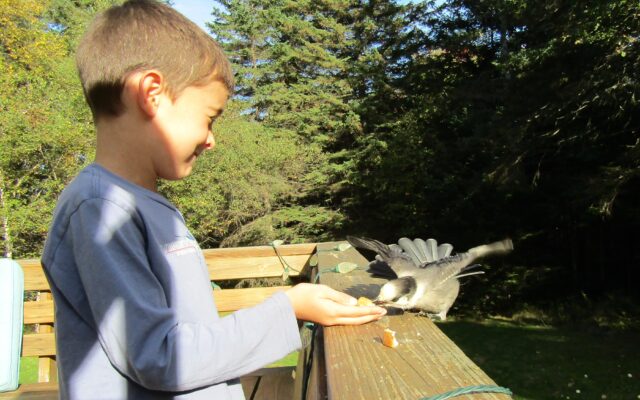 Sterling gray jay (2)
Photo courtesy of Leah Eastland
The Canada jay
By Matthew LaRoche
One of the pleasures of working and playing in Maine's Northwoods is having encounters with the Canada jay. These graceful birds will actively seek you out when you're recreating in the boreal forests of northern New England and Canada. I have enjoyed the antics and soft whistles of these birds as they flutter around me while I sit on a stand waiting for a deer to show-up.
The Canada jay is one of the iconic symbols of Maine's Northwoods that is every bit as significant as the moose or black bear. When we built our home on the outskirts of Shirley, we were delighted to find that these charismatic birds came to our feeder almost every morning looking for their daily rations of bread, seeds or leftovers. Sipping on a fresh cup of coffee and watching the Canada jays is truly one the highlights of our morning.
The Canada jay, alias gray jay, whiskey jack, gorby and camp robber will eat right out of your hand with a little encouragement. You can see my grandson, Sterling feeding one from his hand pictured above. On one of our trips to the Allagash, we stopped for lunch at the Chamberlain Bridge boat launch. It didn't take the gray jays long to find us eating at the picnic table – Sterling thought it was a great show until one swooped down and stole his chip.
Gray jays are a member of the corvid family that includes crows, ravens and jays. They are monogamous and they refuse to migrate when the weather turns cold. They are smart enough to store up food to last the winter and are known to seek out people for sustenance. They eat a variety of foods including: insects, spiders, seeds, fungi, small birds, mammals and will take meat left behind by hunters and trappers.
Their primary habitat is the spruce and fir forests but they will inhabit various kinds of coniferous and mixed woodlands but rarely occur where there are no spruce trees. Habitats include black spruce bogs in the northeastern United States and Canada, the aspen and Engelman spruce forests in the Rockies and sitka spruce/Douglas fir timberlands along the northwest coast of North America.
Their range is from Maine and the maritime provinces to Washington State to the arctic tree line. Also included are the high elevations of the rocky mountain states all the way south into New Mexico. See map included with this article.
Nesting begins remarkably early – during late winter when snow is still on the ground. Nests are usually located about 15 feet off the ground, close to the trunk of a thick conifer tree. Two to Five pale gray eggs that are dotted with brown are incubated by the female only for about three weeks. Males will sometimes bring food to the female while she is on the nest. Young birds will leave the nest about three weeks after hatching. They remain with the parents for at least another month. Juvenile birds are slate gray with a few white feathers around the beak. For more information on the Canada jay go to www.audubon.org.
If you are out recreating this winter in the north country take a break and have a snack. You might just get a visit from one of my favorite birds – the iconic Canada jay.
LaRoche is a retired superintendent of the Allagash Wilderness Waterway, owner of Maine Woods Guide Service, and an avid outdoorsman. He can be reached at 207-695-2877 or at matt.laroche2877@gmail.com. See www.mainewoodsguide.com This article first appeared in the February edition of the Northwoods Sporting Journal.