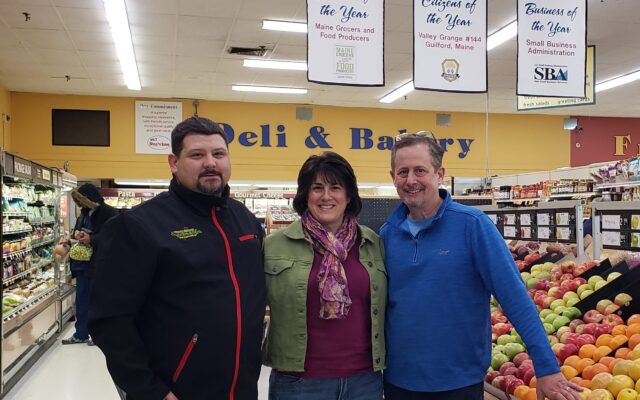 PO-shopnsave-13-22
Observer photo/Keri Foster OWNERSHIP TRANSFER – Will's Shop 'n Save of Dover-Foxcroft has announced a purchase and sale agreement with Edwards Brothers Supermarkets, to be completed in late May. Owners Will Wedge, right, and his wife Melissa are pictured with Jeremy Edwards, who will be owning the store along with his brother Jason. The two are the sons of Dana Edwards, who sold the business to the Wedges in 2011.
Will's Shop 'n Save transfers ownership to Edwards Brothers Family Supermarkets
DOVER-FOXCROFT – Will's Shop 'n Save of Dover-Foxcroft has announced a purchase and sale agreement with Edwards Brothers Supermarkets. Will Wedge states he and his wife Melissa are very pleased to be transferring the store back to the Edwards family. In 2011 Dana Edwards, father of new owners Jeremy and Jason Edwards, sold the Wedges the Dover-Foxcroft supermarket. Dana has since retired and his sons have created their own supermarket chain to include stores in Unity and Trenton.
Will shared his relationship with the Edwards family goes back to 1988 when Dana, a store manager for Hannaford at the time, hired him as a store manager trainee. Twenty-three years later, Dana offered Will and Melissa the opportunity to purchase a business in Dover-Foxcroft. Now 34 years later Will is offering Dana's sons an opportunity. Will is confident the Edwards Brothers Supermarket brand will be a big plus to this market based upon their commitment to customer service, community involvement, shared services, and synergies shared among the three locations.
Will expressed the greatest joys he received over the past 11 years have been working with a high performing team of professional associates, amazing customers, and a great community spirit. His hardest moments were the passing of older customers with whom he grew very close; however, with each passing a young mom and dad would walk into the store and say, "Hey Will, meet your newest customer."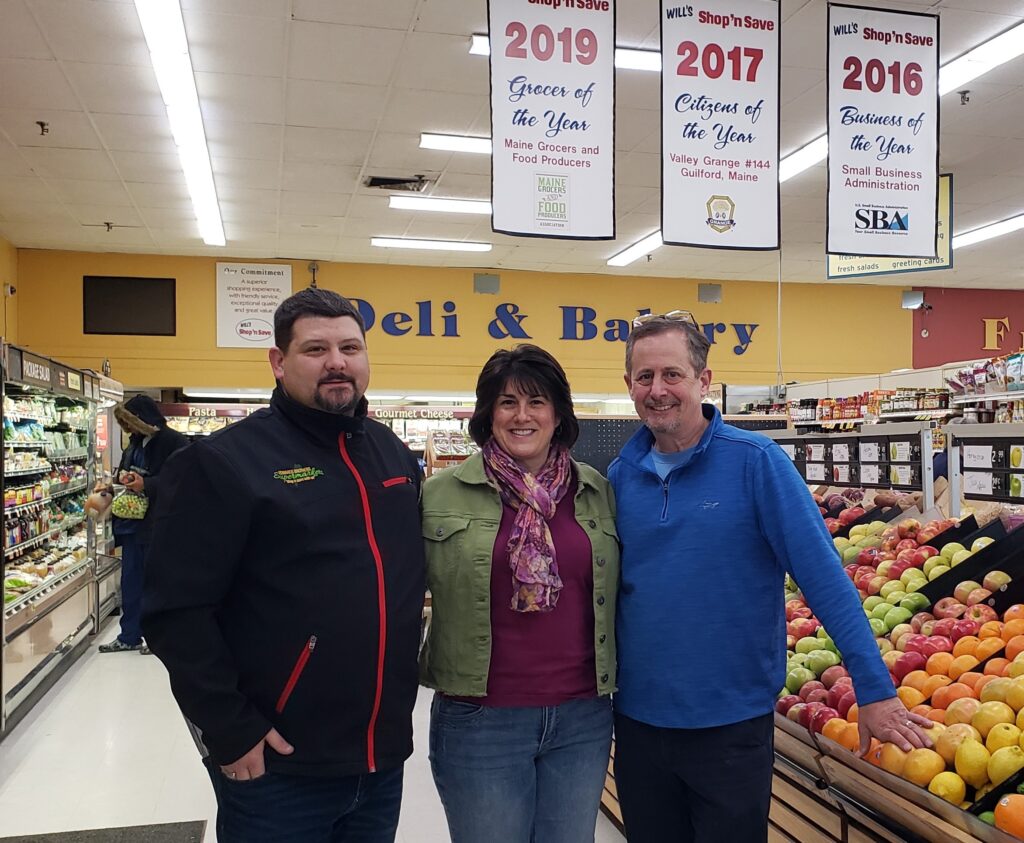 "It was also great fun to watch young people grow into young adults and eventually work at the store," he said.
Owning their own supermarket had been a dream of the Wedges for a long time. They're grateful to have had the opportunity to not only do that, but also to create a special place in this marketplace that became a community hub where people could go and get food along with interacting with their friends and neighbors. Their strategy was simple: best in class customer service, well-stocked shelves, high quality foods, low prices, and cleanliness. Now they are excited to retire and have the ability to spend time with their kids and five grandchildren.
Jeremy Edwards, president of Edwards Brothers Supermarkets, stated the Edwards brothers are very grateful to Will and Melissa for the opportunity to expand their business to Dover-Foxcroft. Jeremy expressed a high level of excitement at the opportunity to once again be a part of the Dover-Foxcroft community.
"My brother Jason and I feel that those who have the ability to help, also have an inherited obligation to do so, for this reason we try our best to support local charities as well as non-profits in the communities in which we do business," he said.
Edwards said he recalls the first time he met Will in the late 1980s at the Hannaford Supermarket in Plymouth, New Hampshire. "I was only six years old and I would poke holes in the freshly wrapped melons for fun causing poor Will to have to rewrap them; now I'm almost 40 years old and purchasing Will's store."
Edwards stated that Edwards Brothers Supermarkets and Will's have the same suppliers so customers can expect to find the same quality products with Hannaford pricing or better. Jeremy stated, "Will has done a fantastic job building a high caliber team of associates who are experts in customer service. Jason and I look forward to working with and learning from the Dover team. It is our sincere hope that all of Will's associates will stay on with us, so our customers will retain the highest level of customer service that they are accustomed to."
Edwards stated that the Edwards brother's goal for the Dover-Foxcroft store is simply to build upon the foundation laid by previous owners. "This store has always been a staple in the community, since Judkins built it in the early 60's and a strong line of independent grocers have built it up brick by brick: Graves Supermarkets, Edwards Family Shop 'n Save, and Will's Shop 'n Save. Edwards Brothers Supermarkets will be no different because we understand that the secret is being "big enough to serve you, but small enough to know you. At Edwards Brothers Supermarkets, we invite everyone to come 'Shop 'n Save with us!'"
The transfer of ownership will be in late May.