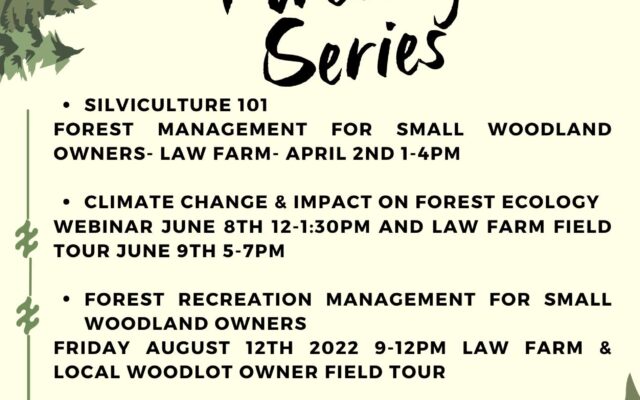 Forestry Series will bring many voices and ideas to Piscataquis County
DOVER-FOXCROFT – Piscataquis County Soil & Water Conservation District is hosting a forestry series in 2022. This series will provide opportunities for the community to learn about forestry topics including silviculture, climate change, recreation, and wildlife biodiversity.
The goal of this series is to reach small woodland owners and new landowners, connect them with resources and information on different topics specific to their needs, and help them understand best management practices to keep their forests healthy. This information hits home to many in Piscataquis County, the most forested county in Maine. PCSWCD encourages participants to join any or all of the events in this well-rounded, dynamic series. Thanks to generous sponsorships from Pleasant River Lumber Company, Maine Woodland Owners, and Forest Stewards Guild, every event is free to attend.
Pleasant River Lumber Company owns and operates five lumber manufacturing facilities, multiple log purchasing yards, two saw filing shops, and a trucking company spread out across Maine. They operate three SPF Spruce/Fir framing lumber mills, one of which is located in Dover-Foxcroft. Over the years, Pleasant River Lumber Co-Presidents Jason and Chris Brochu have been especially supportive of PCSWCD's mission and have assisted with many efforts that support conservation education in Piscataquis County.
The Forest Stewards Guild is a national forestry nonprofit that practices and promotes responsible forestry as a means of sustaining the integrity of forest ecosystems and the human communities dependent upon them. In Maine, their programs focus on outreach to landowners and foresters and building climate change resiliency in our forests.
Maine Woodland Owners is a statewide member-supported organization that advances stewardship of Maine's small woodland resources through the encouragement of good forest management and the advocating for and supporting of Maine's small woodland owners. The organization provides resources, knowledge, and advocacy necessary to promote forest stewardship including providing regular outreach and education opportunities.
The Forestry Series will start on April 2 with Silviculture 101 at the Law Farm Nature trails. Participants will accompany Mike Pounch, PCSWCD supervisor and Baxter State Park land manager, and Nicole Rogers, UMaine School of Forest Resources Silviculture professor, for a field tour from 1-4 p.m. This workshop will help you understand forestry "lingo" and terminology and offer discussions on what your options, challenges, or objectives are for your woodlot. The Law Farm Nature Trails demonstrate different treatments that can be applied on your own land and participants will identify and discuss objectives and best management practices.
Next up in the Forestry Series line-up is Climate Change & Forest Ecology. Join Jay Wason, assistant professor at the University of Maine, and Shawn Fraver, from UMaine School of Forest Resources, for this 2-part discussion. First Wason and Fraver will present a lunchtime webinar on June 8 from 12-1:30 p.m., which will be followed-up with a field tour on June 9 from 5-7 p.m.at the Law Farm Nature Trails. This 2-part workshop will provide participants with a well-rounded understanding of climate change, terminology and impacts on forest ecology — an emerging topic impacting forest management.
On Friday, Aug. 12th from 9 a.m. to 12 p.m. join Jessica Leahy, professor of human dimensions of natural resources from the UMaine School of Forest Resources, and forester Brett Gerrish, for Forest Recreation Management for Small Woodland Owners. Come learn about different resources and tools for building and maintaining recreational trails on your land and see first-hand how trails can be managed for multi-use at the Law Farm Nature Trails and on a local landowner's woodlot. This workshop is geared toward the small woodland owner that is interested in updating or creating new trail systems for different types of recreation, examples of creating food plots, bridge work and trail renovation and a chance to speak directly with professionals that can assist you.
Our last workshop in the Forestry Series is with Jim Ferrante, PCSWCD supervisor and Maine Forest Service district forester, and Joe Roy, IF&W private lands wildlife biologist, and will explore wildlife biodiversity and your land. The wildlife biodiversity event has been presented around the state and we are thrilled to welcome this useful program to Piscataquis County and provide participants with a closer look at how woodlot owners can manage their land for wildlife. Walk away with knowledge on how to enhance biodiversity on your property with this enthusiastic walk and talk at the Demonstration Forest in Williamsburg on Sept. 20 from 4-6 p.m.
All events in the Forestry Series require registration to ensure a quality experience for participants. These workshops are in high demand and space is limited, so please RSVP. We will be offering light refreshments and resources available from Maine Woodland Owners and Forest Stewards Guild. PCSWCD wants to thank our sponsors for providing the capacity and support to offer these programs free of charge to the public. To register visit www.piscataquisswcd.org or email info@piscataquisswcd.org for more information.