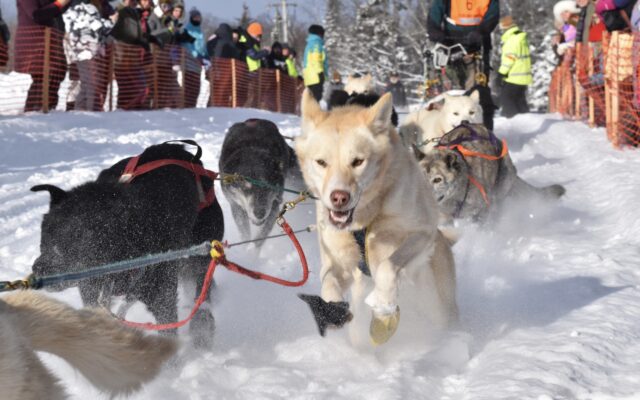 sled-dog-races-Greenville-1-020522
Observer photo/Valerie Royzman Sled dogs charge from the starting line during the 70-mile race in Greenville on Feb. 5. Musher Barry Dana and his team of dogs placed third.
Sled dog teams brave the cold for 1st Greenville race in 2 years
GREENVILLE — Tracy Babin made her way to the starting line, her family and volunteers keeping the sled dogs secure on the gangline. Minutes before taking off for the 35-mile sled dog race, the musher from Caribou dropped to her knees, petting and hugging each member of the pack.
"You've got to warm up their muscles," Babin told spectators as a dog lovingly licked her cheek. The dogs, donning booties to protect their paws, were impatient, leaping and howling.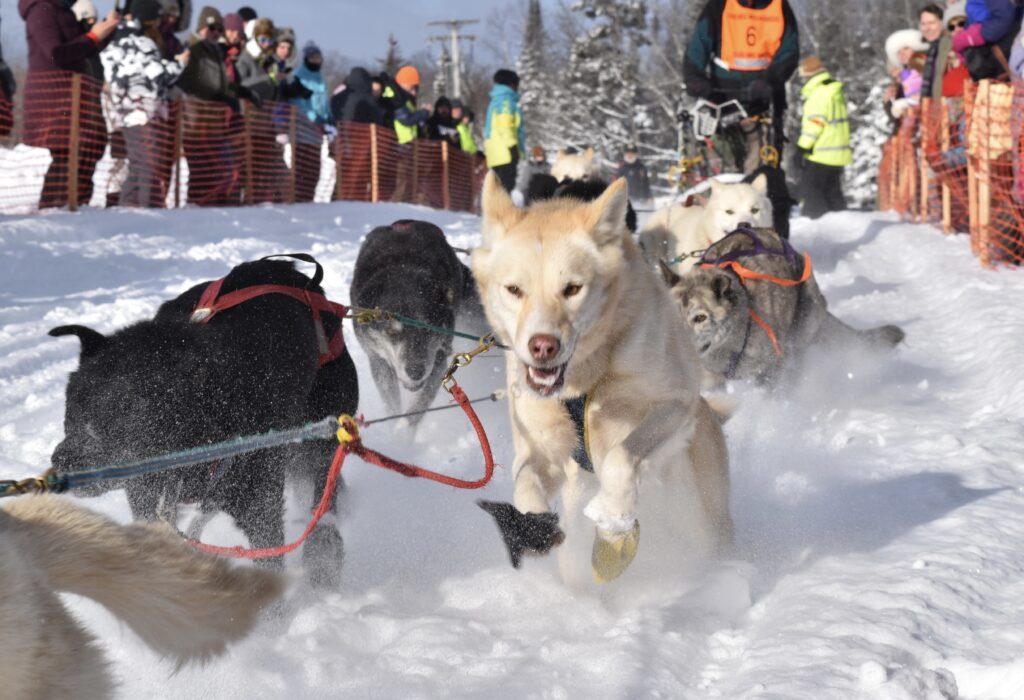 The Wilderness Sled Dog Races returned to Greenville on Saturday, following a two-year hiatus due to weather conditions and the COVID-19 pandemic and featured several new competitions. The races, held a day after a winter storm dropped more than a foot of snow, drew longtime mushers, some using the competition as practice for more intense events this winter and those fairly new to the sport.
Florence Shaw, a 16-year-old musher from Fermont, Quebec, and her team of eight dogs placed first in the 70-mile race. She covered the course in seven hours, five minutes and 30 seconds.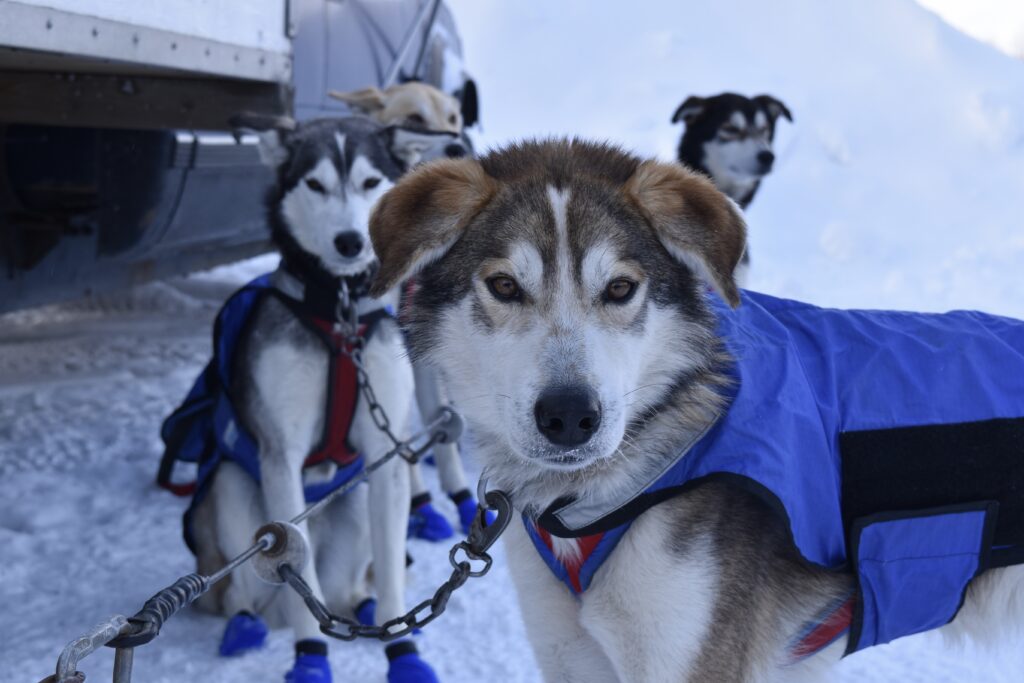 Shaw's victory was impressive for an up-and-coming young person facing veteran mushers who have trained dogs and raced for years, said Amy Dugan, Wilderness Sled Dog Association president. The Greenville-based nonprofit organizes the annual races.
At just 13 years old, Shaw finished in eighth place when she competed in the Can-Am Crown International Sled Dog Race's 100-mile race in Aroostook County. Shaw is signed up for the 2022 Irving Woodlands Can-Am Crown 250 in March.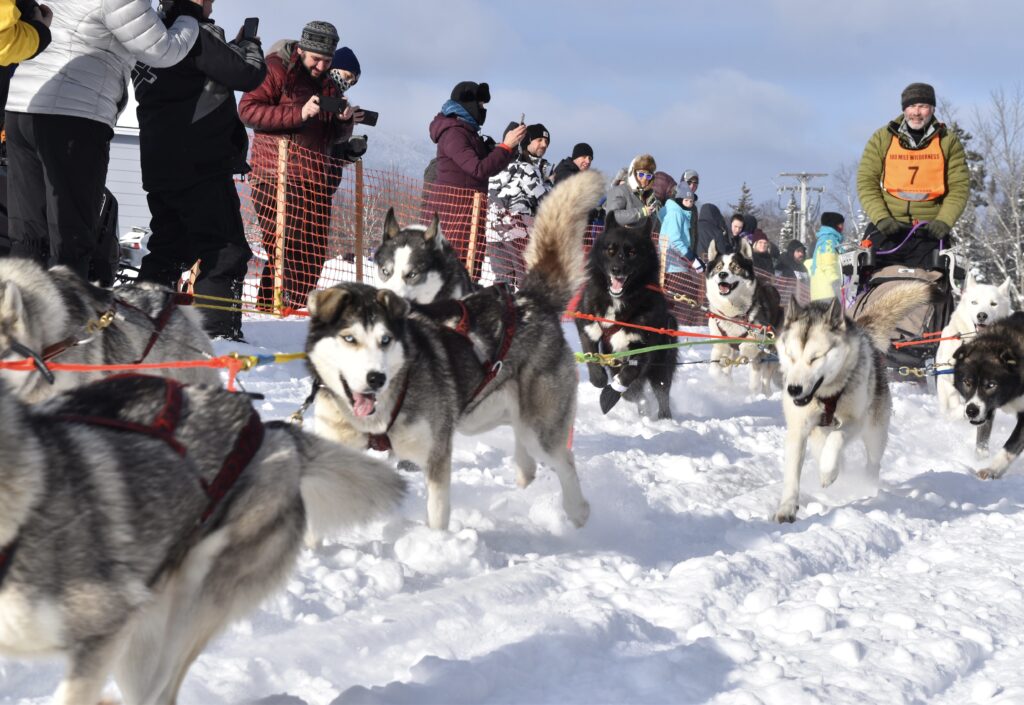 Also in the 70-mile race, Ashley Patterson of Shirley placed second, posting a time of seven hours, 28 minutes and one second. Barry Dana of Solon placed third. Both are competing in the Can-Am Crown 250.
"We live in Maine, so we train in this kind of terrain," Patterson said as she geared up for the race. "I'm never the type that's going to say, 'I'm going to win this,' because we also have another 250-mile race we're going to do in two weeks [in Michigan].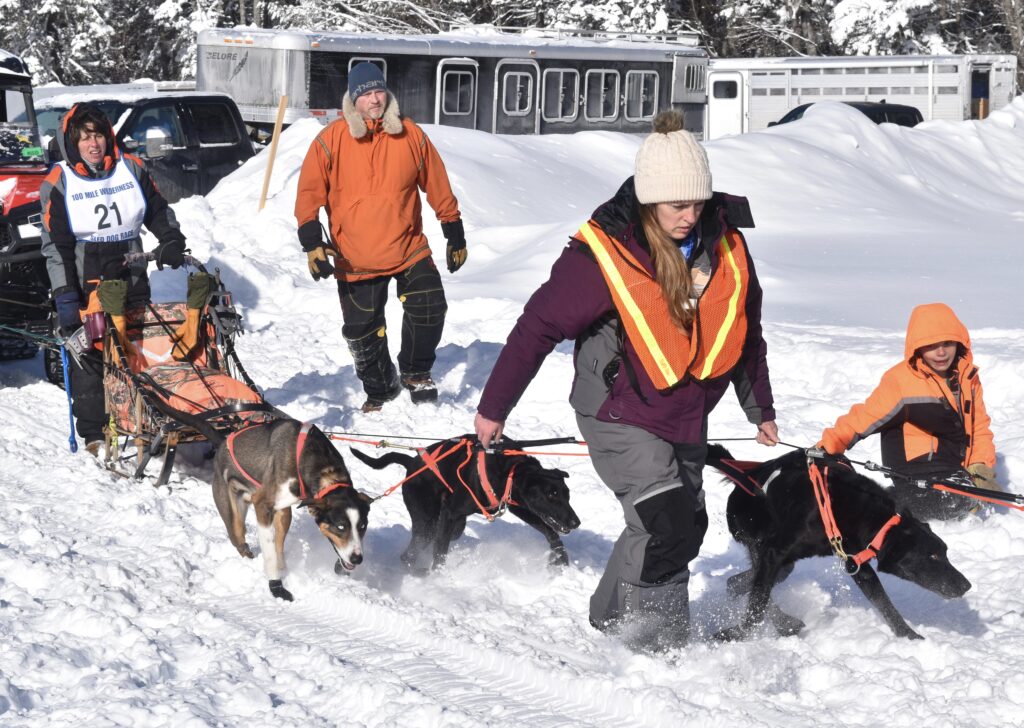 "I have to make sure that all these dogs are primed and ready to go. I have a couple of 8-year-old lead dogs. We're going to keep that pace nice and slow."
In the 35-mile race, Sally Manikian of Shelburne, New Hampshire, earned first place. It took her three hours, 59 minutes and 29 seconds. Mark Patterson of Shirley — who is Ashley Patterson's husband — placed second, and Paul Therriault of Oxford placed third. Patterson posted a time of four hours, 25 minutes and one second.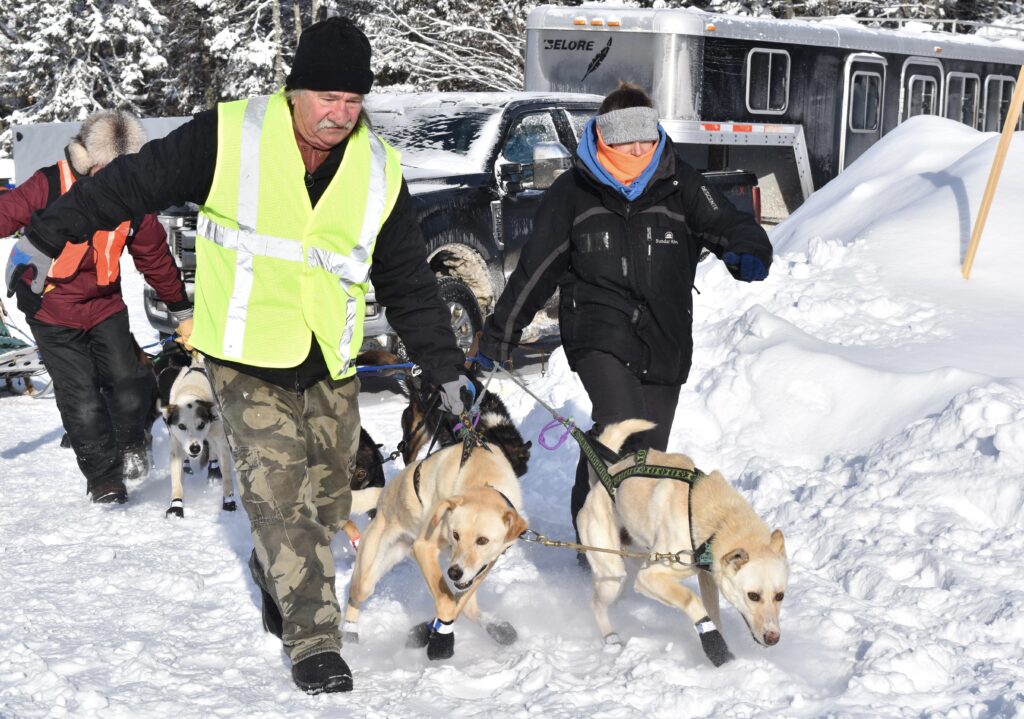 Manikian and Patterson will compete in the 2022 Willard Jalbert Jr. Can-Am Crown 100.
Events took place at Leisure Life Resort in Greenville. Between 40 and 45 mushers signed up, said Cheri Goodspeed, who serves on the association's board of directors. Four-mile sprint races, involving a musher and three to four dogs, and skijoring, where a person on skis is pulled by one to two dogs, were new this year.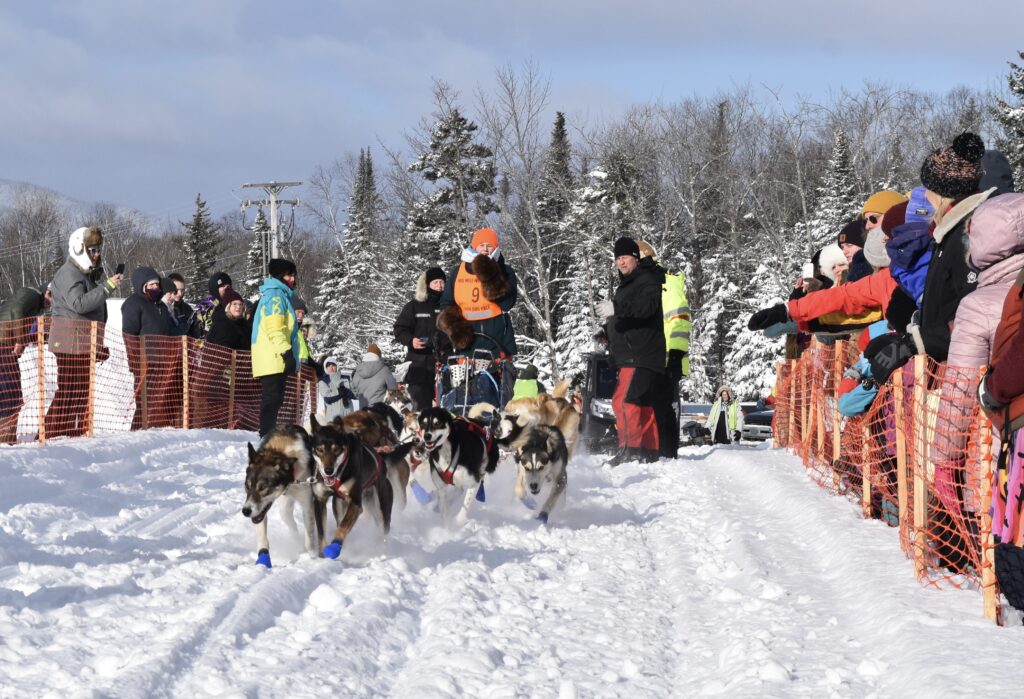 The events were added to show that a person doesn't need to have a full team of dogs to have fun with them, Dugan said.
Though volunteers, the Moosehead Riders Snowmobile Club and the Appalachian Mountain Club groomed trails Friday night, conditions were "pretty brutal" for some of the mushers and their dogs, Dugan said.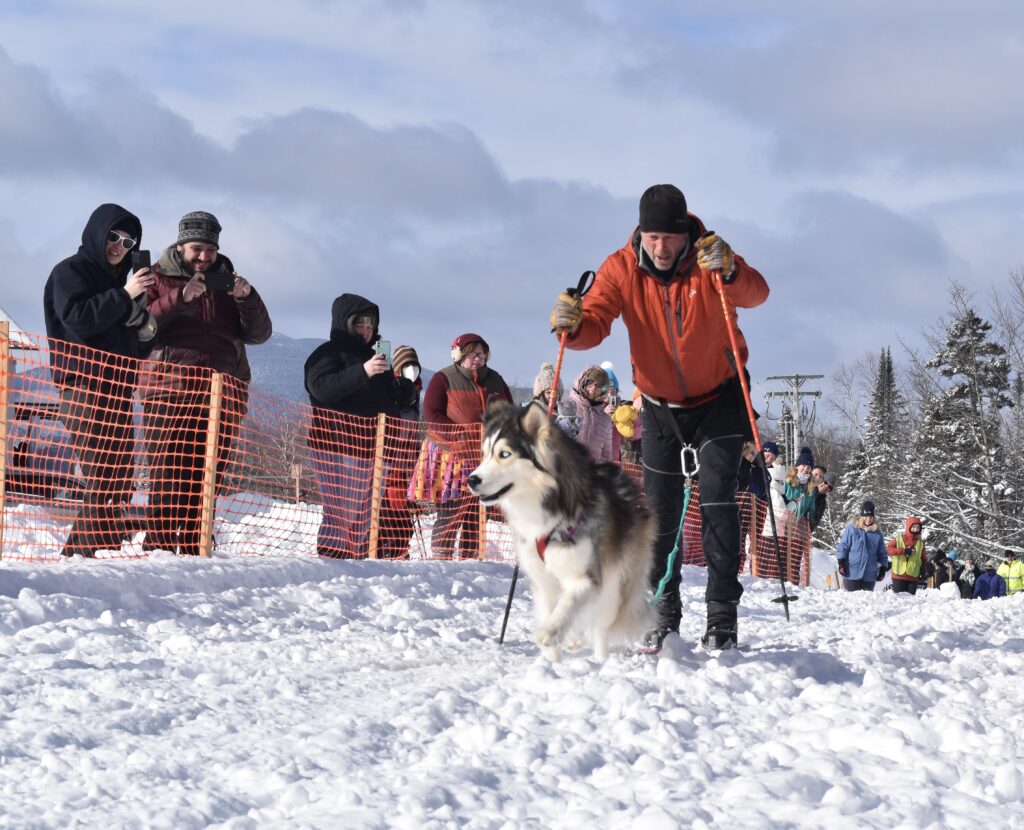 "It was definitely one of those challenging races because of 14 inches of fresh snow," she said, though difficulty also depends on the dogs' abilities and how they're trained. "You really need a couple days to get the trails to firm up. … I guess it was like imagining what the Iditarod would be like at times."
Mark Roberts, who is originally from New Zealand and lives in New Hampshire, participated in the 70-mile race with his team of 10 Sepalla Siberian huskies in Greenville for the first time. He plans to compete in the Can-Am 100 in March.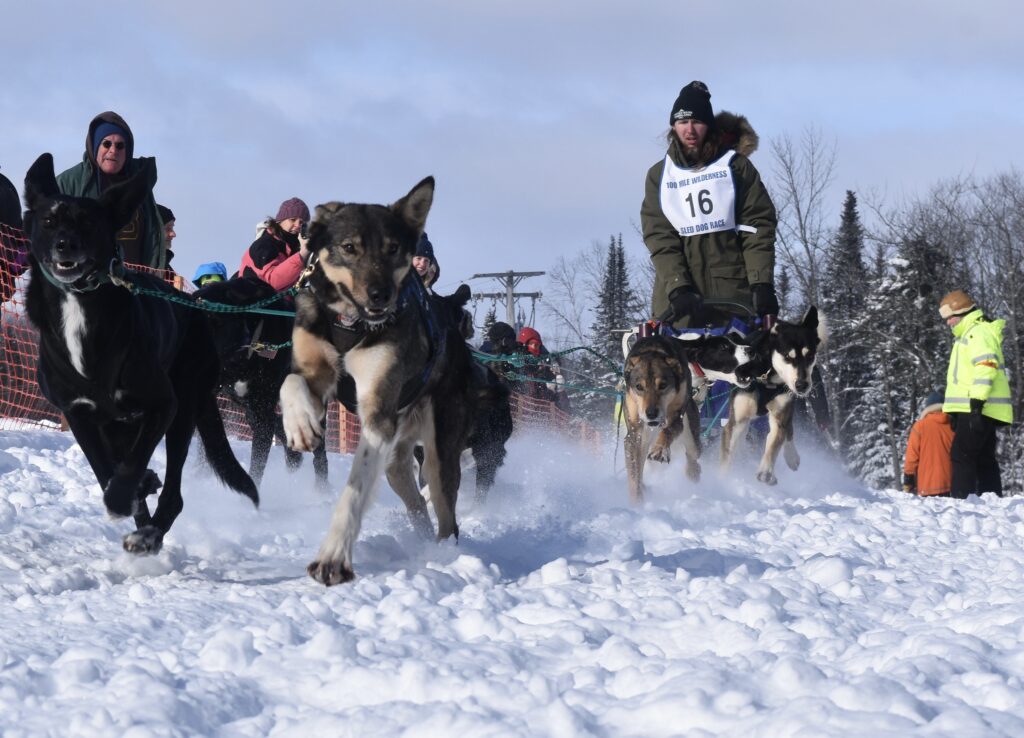 "The first 10 minutes is when a lot can go wrong," Roberts' wife, Kylee Finn, said prior to the race. "They're really hyped up when they first start. They're like ready to go, so they're pulling, jumping and everything.
"Sometimes they get excited and try to chew their lines or harnesses, or if your snow hook [anchor] pops out, then they're off without a musher."
Roberts dropped out halfway through the race, at West Branch Pond Camps in Frenchtown Township, Dugans said.
Sometimes mushers realize the dogs are taking too long to place well in the race or the trail conditions are too challenging, she said. Dogs are also dropped along the race trail when they're injured or mushers feel it's no longer in the best interest of the dog to remain with the team.
Mushers who compete in the Wilderness Sled Dog Races are wildly committed, as are the spectators supporting them, said Ron Dobra, who served as the event's announcer.
"I get to read through all the applications," he said. "We ask them, 'What's your favorite part?' and they all say, 'My affection for my dogs.' It's really rather incredible."
Dobra, who stood beside a big speaker with a microphone in his hand, paused before the start of the next race.
"The dogs don't care which direction," he said, smiling. "They just want to go."