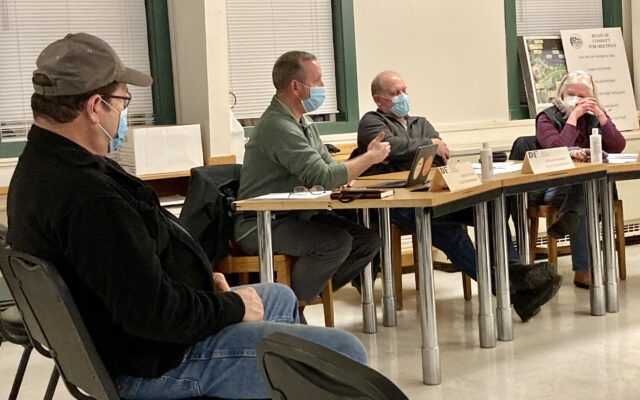 Dover-Foxcroft-Select-Board-012422
Observer photo/Valerie Royzman A Dover-Foxcroft resident, left, listens as Select Board member Barry Hutchins, second from left, asks a question during a meeting Jan. 24, 2022. Member Stephen Grammont and Vice Chairperson Cindy Freeman Cyr are also pictured.
Dover-Foxcroft plans culvert replacement on Grove Street
DOVER-FOXCROFT — A culvert replacement project along Grove Street will be out to bid in the coming weeks, Town Manager Jack Clukey told the Dover-Foxcroft Select Board at a meeting Monday.
"It's in poor condition," he said, adding that he expects bids to come back sometime in March.
The project, estimated to cost $225,000, will address deterioration and erosion issues. The culvert will be replaced with a concrete structure. The area adjacent to the culvert will be reinforced with rip rap to mitigate future erosion, Clukey said Tuesday.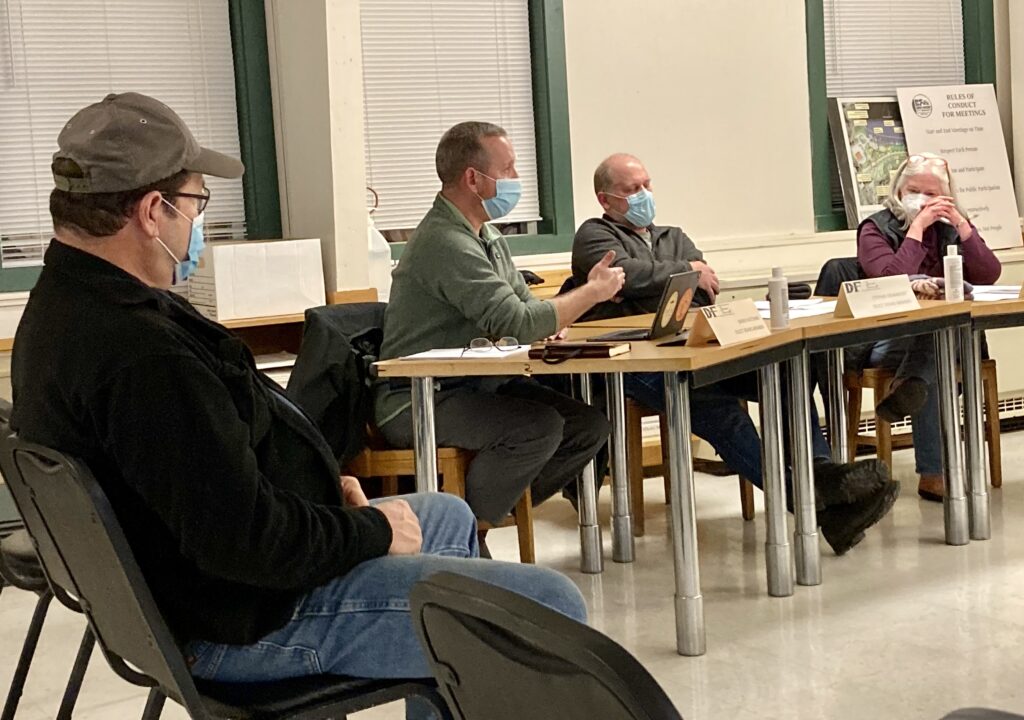 The project is funded in part by a $125,000 grant from the Maine Department of Environmental Protection. The town appropriated funds at a meeting last year to cover the remaining costs.
Construction is expected to begin in late July or early August, the town manager said.
The town should also receive paving bids by the Select Board's Feb. 28 meeting.
Select Board members also discussed the demolition and removal of structures of the property at 72 Lincoln St., which was authorized in mid-December.
"It doesn't appear that there's been even a footprint in the snow," said Clukey, who emailed Peggy Gilbert about the status of the demolition. She represents the incarcerated property owner, Paul Shea, and 1st Choice Property Management LLC.
The board was told at its last meeting that the process would take two weeks and the structures would be gone by Monday's meeting, Select Board member Jane Conroy said.
"I drove by, and nothing has been removed. … Getting a written commitment from the contractor, I think, is a must," she said.
Sangerville-based contractor John Firth Builders LLC was hired to tear down the structures, Clukey said Tuesday. The board asked him to get in touch with the company to see if it has a timeline for the demolition.
The board also approved a liquor license application for Tap 62 Inc. at 920 West Main St.
The Dover-Foxcroft community workshop on climate resilience planning, held Jan. 19 via Zoom, was well-attended, Clukey said.
The town's Climate Action Advisory Committee organized the event, which provided action items that the town and committee can focus on in the near term, he said. The entities are seeking participation in the Maine Climate Partnership.