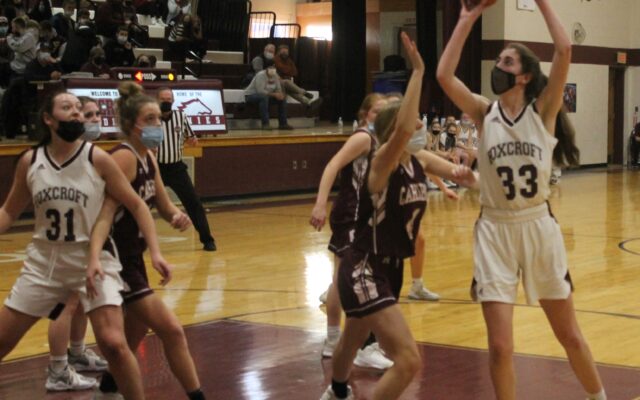 PO-spFAknapp-3-22
Observer photo/Stuart Hedstrom KNAPP TIME – Foxcroft Academy junior Abby Knapp puts a shot up over Caribou senior Mia Theriault, with Pony junior Destiny Weymouth getting in position for a rebound, during the second quarter of a Jan. 15 contest. Caribou won 35-24. Knapp and classmate Annie Raynes led Foxcroft with seven points apiece.
Foxcroft girls fall at home to Caribou
By Stuart Hedstrom, Staff Writer
DOVER-FOXCROFT – Both Foxcroft Academy and Caribou High School girls teams ended up with respective season-low points for totals during a late afternoon Big East Conference/Class B North contest on Jan. 15. The visiting Vikings ended up with the higher amount on this day in a 35-24 victory.
Foxcroft (the team fell to 3-3) began the fourth quarter down 26-19 but a jump shot from senior Kiya Cook cut the deficit to five. Soon after a free throw from senior Meghan Spooner made the score 26-22.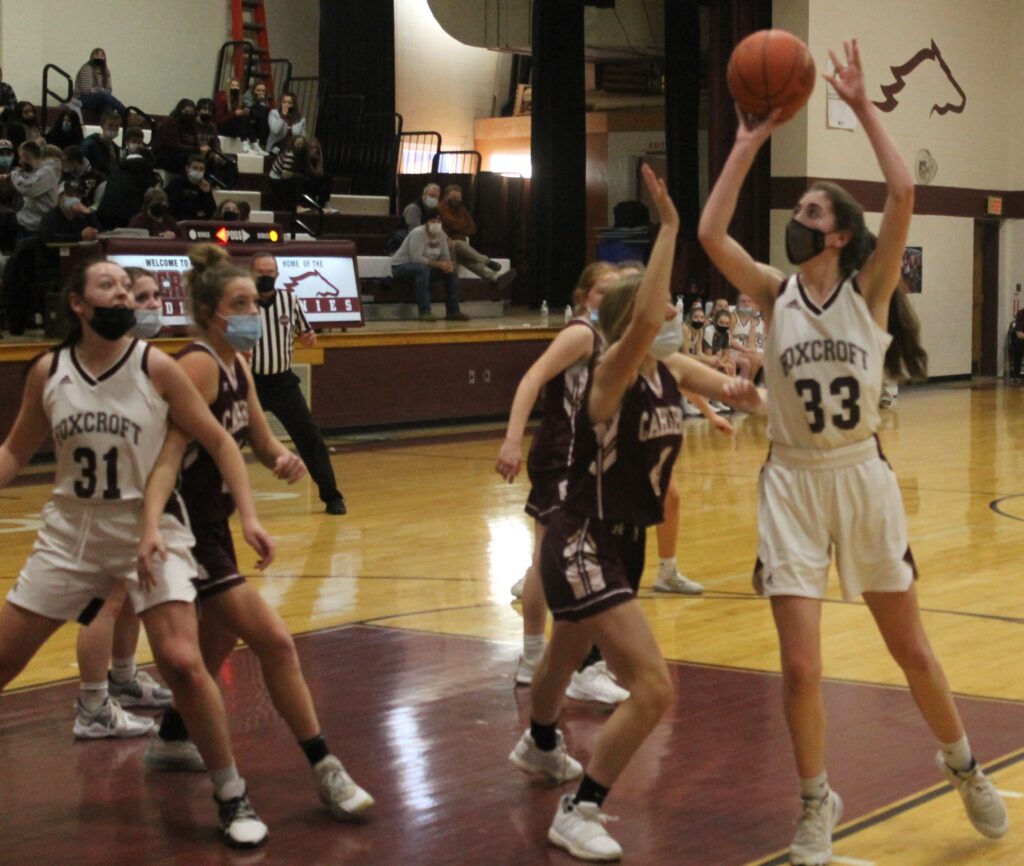 A layup by Caribou freshman Abby Leahy – who led all players with 16 points on four field goals and eight free throws – put her team ahead by six again and after being fouled she sank the resulting foul shot for a 29-22 lead. Leahy finished 8-of-10 from the charity stripe.
Junior Abby Knapp put an offensive rebound back up and off the glass for two as Foxcroft trailed by five again at 29-24. Knapp and classmate Annie Raynes tied with a team-high seven points apiece.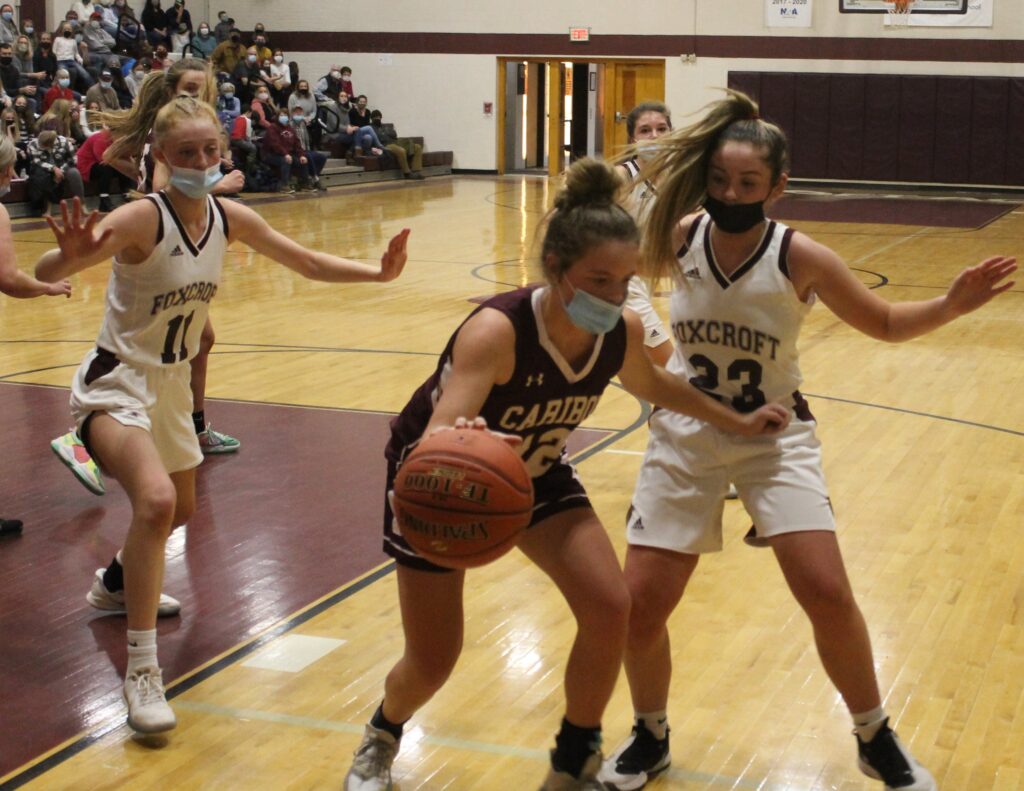 In the game's final minutes Caribou added six more free throws, including four in as many tries by junior Selena Savage to close out the contest. The Vikings finished 13-of-18 on foul shot attempts. Savage also reached double figures with 10 points behind her free throws and a pair of 3-pointers in the second quarter.
In the early minutes, Foxcroft built a 6-2 lead after Caribou had a layup following the opening tip off. Cook had a free throw and jumper and Raynes connected from beyond the 3-point line. Raynes had another three in the second quarter with six of her seven points coming on long distance shots.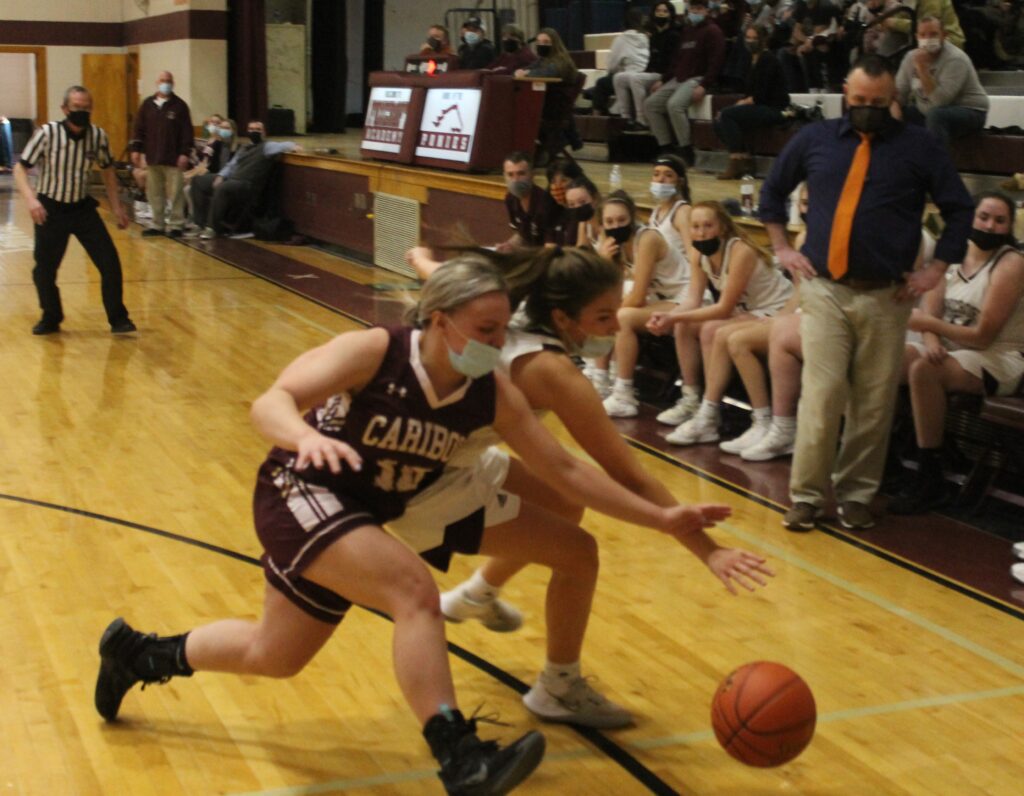 The Vikings improved its record to 5-5, having won four of the last six including a 55-45 win at home vs. the Ponies on Dec. 30. Caribou's season-low in points allowed before the trip south to Dover-Foxcroft came in the team's previous game, as the Vikings surrendered 32 in a win vs. Class C North Fort Kent Community High School.
Caribou's previous season-low in points scored was 36, in a 46-36 loss at Houlton High School on Dec. 15.
The 35 points allowed is the second-lowest amount for the Foxcroft defense of 2021-22. The Ponies gave up 32 in a 65-32 victory vs. Orono High School on Dec. 22.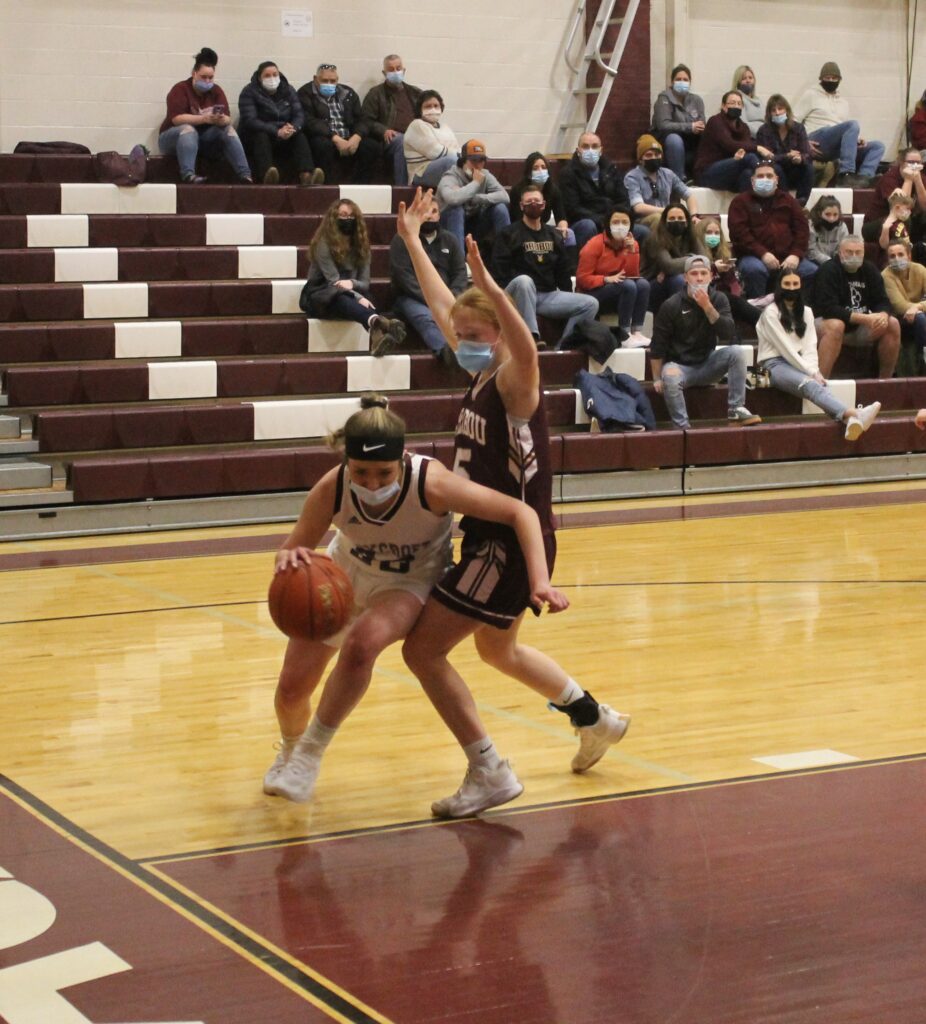 GIRLS BASKETBALL
Caribou 35
Foxcroft 24
CAR 9 13 4 9 – 35
FOX 6 9 4 5 – 24
Caribou (5-5): Leahy 16, Savage 10, Bouchard 3, Caron 2, Deprey 2, Sutherland 2.
Foxcroft (3-3): Knapp 7, Raynes 7, Cook 5, Ossenfort 2, Page 2, Spooner 1.