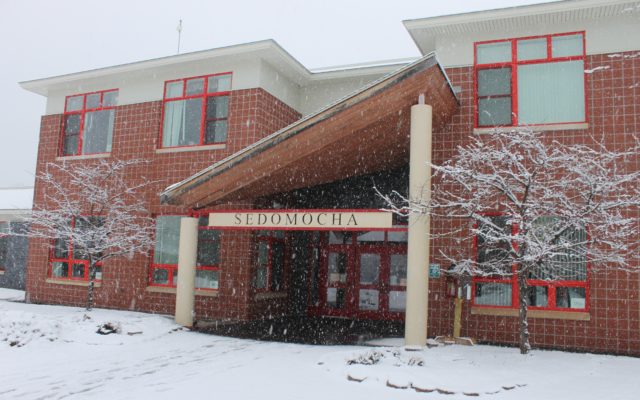 PO-RSU68building-12-20
The SeDoMoCha School in Dover-Foxcroft
RSU 68 modifies quarantine requirements
DOVER-FOXCROFT — Regional School Unit 68 has cut its required isolation time for COVID-19-positive students and staff members from 10 days to five, based on new guidance from the Maine Centers for Disease Control and Prevention.
"You don't have to test after five days if you tell us you're feeling better," Superintendent Stacy Shorey told the school board at a meeting Tuesday. "Then you're back in the building as long as you're fever-free for 24 hours."
The school district, along with others across Maine and the country, altered its COVID-19 rules to keep more students learning in school without disruptions. The Maine CDC and Maine Department of Education revised their standard operating procedure for COVID-19 in schools last week, following new guidelines from the federal CDC.
If someone in a household tests positive for COVID-19, students who are asymptomatic can still come to school because RSU 68 has universal masking, according to the policy on SeDoMoCha's website.
Home tests will be accepted, but they'll need to be shared via email or text with the school nurse, Shorey said.
If a student tests positive for COVID-19, contact tracing will no longer be necessary for close contacts if the situation occurs outside — during recess, for example — or on the school bus, the superintendent said.
The Maine CDC recommends testing close contacts, with asymptomatic close contacts testing on day five following exposure, according to the policy. Symptomatic close contacts should get tested as soon as possible.
Engagement during the remote learning period prior to winter break was impressive, Principal Adam Gudroe said. Devices went out to some students so they could learn with teachers online, though "not nearly enough," he said.
"Obviously we do live in a community where internet access and broadband services are lacking in some areas," he said.
SeDoMoCha received data from Northwest Evaluation Association, or NWEA, state assessments this fall, which staff are still reviewing. This was the first time the school tested language usage because it was not a requirement previously, Gudroe said.
For third through eighth grades, students' language usage and reading results fell close to national norms, though there are areas for improvement, he said. Early elementary grade levels do fairly well with grammar but sometimes struggle to grasp mechanics, which tends to become more of a strength in middle school, he said.
"With math, we start to get into some challenges," he said. "There are several potential reasons … we're still trying to dig apart the data to find out what's a challenge for either our students, our teachers or our programming and curriculum."
The board extended the school district's commitment to participate in Piscataquis Valley Adult Education Cooperative for another year, through June 30, 2024.
"From July 1 to the end of December, 41 of our students are from the RSU 68 area," PVAEC director Carolyn Haskell said. "Of that number, 21 of them fall into the 16 to 20-year-old range, so those are the students that for whatever reason weren't able to complete high school traditionally, so they're with us working on their goals."
PVAEC had 60 active enrollments from July 1 through the end of September, she said. Despite being considered a small program, if Lewiston and Portland were removed from the mix, "we have the fourth largest enrollment for adult ed in the state in that time period," Haskell said.
The board voted to elect Cameron Archer, who also serves as athletic director, as the pre-kindergarten through eighth grade interim assistant principal for the 2021-22 school year. He will no longer teach physical education and health.
Two in-house candidates were interviewed, Shorey said.
Andrew Shaw previously served as assistant principal. At the Dec. 14 meeting, Gudroe thanked him for his work over the last three years and wished him well on his next endeavor, according to meeting minutes.