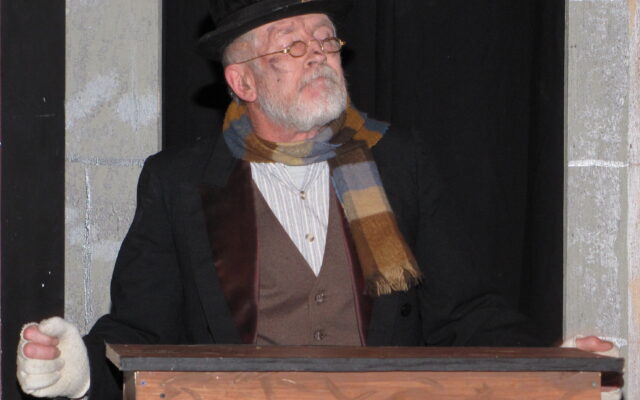 PO-boardmember1-52-21
Contributed photo OLD JOE – David Dean as Old Joe in the 2011 production of "A Christmas Carol" at the Center Theatre in Dover-Foxcroft.
Long-time thespian and Center Theatre board member honored
DOVER-FOXCROFT – As far as second acts go, David Dean's has been a great one. Dean, now 82, spent his "first act" serving for 29 years in the U.S. Navy. After retiring from the armed services, Dean became a teacher and got involved with both high school theatre and the Center Theatre in Dover-Foxcroft.
On Dec. 19, at the end of "A Dickens Carol," there was a celebration to mark Dean's years of service.
"At the end of 2021, David is retiring from the Center Theatre Board of Directors after serving for nine years," said Executive Director Patrick Myers. "We wanted to do something special to honor him because of his contributions to the theatre, both on and off stage, so we commissioned an 'Oscar' to present to him at the end of the performance. David has been a part of many community theater productions and several productions of 'A Christmas Carol' in particular, so it was a wonderful way to bring that all together. Much of David's life has been spent in service to the larger community, and this was just one small way we could thank him for all he has done."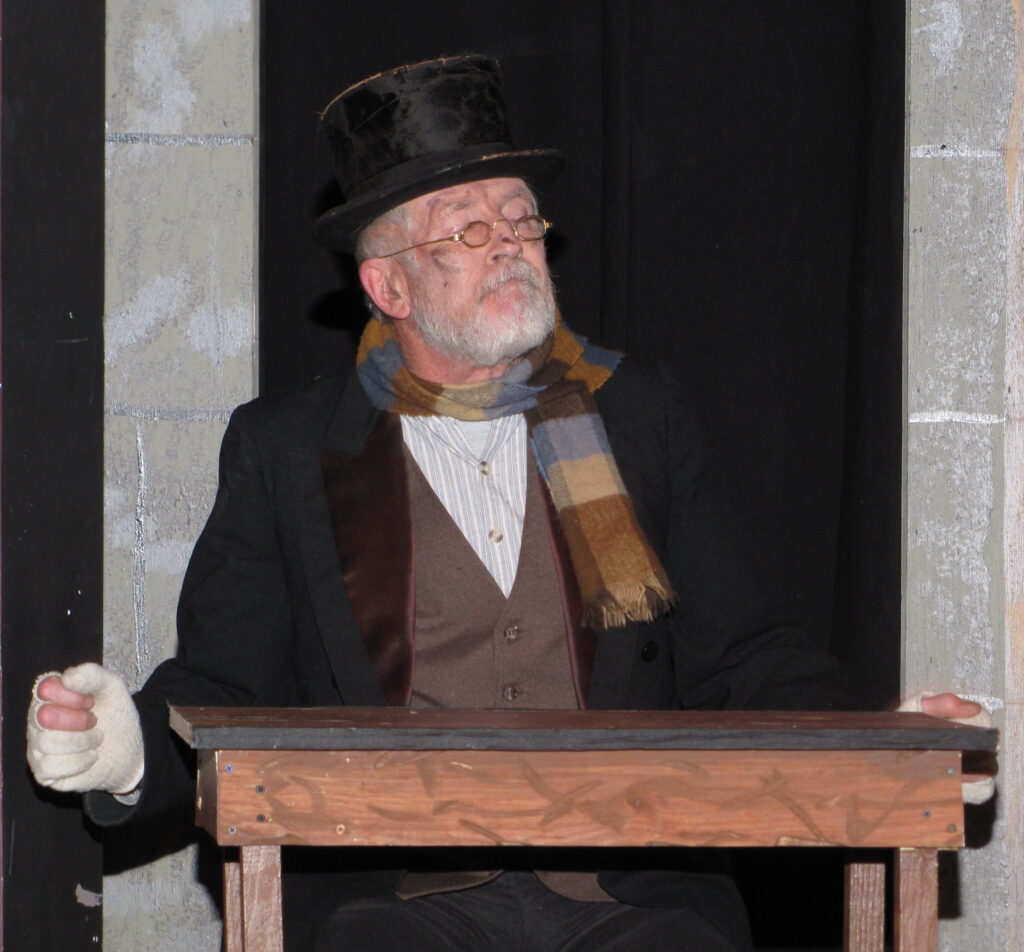 David and Sylvia Dean, both 82, live in Sangerville. The couple met by chance one weekend when Sylvia, a Dover-Foxcroft native, was visiting a classmate in David's hometown of Rockland, and he was home for a quick visit during a break from the Naval Academy. Their romance was predestined, Sylvia said.
"Four years before I met him, a spiritualist medium asked me if I knew somebody who was a sailor, and I said no, and my mother tried to name some sailors she knew, but the medium said, no, that wasn't right. Then she said to never mind, that 'there is a sailor here and he takes his hat off to you and dedicates himself to you' and that there would be a ring in my near future. I asked my mother what 'near future' meant and she said, 'Oh, four or five years.' I was young and healthy and not unattractive, so I thought probably I would get married, and then I never really thought about it again."
That is, until she met the handsome sailor on the street in Rockland. "We were introduced, and here we are, about to celebrate our 60th anniversary," she said. The couple has two sons, two daughters, and eight grandchildren.
"We moved constantly for 29 years – the last seven in Germany," Sylvia recalled. When David retired from the Navy, the family moved to the Dover-Foxcroft area so their youngest son could graduate from Sylvia's alma mater at Foxcroft Academy and could live close to her aging parents.
Sylvia had studied to be a home economics teacher at the University of Maine at Farmington, graduating in 1961, but never pursued a career as the family moved every two or three years for David's naval career.
Now, she could become a teacher and David had to decide what to do with his free time.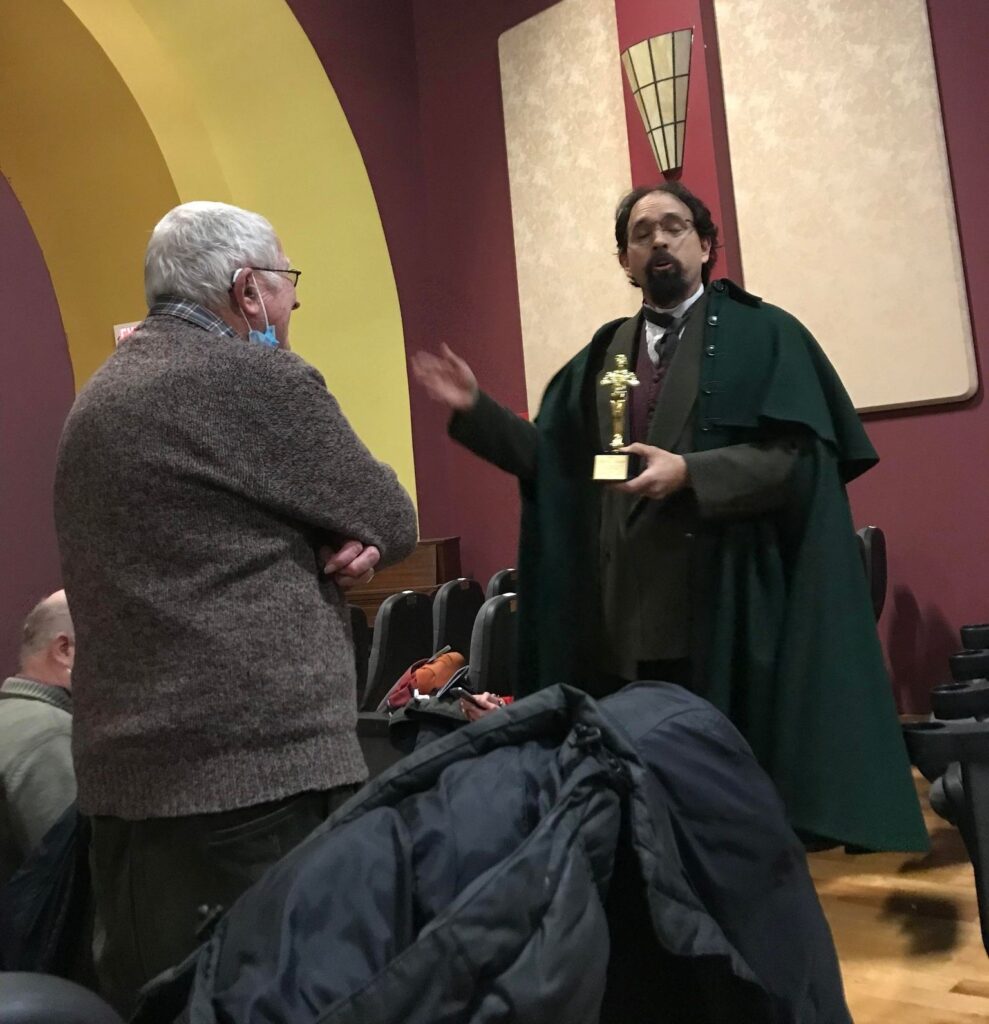 "He had never been in a situation where somebody wasn't telling him where to go next," Sylvia said. David decided to become a high school history teacher. While Sylvia taught home Ec. in Guilford for four years and then in Bingham for 10 years, David taught history in Bingham for three years and then at Foxcroft Academy for 11 years.
In 1992, David was one of many ex-military educators featured in an article in EducationWeek® entitled, "'You're in the Classroom Now': Military Retirees Are Joining the Teaching Force."
In his fifth year of teaching world history and German at FA at that time, David told reporter Daniel Gursky that he regularly drew on his military experiences in class.
"In world history, I have some firsthand knowledge of a lot of the events we study,'' said Mr. Dean, who ended his military career with the North Atlantic Treaty Organization in Germany. "I've been to some places and seen some things'' that can help bring classroom discussions to life, he said.
Like many military officers, Mr. Dean did quite a bit of teaching, both formal and informal, during his years in the service, so becoming a teacher was not a radical transition.
It was also a quote from David that closed out the article."I love what I'm doing," Mr. Dean said, "and I don't see myself stopping anytime soon."
David loved the FA community, his wife said.
"And I think he carried on his parent/teacher conferences at the grocery store. He would meet people and could remember everyone's name," Sylvia recalled. "He would meet parents of previous students and ask where they were and how they were doing, but would also use that as an opportunity to meet parents of his present students. He very much loved his students and teaching and Foxcroft Academy. It was an unexpected second career for him. He knew he would do something, but had not foreseen that it would be at FA."
It was also during his years at FA that David became involved with theater for the first time, initially through supporting students in high school productions and then by performing at Center Theatre and serving on the board.
David had many roles over the years. He performed in "Fiddler on the Roof" (2008), "A Christmas Carol" (2011 and 2015), "Miracle on 34th Street" (2013) and "Some Enchanted Evening" (2013).
David loved the theater and performing, but also "the association with the people, the performers, the atmosphere," Sylvia said. "He would be there for all the rehearsals."
But perhaps his most lasting contribution is the Center Theatre's Classic Movie Night, a free monthly movie offered to members, which launched in 2013 and is "still going strong," Myers said.
"That was totally his idea," Sylvia said. "And the concept was that when we said we could do this for members the side benefit was that if you weren't a member and wanted to come to the Classic Movie Night, you could join the Theatre. So it not only supported his love for old movies, old-time favorites, but it supported the theater and increased memberships."