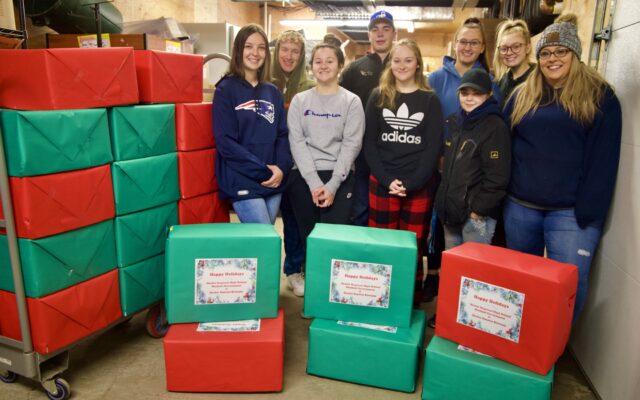 PO-foodboxes-51-21
Contributed photo FOOD BOXES – Christmas food boxes were assembled on Dec. 18 at P&L Country Market in Dexter. Front, from left, are Arianna Jandreau, Maureen O'Roak, Elizabeth Kinney, P&L Assistant Manager Ashton Ward and Manager Jess Corliss. Back, Ora Rudloff-Eastman, Owen Brown, Hannah Dean, and Jozlynn Paige.
Annual Christmas food boxes assembled for Dexter community
DEXTER – Early on the morning of Dec. 18, Dexter Regional High School Student Government members, along with several Dexter Sunrise Kiwanis members, gathered at P&L Country Market to assemble Christmas food boxes to be given to area families. This is the 22nd year that Dexter Sunrise Kiwanis has sponsored this program which was started by the late Frank Clifford, a member of the Kiwanis club.
Students help the Kiwanians wrap, assemble, and load the boxes, which are then delivered by Kiwanis members to almost 60 families in the area who might not otherwise be able to afford a holiday meal. Additional sponsors are the Maine Highlands Federal Credit Union, Bangor Savings Bank, Dexter American Legion, P & L Country Market, Jim and Alice Bunn, Fran Field, and Corinne Neal.